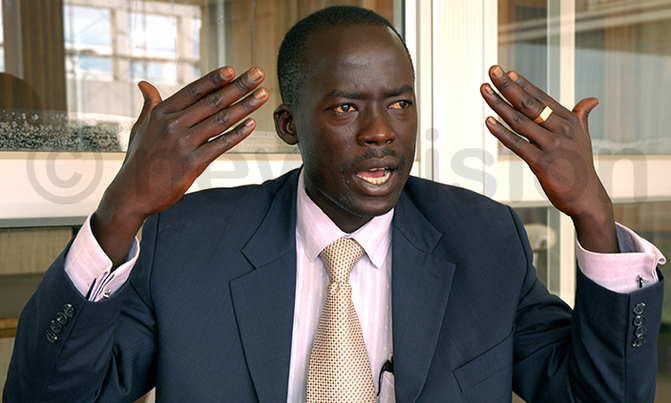 Otto left the meeting saying he did not agree with how Okin Ojara (Chua West County), who chaired the committee was presiding over it.
Technocrats from the ministry of finance were on Wednesday treated to free drama after Aruu County MP, Odonga Otto openly doubted the competence of Okin Ojara (Chua County) to preside over a session.
Otto, one of the longest-serving lawmakers openly queried the wisdom of appointing a first-time legislator to be a vice-chairperson of Parliament's foremost accountability committee - the Public Accounts Committee
"If you insist on proceeding, you will have to do so in the absence of some of us," Otto said, as he gathered his I-pad and documents.
"You cannot appoint a junior member to chair a committee. One year in Parliament and you chair a committee?" Otto said as he exited the room - a wry smile playing on his lips.
His barbed salvo left the finance ministry technocrats led by Permanent Secretary, Betty Kasimbazi squirming in their seats as they struggled to make sense of the embarrassing 'friendly fire.'
The meeting was a follow up on an earlier interface on 4th July presided over by committee chairperson, Nandala Mafabi.
During the interface over queries raised by the Auditor General in his report for the financial year ending June, 2018, the technocrats failed to explain a string of financial inconsistencies.
Nandala had directed Kasimbazi to table audited accounts of projects under the ministry. When the meeting got underway yesterday, Kasimbazi riled lawmakers when he told them that the ministry had tabled audited consolidated account.
To Kasimbazi, the project accounts demanded by Nandala early this month were inextricably intertwined with the ministry's consolidated accounts.
When quizzed by MPs Maxwell Akora, Florence Namayanja and Anita Among about the veracity of her submission and as to why some projects had been left out, Kasimbazi conceded that she was struggling to grasp the questions.
"I do not understand your question," Kasimbazi said. Kasimbazi had earlier asked Auditor General's staff attached to the committee to expound on queries being raised by lawmakers.
From the word go, Otto and MPs Among Lokii John Baptist were against the committee continuing to give the ministry technocrats audience without submitting audited accounts.
Otto cited rules of procedure of parliament that preclude the House or a committee to deviate from an earlier position without explicitly entertaining a motion to that effect.
"We represent constituencies in our own right. We are not going to allow you (Ojara) to waste our time by flouting rules that govern how this committee is run. There are other committees we can go and attend if you're compromised," Otto said.
Lokii soon followed Otto before Ojara adjourned the sitting.
Otto's outbursts, though premised on the alleged flouting of rules of procedure are indicative of deep-seated discontent among some members of Uganda's biggest opposition party - the Forum for Democratic Change (FDC).
When Amuriat Oboi replaced Gen. Mugisha Muntu as FDC party president in November 2017, every change he has rung in the leadership of the party at Parliament has spawned discontent.
A fortnight ago, Otto, during the designation of MPs to sessional committees, tongue-in-cheek told the House that he is the only FDC lawmaker who does not have any leadership position at parliament.
The 41-year-old lawmaker has already announced his decision to quit FDC in 2021.