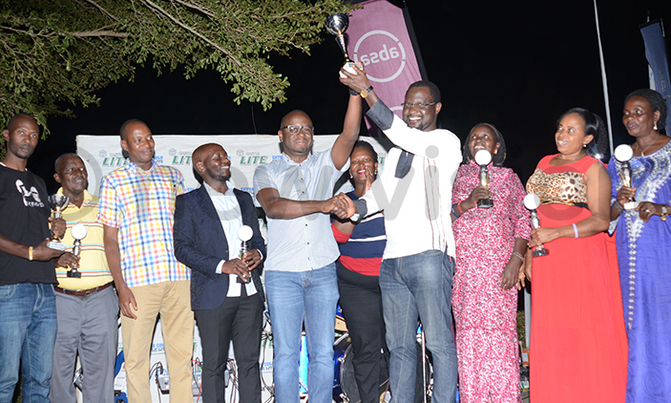 Despite an out-of-bounds on hole-No.8, Ashiraf Sekajja bagged three birdies on holes; 3, 5 and 12 en route to winning
Mbarara Sports Club's Ashiraf Sekajja and Godlive Nayebare returned 66 and 70nett respectively to not only win their respective categories but also inspire their team to the top as the Castle Lite Uganda Open tour raged on in Mbarara on Saturday.
Both golfers collected 20 points (10 each) as they won the men and ladies Group B in the one-day tournament that attracted a record 138 players on the nine-hole course.
Playing in only his second tour tournament after the Mbale tour Sekajja said it was it a big achievement for Mbarara to win this new tournament on their home course and hope to build on that.
Despite an out-of-bounds on hole-No.8, he bagged three birdies on holes; 3, 5 and 12 en route to winning.
"It wasn't easy but I did what I was supposed to do and emerged the winner. The course was well maintained but it was a bit complicated with many out-of-bounds but I controlled the game with my irons and clubs," Sekajja who plays off handicap 18 and is only ten months in the sport said.
After her win on home soil, Nayebare who doubles as the lady captain is looking forward to the Entebbe leg which is next in line with much optimism.
"Winning on my home course is a big milestone, but I made a lot of practice ahead of the tournament. I participated in Namulonge and won and I believe I can win in Entebbe because I have played there before.
"I got two out-of-bounds but I kept my head down and played with a wonderful group of calm golfers," Nayebare who is two and a half years in golf stated.
Mbarara club's other stars included Edrae Kagombe who topped the ladies Group A, Caroline Karungi and Virgo Tumusiime in the ladies Group A as well as Francis Kyegarukye, Francis Sekyanzi and Sam Muguta in the men's categories.
West Nile who were second overall in Mbarara with 33 points still lead the club ranking standings after the seven tour tournaments so far played, with Entebbe and the Uganda Golf Clubs tournaments due next month.
Before action on the course, golfers enjoyed a game drive through the Lake Mburo National Park where they watched animals like zebras, hippos, giraffes, warthogs, impalas, buffaloes among others in their natural habitat courtesy of the Uganda Tourism Board.
Uganda Open Tour
Overall winners
Men: Ashiraf Sekajja 66 nett
Ladies: Godlive Nayebare 70
Group A (Men)
Joseph Kakooza 67
Francis Kyegarukye 72
Yasin Boy 73
Group B
Ashiraf Sekajja 66
Geoffrey Gyabi 69
Francis Sekyanzi 71c/b
Group C
Gordon Gama 68c/b
Habib Shabir 68c/b
Sam Muguta 68
Group A (Ladies)
Edrae Kagombe 70
Meron Kyomugisha 72
Group B
Godlive Nayebare 70c/b
Virgo Tumusiime 72
Club Ranking
Mbarara 57
West Nile 33
Namulonge 12
Tooro 10
Entebbe 9