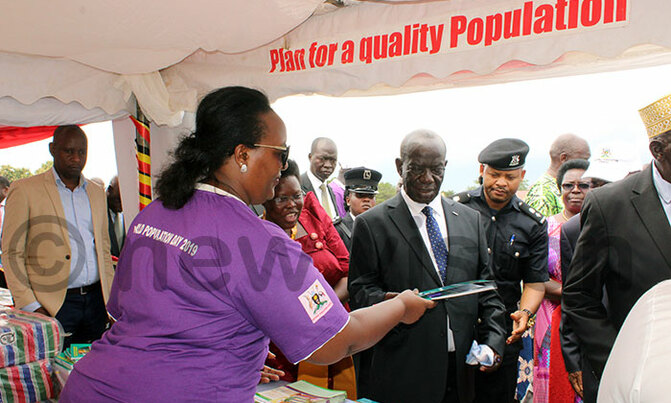 Teenage pregnancy stands at 25% of girls ages 15-19 and is a leading cause of school dropout according to 2016 Uganda Demographic Survey.
Ssekandi at a stall during the World Population Day Celebrations in Adjumani district. Photo by Eddie Ssejoba
If you Uganda is to become a middle-income country by 2040, high rates of teenage pregnancy, unemployment and lack of access to reproductive health services need to be addressed urgently, according to the National Population Council (NPC) director general Jotham Musinguzi.
Musinguzi, who made the remarks during celebrations to mark World Population Day in Adjumani district, said there was need to put in more effort to turn Uganda's youthful population into human capital if Uganda was to realise its middle-income target.
"The country is still grappling with high incidences of teenage pregnancy and early marriages which has contributed to a high school dropout rate. Let us combine efforts to address this problem. Children must stay in school," Musinguzi says.
Teenage pregnancy stands at 25% of girls ages 15-19 and is a leading cause of school dropout according to 2016 Uganda Demographic Survey.
Youth unemployment is estimated at 70% according to figures from the African Development Bank.
"Youth unemployment has remained a major challenge for the country mainly because of lack of jobs, skills and entrepreneur skills. Providing employment to the youth is paramount for country's economic transformation" Musinguzi says.
President Yoweri Museveni, who was represented by the Vice-President Edward Ssekandi, acknowledged that Uganda's youthful population needs to be at the centre of the government planning and development process.
"Our government will continue to give priority to issues of our youth by empowering and skilling them so that they contribute positively towards Uganda's development," Museveni said.
He revealed that the Government will continue to provide an enabling environment for creation of more jobs, lower the cost of doing business and build industrial parks to attract more investors.
"We shall continue to harness the potential of this young population as well as providing young people with opportunities and means necessary for them to prosper. That way Uganda will benefit from the demographic dividend," Museveni said.
He challenged district medical officers to sensitize Ugandans on hygiene, nutrition, malaria control, behaviour change to avoid AIDS and use of safe water. Museveni said these measures would eliminate 86% of all the sicknesses.
"The empowered youth is one who is healthy, educated and equipped with relevant skills to play an active role in the money economy as both a buyer and producer," Museveni said.
The UNFPA country representative, Alain Sibenaler, revealed that there is hope that Uganda will benefit from the potential of young people by fully reaping the demographic dividend.
"At the heart of our efforts must be adequate investments in health and education with greater emphasis on the promotion of technical skills education, economic growth, job creation and governance," Sibenaler said.
Jessica Ababiku, the Adjumani district Woman MP, called for establishment of small factories and industries to create jobs for young people.
"We need to tap this capital investment and have used engaged in productive work. If we leave youth to be redundant they will be the ones to participate in early marriage and part of the teenage pregnancy," Ababiku said.