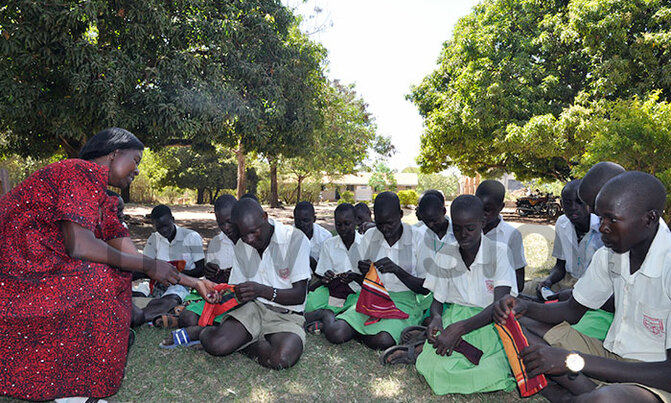 Wankya says she attended a training on menstrual hygiene and on returning to the school, she mobilised girls in groups and started training them on how to make reusable sanitary pads.
Wankya teaching pupils how to make reusable sanitary pads
TEACHERS MAKING A DIFFERENCE
Under the tree, pupils are busy making reusable sanitary pads with the guidance of their teacher.
She is Lovisa Audrey Wankya, the senior woman teacher at Achilet Primary School in Tororo district. Wankya is teaching the pupils how to hold a needle while making sanitary pads as other pupils cut cloth using scissors.
Unlike in many schools where such activities of making sanitary pads is an issue left to only girls, in this school, boys take part in the co-curricular activity too.
Wankya says boys are active when it comes to protecting and supporting girls in the school because of the sensitization they have received from their teachers and herself.
She says in the past, boys would make fun of girls, once they would soil their clothes during the menstruation periods. But not anymore. She says this would affect girls and sometimes some would drop out of school.
According to Wankya, some girls come from poverty-stricken homes and their parents cannot afford disposable pads. "This is why I felt we needed to teach boys and girls in this school to make sanitary pads, for girls' use, but also to support their families' income after selling some," she says.
Wankya started the project in the school in 2014, after training and later getting support from the school management.
Wankya teaching residents how to make re-usable sanitary pads
She says she attended a training on menstrual hygiene, organised by Plan International Uganda.
Upon returning to school, Wankya mobilised girls in groups and started training them on how to make reusable sanitary pads.
"I requested for some funds from the school to buy materials and the management obliged," she says.
Wankya says that, unlike the disposable pads that can only be used once, reusable ones can be used for a period of one year, if they are well maintained.
Fred Opolot, a pupil says that before the training, boys did not know they were supposed to be supportive to girls.
"We now understand and are supportive. I used to fear to hold unused pads, but after the training, I know it is normal. I also help with washing the girl's washrooms and also fetching water for them. At home I also make pads for my sisters," he says.
Wankya also uses peer-to-peer approaches that include; drama, debates and health awareness sessions in clubs. The clubs continue to pass on the knowledge and skills to other children within the schools.
Sensitising parents
Wankya also realised many parents in the community were not supporting girls during the menstruation. She started moving to communities to sensitize parents on why they should support their girls during this period.
Isaac Ochan, a leader in the village where the school is, says Wankya would train the teachers and local people to make pads during holidays and weekends. She nowadays moves to various churches and mosques requesting parents to get their children, especially girls back in school.
Today most parents in her community make reusable pads for their children, and they also sell the surplus to earn a living.
Gertrude Nyakecho, a teacher, says Wankya has helped transform the community financially because residents sell the extra sanitary pads and make money.
"We were trained once every week to make reusable pads. We now take great care of our children when they are in their periods. Since we are in a group, we also started making pads in bulk for sale.
Samuel Kiiza, the national programme manager for WASH, under Plan International, said out of the many teachers they trained, Wankya is exceptional.
"A few weeks after the training, Wankya started implementing most of the projects she had acquired knowledge in," Kiiza says.
Teaching other teachers
Because of her dedication and hard work, Wankya is always hired by various NGOs to train fellow teachers on issues of child protection, gender and how to use local materials to make teaching aids and play materials for children.
Noah Okello, the district inspector of schools in Tororo, describes Wankya as, "A teacher who is a godsend to the district."
"Despite all these activities, she has always scored high in her role as a teacher. It is this hard work that has prompted the district to promote her to a post of deputy headteacher at Achilet Primary School," Okello says.
Silver Oboth, the chairperson school management committee, says Wankya is a dedicated teacher who ensures that the girls stays in school.
"She introduced the making of reusable sanitary pads in our school, an idea that had never crossed any one's mind here."
"When she requested the committee and the school to support her with funding, we gladly approved her request because our girls were always dropping or missing school, during menstrual periods," he says.
Who is Wankya?
She was born in 1976, in Wakasiki, Nabiyoga sub-county in Tororo district. She joined Rock Hill Primary School from 1982 and completed Primary Seven in 1988.
She later joined Mulagi Girls school in Butaleja district from 1989 and completed her Senior Four in 1993.
She then joined Mulanda Primary Teacher's College, now Busitema University and graduated as a Grade Three Teacher in 2004.
She was recruited as a teacher in Kisoko Boys Primary School located in Tororo district from 1995 to 2013. In 2014, she was transferred to Achilet Primary School.
Golden tips
• Always try to take a lead
• Be innovative
• Support your community
• Embrace hardworking people