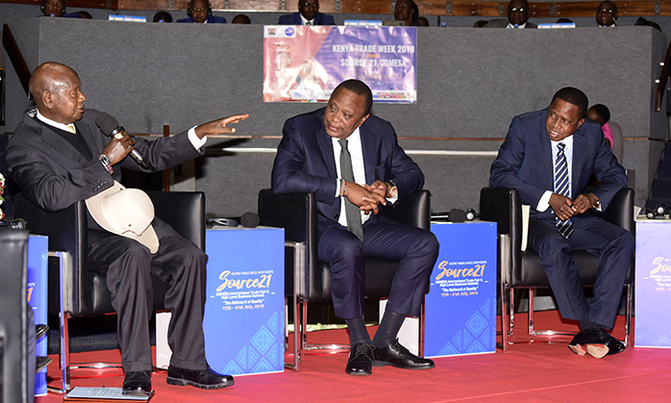 The President was speaking at the Presidential Roundtable with business leaders at the Source 21 COMESA International Trade Fair and High Level business summit
President Yoweri Museveni has told delegates attending the Source 21 COMESA International Trade Fair and High Level business summit in Kenya that the region must deal with strategic bottlenecks and promote market integration.
Speaking at the Presidential Roundtable with business leaders on Wednesday, Museveni said the continent has historically paid attention to the narrow view that only education will solve the continent's challenges.
He said African countries would need to learn from countries like China, which has a market of 1.3 billion people but was still fighting to expand its market worldwide.
Museveni was joined in the discussion by presidents Uhuru Kenyatta of Kenya, Edgar Lungu of Zambia and Paramasivum Pillay Vyapoory of Mauritius for presentations on Africa's development future.
Museveni's presentation focused on how technology can provide the much-needed advantage to accelerate industrialization, market linkages needed for the implementation of the AfCFTA.
He also shared some of the key policies and technology drivers that the region can employ within the AfCFTA and how leaders can ensure Africa's readiness to integrate.
President Kenyatta said the region would need to create more jobs for youth and expand opportunities for the private sector to grow.
The Third Kenya Trade Week and Exposition 2019 is hosting the fair under the theme, "Powering Regional Integration.
The five-day trade expo that has attracted entrepreneurs, industrialists and manufacturers from the COMESA sub-region, is being conducted by the COMESA Business Council in partnership with Export Promotion Agencies and Private Sector Associations of the 21 COMESA member states, together with the Kenya Association of Manufacturers.
It is aimed at promoting manufacturers' competitiveness, value addition for quality industrial output, and advancing cross border trade and inter-business linkages among members of the COMESA Economic block.
Key on the agenda is the Africa Continental Free Trade Area (AfCTA) which was endorsed by nearly all African countries in March 2018 in Kigali, Rwanda.
The AfCTA seeks to progressively eliminate tariffs on trade and drive up investments to the continent and its coverage would make it the world's largest free trade area.
Uganda signed up to the landmark free trade area which brings together over 1.2 billion people across 55 states, with a gross domestic product (GDP) of $2.5 trillion.
Museveni was received at Jomo Kenyatta International Airport on Tuesday evening by the Kenyan Cabinet Secretary for Industrialization Aden Mohamed, Uganda's Minister of Foreign Affairs Sam Kutesa, Uganda's Deputy High Commissioner to Kenya Nathan Ndoboli, the Consular General in Mombasa Katurebe Tayebwa, together with other Senior High Commission Officials.