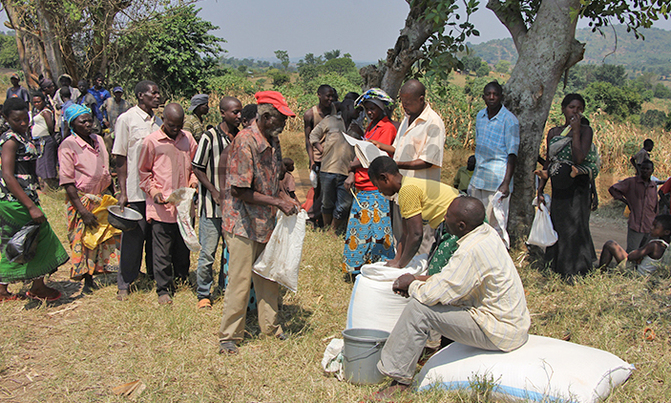 Uganda's open door policy to refugees has become a model which UNHCR wants other countries to adopt
Communities that are playing host to the over 1m refugees in Uganda are set to receive a grant of $150m (about sh555b) to help improve facilities and relieve pressure on shared amenities.
While fielding questions from lawmakers on Thursday last week, Prime Minister, Dr Ruhakana Rugunda also defended Uganda's much vaunted open door refugee policy.
According to Rugunda, the overnment is proud of its policy that treats refugees in "a humane manner."
Earlier, the Leader of Opposition, Betty Aol Ochan had raised a red flag over the influx of refugees from South Sudan and Democratic Republic of Congo (DRC) which she said was putting a strain on host communities.
"Host communities in Uganda are set to receive a $150m grant to help them improve common facilities like schools and hospitals," Rugunda said.
However, Rugunda did not reveal which entity or country was giving Uganda the said grant.
The Prime Minister however stridently pushed back against insinuation that funds collected during the 2017 refugee solidarity summit in Uganda had been misappropriated.
On 21st and 22nd June 2017, the world gathered in Uganda to stand in solidarity with the country as it hosts over 1 million refugees in what was dubbed the solidarity summit.
The summit, hosted by President Yoweri Museveni and the United Nations Secretary-General, Antonio Guterres raised over $350m out of the targeted $2b.
Rugunda revealed that only $1.5m was received directly by the government, the rest being expended directly on projects that benefit refugees.
"Government of Uganda is aware of how these funds have been expended. No funds were lost," Rugunda said.
During an IGAD summit on refugees in March in Kampala, Rugunda took a thinly veiled swipe at Western countries closing their borders to people fleeing conflict in their countries.
"No one chooses to be a refugee," he noted. And on Thursday, the Prime Minister made a case for Uganda's open door refugee policy which entails educating and skilling refugees.
"We are hopeful that these refugees will one day go back home and contribute meaningfully through acquired skills," Rugunda noted.
Uganda hosts over 1.2 million refugees in 28 settlements in 12 districts (including Kampala) where refugees coexist peacefully with their host communities.
Uganda's open door policy to refugees has become a model which the United Nations High Commission for Refugees (UNHCR) wants other countries to adopt.
Under this policy, Uganda accepts refugees from any part of the world. And once an individual is granted refugee status, he is free to move, work or start a business instead of wasting away in a refugee camp.
However, the policy has not been without challenges. A section of politicians representing refugee host communities routinely complain about the strain refugees are imposing on facilities like schools and hospitals to the detriment of native Ugandans.