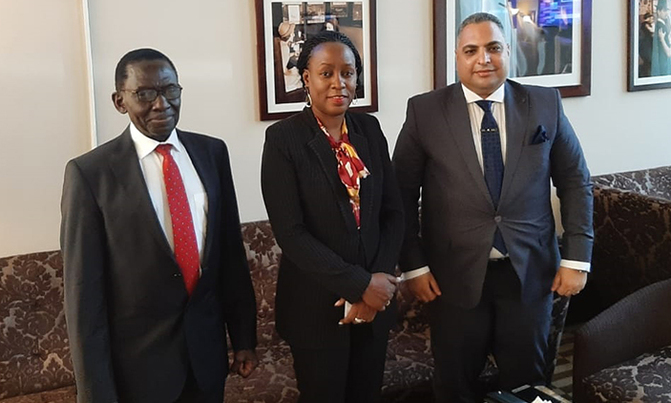 Government targets to increase coffee production from an average of 4.5 million bags annually to 20 million bags by 2025
The minister of state for youth and children affairs, Florence Nakiwala Kiyingi, has met a group of Egyptian investors who have an interest in establishing coffee processing plants in Uganda.
According to a statement from the ministry, Nakiwala met the chairperson of Mac Optic Investment Dr Ahmed Radwan in Cairo, Egypt on Thursday, who praised Uganda's coffee.
"We are very interested in investing in the value-addition of the Ugandan coffee sector because we trust our resources, abilities, ideas, plans and projects since we have the best experts in their own fields to reach the highest standards," Radwan reportedly told Uganda's delegation.
He told the minister that they seek to increase their presence across the globe from the current 18 offices to 30 by 2020, and Uganda was of interest to them because of its renowned coffee output.
Nakiwala pledged to support the company establish in Uganda noting that the coffee industry has grown stronger over the years due to deliberate programmes by the Government.
Uganda remains among the largest producing and exporting countries of coffee in the world, she said, noting that it also the country's third foreign exchange earner after tourism and remittances.
Uganda's coffee production increased from 4.46 million (60 kg) bags in the financial year 2015/16 to 5.63 million bags in 2017/18.
Total coffee exports grew from $351m to $492m over the same period, representing a 40% increase in value.
The increase in exports is attributed to the long-standing replanting program that has been ongoing over the last 10 years to replace the stock lost to Coffee Wilt Disease.
Government, through the Uganda Coffee Development Authority, has distributed over 544 million coffee seedlings to coffee farming households countrywide to increase production.
Government targets to increase coffee production from an average of 4.5 million bags annually to 20 million bags by 2025.
Brazil, the world's leading coffee producer, produces between 55 and 60 million sixty-kilogramme-bags annually.
Radwan's investments include chains of food and beverage plants, luxury villas and apartments and an oil refinery and petrochemicals company with the largest refining capacity in Egypt.
In nearby South Sudan, his company holds licenses for two oil production areas while in Sudan they own cement and sugar plants.
They also have a presence in Bulgaria, Serbia, Cyprus, Jordan, Iraq and Lebanon. Radwan said their investments would extend to agriculture.
The meeting was attended by Uganda's Ambassador to Egypt, Sam Sebuliba, who vowed to strengthen trade and other forms of bilateral relationships between Uganda and Egypt.
Nakiwala and the delegation from Uganda were also led on a guided tour of some of Mac Optic Investment's plants in Cairo.