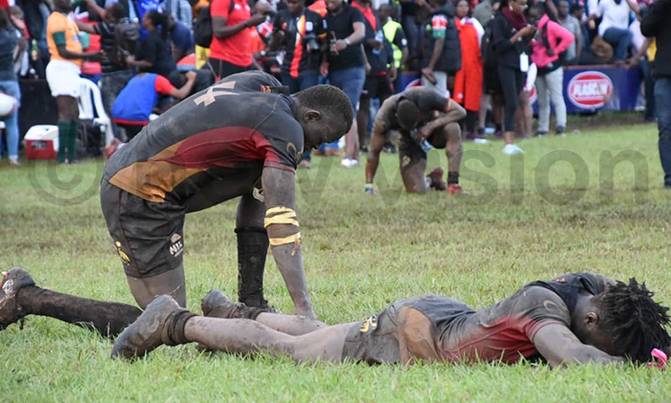 His squad let a great opportunity to win their first Elgon Cup in four years slip
Elgon Cup
Kenya 16 Uganda 5
Robert Seguya's eyes teared up as he talked to the media about the causes of Uganda's 16-5 defeat to Kenya in the return leg of the Elgon Cup Saturday at Kyadondo.
The sight was remarkable because the Rugby Cranes coach is the definition of tenacity - a revered legend with a playing career covered in layers of glory.
Yet he had been broken - so to speak - by this defeat.
"I have become very emotional (because of this loss)," Seguya confessed.
So was the rest of his squad after letting a great opportunity to win their first Elgon Cup in four years slip.
Winners of the first leg 16-13 in Kisumu last month, the Cranes had home advantage for the final leg and they looked poised to make it count after Ronald Kanyanya opened the scoring in the first half with a try that Phillip Wokorach failed to convert.
But the Simbas immediately clawed back with a Billy Odhiambo try, with the ensuing conversion missed by Jacob Ojee.
Kenya went into halftime leading 8-5, with Ojee's penalty having extended their lead.
"We lost the game because the boys, especially the forwards did not run onto the ball," Seguya revealed.
"They received the ball most times when they were standing and this is something we had talked about before the game."
That though, was not the only thing that prevented Uganda from mounting the second-half comeback the capacity crowd at Kyadondo was so desperate to see.
"We gave away a number of penalties and we didn't take our chances today," Cranes skipper Asuman Mugerwa told New Vision Sport post-match.
Cranes forward Brian Asaba did observe that painful though this loss was, there was something to be proud of in the way Uganda pushed Kenya.
"In the past, Kenya used to blow us away but now our matches are very close," Asaba said.
"That's a positive we can take forward."