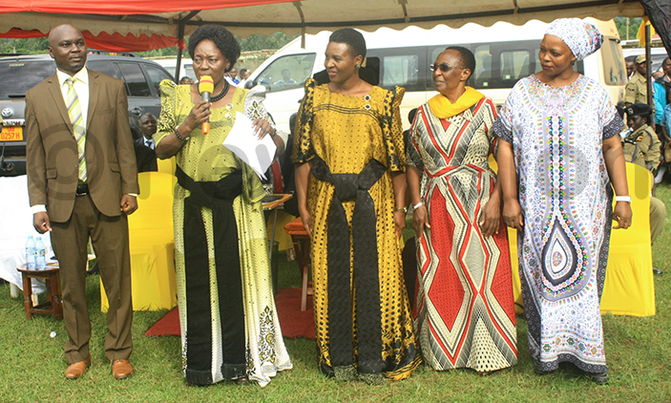 She promised to write to the President inform him about the matter, adding that she would also summon the officials from URA to come and explain
The Speaker of Parliament Rebecca Kadaga has said that she is disappointed with government for continuing to levy taxes on cosmetic creams that protect the skins of albinos from direct sunlight.
Kadaga expressed her concern on Friday while addressing hundreds of Lusteste constituency residents and Bududa leaders at Bulucheke sub-county playground in Bududa district.
Lusteste constituency MP Godfrey Watenga revealed that albinos in Bududa district were going without their skin cream because they cannot afford to purchase them.
"I am very disappointed with the government that they have continued to levy charges on the creams that help to protect the skins of Albinos and yet we agreed that no charges should be levied as they enter the country," Kadaga said.
"I chaired the meeting we had with Uganda Revenue Authority (URA) and other officials in concerned ministries and agreed that let these cosmetic creams be considered as medicine," she added.
Kadaga promised to write to President Yoweri Museveni and inform him about the matter, adding that she would also summon the officials from URA to explain why they had continued to levy taxes on the creams.
"I will not let these matters go lightly, I will follow it up. Time for joking is over and we have to serve Ugandans without oppressing minority groups," she said.
Kadaga also expressed concern that it had taken over two years to consider Bududa a hard-to-reach district so that their civil servants also benefit from the allowances after agreeing with the government.
She said that it had come to her attention that communities in Bugisu were still engaging in fights with Uganda Wildlife Authority despite boundary opening, adding that she had summoned the concerned minister to explain to the house and the nation at large.
"Why should communities continue losing life to rangers and why should rangers also be attacked by communities as the minister concerned is silent?" Kadaga asked.
On the matter of skilling the youth in eastern Uganda, Kadaga said that it had taken long but noted that she had approached the President and appealed to Members of Parliament to do monitoring to see that the youth in eastern Uganda also benefit from the program.
Bududa LC5 chairperson Wilson Watira appealed to Kadaga for her support to remind the government to see that the26km Bududa road is tarmacked, adding that she should also see to it that over 20,000 people are resettled immediately.
Watira reported to the Speaker that the government had refused to elevate Bulucheke health centre III to health centre IV despite them fulfilling all the requirements.
"We have what it takes for a health centre IV to be granted: two doctors, structures and nurses, but the government has refused to elevate Bulucheke and we now appeal for your support," Watira said.
MP Watenga revealed that the district was still grappling with cholera in camps for the landslide victims, adding that the government had not done much to fight diseases and expressed fear that the situation may get out of hand.
Watenga hailed the government for the support rendered to have six feeder roads constructed, adding that the government had also given district funds to construct four bridges that had recently been washed away by heavy rain.
He also donated eighteen mattresses, an examination printing machine and four sacks of mama delivery kits to residents in his constituency.
"Just manufacture more children and my work will be to provide delivery mama kits," Watenga said sparking loud laughter from the residents.
Kadaga to promised the residents her support and encouraged them to educate their children, adding that the only gift a parent can give a child is a good education.