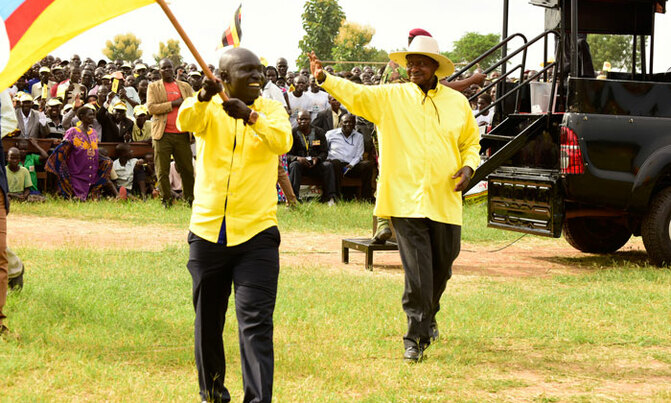 The President said opposition leaders do not access him to lobby for their people.
Museveni campaigning with Orombi in Nebbi
President Yoweri Museveni has asked the people of Nebbi to vote leaders who subscribe to the National Resistance Movement party (NRM), saying NRM is the only party with solutions to Uganda's challenges.
Addressing hundreds of party supporters at Jupukumu village, in Parombo town council on Tuesday, the President said voting the Opposition was waste of time, adding that opposition leaders do not access him to lobby for their people.
"If you elect an opposition person, it is just a waste of time because he will not come to me to present your challenges," he said.
The President said Nebbi people are witnesses of NRM's achievements since they neighbour DR Congo.
"You are the best witness because you live near DR Congo and, therefore, know what lack of peace means," he said.
The President also rallied the youth to embrace the peace ushered in by the NRM government, saying that they should not feign ignorance of the past.
"There is peace because of NRM, those who are old enough know what is happening and the young ones should know what happened," he said.
Museveni also lashed at those who sell their votes.
"Some people exchange their votes for money. If you get sh1,000 from a candidate for five years, how will that help? That is just misuse of the power of votes," he said.
The President, who is also the national chairperson of the NRM was in Nebbi to consolidate support for Emmanuel Orombi, the NRM flagbearer for the July 11 polls.
The Tuesday visit was the third for the President in the district in the recent past.
He was in the district recently as part of his wider national campaign on wealth creation.