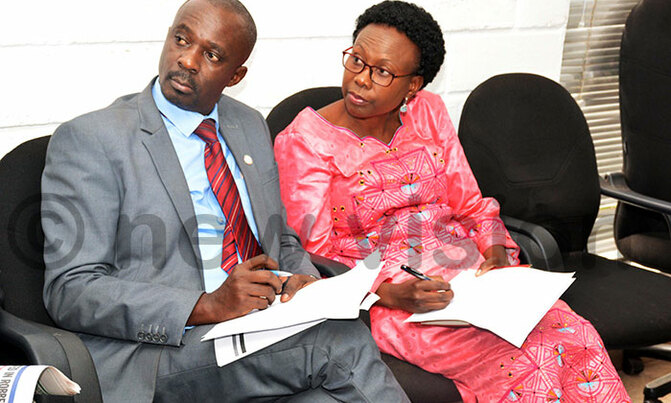 Aceng said the ministry is currently developing guidelines to support the promotion of physical education in schools.
Aceng (right) and the acting commissioner of non-communicable diseases, Dr Gerald Mutungi, taking questions from journalists at Uganda Media Centre on Tuesday. Photo by Timothy Murungi
The health minister, Dr Jane Aceng, wants the education sector to make physical education compulsory in all schools as part of efforts to increase physical activity among the population.
"Being physically inactive is a major risk factor for developing non-communicable diseases, such as cardiovascular diseases, cancers, diabetes and mental illnesses. This prevalence of non-communicable diseases is anticipated to increase if the population fails to change to an active lifestyle," she said.
Increased physical activity reduces the of non-communicable diseases leading to a healthier and more productive population which eventually contribute to the overall economic development of Uganda according to Aceng.
The minister was speaking to journalists on Tuesday at the Uganda Media Centre in Kampala.
Aceng also said the ministry is currently developing the National Physical Activity guidelines to support the promotion of physical education in schools as part of the efforts to increase physical activity among the population.
According to the World Health Organisation, physical inactivity is reported as the fourth leading risk factor for death globally causing 6% of deaths worldwide. It is also estimated that one in every four adults globally is not physically active enough.
WHO recommends at least 150 minutes of moderate intensity or 70 minutes of vigorous intensity physical per week or 30 minutes of moderate activity daily among adults.
"Children and adolescents require a minimum of one hour per day of physical activity. Children should be encouraged to start physical activity all the way from home, it is the responsibility of parents to encourage children to move away from television watching to instead engage in physical activity. This will help the children to be more mentally alert and active in school," she said.
Last year President Yoweri Museveni launched the second Sunday of July as the National Day of Physical Activity. This day will be held annually as a way of strengthening Government's efforts in the prevention and control of non-communicable diseases.
This year the day will be commemorated on July 14 at Kololo Independence Grounds under a theme; My health, My responsibility to inform the population about the importance of physical activity and its relevance in the prevention of non-communicable diseases and the need for each of us to take serious responsibility for our health.
"Promotion of physical activity is a responsibility of all sectors and cannot be left to the health sector alone. I call upon Ugandans both in government and private sector to support efforts that promote physical activity at work place so that we can reduce on the number of people who suffer from non-communicable diseases and increase on the productivity of our staff," Aceng said.