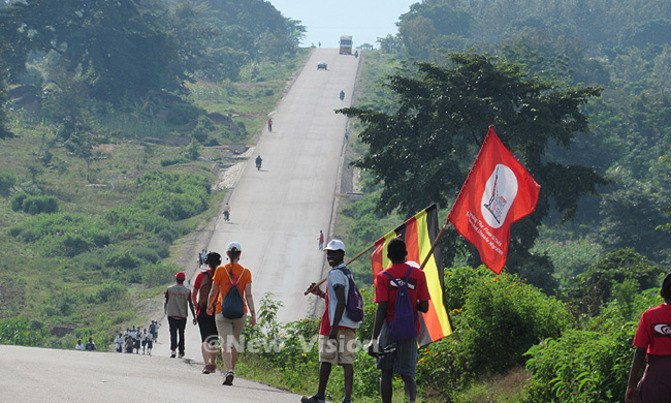 From Budaka to Mbale, the journey continues.
JOURNEY OF HOPE AWARENESS AND CHARITY WALK 2019

By Joseph Kizza
@joekizza

_____________________________

CURRENT LOCATION: MBALE

A midevening drizzle could have as well graduated into a downpour. Thankfully, it didn't. We were spared the pandemonium that typifies the moments immediately after the skies give way for a cloudburst. Yes, we scrambled to get stuff out of harm's way when the drizzle seemed keen on giving us a proper welcoming to the eastern Ugandan city of Mbale, but it did not last long enough to warrant much panic. The biting cold aside, Mbale has been kind to us. We are camped at the Highway SDA-Namanyonyi Day & Boarding Primary School for the ninth pit stop of our 467km charity walk from Kampala to Karamoja. With 234km covered thus far, we are midway through the expedition. This is the #SchoolsNotStreets Journey of Hope campaign to raise awareness on the plight of street-connected children.

Mbale was the stopover immediately after Budaka, where we stayed for two days, including our first of two rest days (Monday), at the vast Budaka Town Council Grounds. Linda, one of two Germans on the crew, was already up and raring to get right into the day with what I have noticed is a routine stretch. Soon, breakfast would be served even before the sun could break out of its shell.




Setting off from Budaka, we were privileged to have the Budaka Town Council Speaker, Pastor Joseph Damba, represent the Mayor, Rogers Mukose, to flag us off for the ninth leg. He first led us into a prayer right by the roadside as groups of school children hurried past us to get to school on time.




As a sign of spiritual friendship, Damba handed over a Lugwere bible to Peter of Soul Touch Ministries, who are a part of the Journey of Hope Walk 2019 team.




He then flagged off the fired up team at Budaka district headquarters.

Budaka, a district of two counties, seven sub-counties, 35 parishes and 167 villages, borders Mbale to the west. So we knew we had to calibrate our bearings to the east.




With spirits high after a good day of resting, we were bathed in glorious early morning sunshine. Tamara (who fancies slapping on her headphones to put herself in a good musical place), Linda, Aaron and Timothy led the way. Yes, you won't see me but I was right there with them to take this picture of them :)




Timothy is Rita Nkemba's son. Rita is the founding director of Dwelling Places, the Christian nonprofit behind the Journey of Hope campaign. At 17 (and soon turning 18 in August), Timothy is the youngest participant in this year's charity walk. He loves to stick a comb through his mop of hair and get about his walking with such youthful swagger. Be sure to catch him humming to his favorite playlist as he disappears into the distance.




His mum, too, prefers to put herself in a good musical place while on the road. We are talking 30km of walking every day here, so you have got to find a way of channeling the exhaustion into a positive realm of your internal existence.




Budaka, an area of 410.4 km2, has an elavation of 1,080m.




The #SchoolsNotStreets campaign is saying that children should be in school and not on the streets. I am sure you have seen a couple of children loitering around particularly strategic parts of Kampala, moving from vehicle to vehicle sticking out a hand for a coin, or sleeping on cold or sunbaked street pavements. These children are either trafficked or find their way to major towns from villages under the influence of wide-ranging factors, including peers and family disharmony. Majority of them come from Karamoja sub-region.




Rita Nkemba started Dwelling Places in 2002 with husband William. Towards the end of 2014, a trip to Lomaratoit village in Napak district inspired the birth of the Journey of Hope campaign.




Lomaratoit Primary School had very low attendance across the four classes (Primary One to Four). Dwelling Places' intervention saw the numbers grow. Out of the 200 children enrolled in the school in 2015 in the hope that they did not go to the streets, at least 145 have continued to consistently attend school to-date. Of this lot, 23 were among the very first to complete Primary Seven in this very school last year. All of them passed.




Isaac, who works with Elpa Uganda, the crew that is providing paramedic services to the team, is your go-to kind of guy. He loves to stir up the team with his wacky tales. He enjoys a good movie too. On the Journey of Hope so far, if he is not in the ambulance with the affable Paul and introverted Lynette, be sure to find Isaac on the road with the walkers.

Particularly on our way to Mbale, we (I, Isaac and Tamara) enjoyed some good old Country music as we sauntered into the morning sun bath.




Earphones? Check.

Linda tucked herself away into another world. Here, she elected to listen to a podcast (in German) generally about church life. By the way, she is a student of theology and social work.




Who said walking is easy?

Ask a baby. S/he will fill you in on how tricky it is to just to get up steady on those wobbly cute legs.

Anyways, the Journey of Hope walkers have realised one thing: Walking may be as straightforward as it can come, but boy is it exhausting!




At some point, I asked Rita which genre of music she listens to when she is on the road.

"Anything," she tells me.

Well, whatever it is on her playlist, I usually can tell she is enjoying it when I freeze her snapping her fingers. Clearly, the rigors of walking for hours don't seem to have anything on her drive to get to her destination.




Aaron Wamayi loves to wear his cap at an angle. The third year student of Makerere University Business School (MUBS) hails from Mbale.

"I will check on my parents when we get to Mbale," he told me.

Caitline, pictured in front in the picture, is the youngest walker this year. She is determined to walk all the way to Karamoja.




An exhausting walk, no doubt, but one that is worth every step.




Told you Timothy (Timo, if you like) loves his comb.




During the fruit break, Tamara played a little game with Linda. The watermelon seeds spitting competition.

Not sure who the eventual winner was though.




Water is life . . .




Patching up. Ready to get back on the road after the break.




Along the way, the affable Kristen Fry (pictured in the lead) and I talked about a lot of thing, including culinary stuff. She told me how she prepares a yummy turkey. That got my taste buds rioting.

Well, that came up after we spotted a rafter of turkeys along the way.




Then I spotted the Wanale hill kissing the sky . . .




Welcome to Mbale!




And an air punch to signal a triumphant entry into Mt. Elgon land.




Kristen could not miss out on this photo opportunity. Livingstone International University it is.




At this point, the team knew the end was nigh . . .



Budaka? Check!

Mbale? Here we are.

Next pit stop: Bukedea.




For its third edition, the biennial Journey of Hope campaign, has had partners give generously to make the walk a success: New Vision, Terres des Hommes (a Dutch organisation working to, among other things, end child trafficking), City Tyres, Cafe Javas and Girls Advocacy Alliance, which is aimed at eliminating gender-based violence and economic exclusion of women and adolescent girls.


ALSO RELATED TO THIS STORY

Journey of Hope Walk 2019: 204km covered so far

In pictures: Journey of Hope Walk 2019 - Day Five

Journey of Hope Walk 2019 diary: Day Four

Journey of Hope Walk 2019 diary: Day Three

Journey of Hope Walk 2019 diary: Day Two

Journey of Hope Walk 2019 diary: Day One