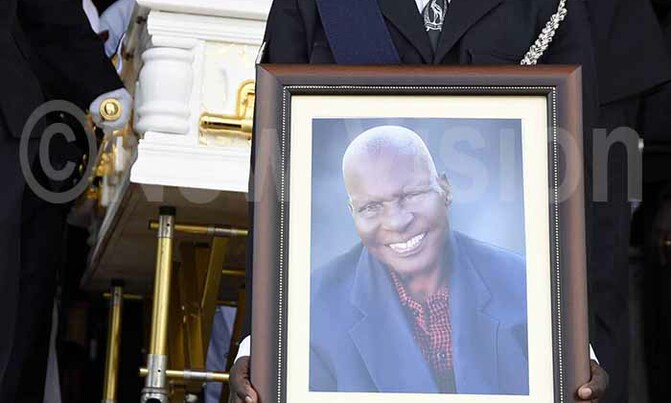 Athiyo, died at 91 years last Friday, July 5th at his home in Kitende along Entebbe road according to the state minister for Karamoja Affairs Moses Kizige.
OBITUARY

KAMPALA - Karamoja is mourning the death of former trade and information minister Edward Athiyo Lorika who served as a member Parliament in the 4th Parliament in 1980 for Karamoja (Moroto South) during the National Consultative Council (NCC).

Athiyo, died at 91 years last Friday, July 5th at his home in Kitende along Entebbe road according to the state minister for Karamoja Affairs Moses Kizige.

"The hospital postmortem shows the late died of a sudden cardiac death caused by a change in heart rhythm. He will be buried on Wednesday at his home at Nakale village in Moroto district," said state minister for energy Pater Lokeris

Led by Nakapiririti Woman MP Anyakuni Esther Davinia, Abim Woman MP Janet Okori-moe, Labwol county MP Micheal Ayepa, Bokora County MP Terence Achia, state minister for Karamoja Affairs Moses Kizige, Lokeris received the body which laid in state at Parliament.

Athiyo had been a member of the National Consultative Council for several years from 1979.

Athiyo served with legislators including Mpigi South MP Kawanga Semwogere, the late Kampala Central MP Kafumbe Mukasa, late Kasese west MP - Amon Kabunga Bazira, Moyo West MP and Dr. Moses Tako Apiliga, who also served as the Minister of State for Supplies under Milton Obote's government from 1980 to 1985.

Semwogere said: "Athiyo was ranked among the then good debaters in the House.

According to a report of the proceedings of Parliament (Hansard) OF 3RD July 1984 Athiyo strongly condemned cattle rustling in Karamoja.

He said "the government should include some Karamojong in the struggle to fight cattle rustling because not all Karamojong people were in support of cattle rustling,"

He survived with a wife Christine Rugasira Athiyo and seventeen children inclusive of grandchildren; said one of the late's daughters on conditions of anonymity.

Lokeris said Athiyo was a brother to businessman Cornelius Kodet the proprietor of Arial Beach Entebbe, late Nakapiripti woman MP Rose Nacha,(6th Parliament) and William Naburi a former Minister of State for Defense during president Amin's regime in the 1970s.
Who is Athiyo?

He attended Lotome primary school, Ngora High School, where he sat for his junior certificate in 1953; He joined Veterinary Department in the ministry of Animal and Livestock, industry, and served as Veterinary assistant in Napak district.

In 1958 he was appointed the then General Secretary (equivalent to LCV chairman) of District Council of Karamoja, and then preceded for further training in administration in the United Kingdom.

He was also appointed to serve as District Commissioner for Bugisu, Bunyoro, Mbale, Tororo and Ankole regions in the early 1960s.

From 19721 to 1972 he served as an ambassador of Uganda to Democratic Republic of Congo (DRC), after the expulsion of Indians in 1972.

Athiyo also served as former trade minister during 1976 under Amin's government and also served as minister of transport in 1984 during the late president Obote 2 regime.

He was one of the major initiators to the Departed Asians Property Custodian Board (DAPCB) Later on he was appointed a Permanent Secretary in the Ministry of Commerce and industry.