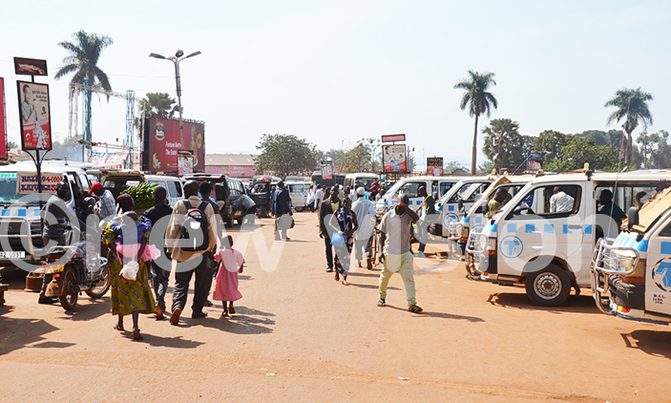 When New Vision visited the taxi park, drivers had parked their vehicles.
Taxi drivers in Jinja district have gone on a sit-down strike while protesting the manner in which the traffic police officers are implementing a newly introduced electronic Express Penalty System (EPS).

The Monday strike which paralyzed transport along the Jinja-Busia-Mbale-Kamuli and Kayunga highways left passengers especially school going children, civil servants and the business community who use public means stranded.

Khalid Muyingo, the chairperson of the Jinja taxi operators association (JITOA) said the strike stretched to the entire eastern region.

When New Vision visited the taxi park, drivers had parked their vehicles. Muyingo faulted the Director of Traffic and road safety, Steven Kasiima, for not sensitizing drivers before introducing the new EPS.

Whereas the initial system included the phasing out penalties which they had accrued previously, drivers argued that traffic officers were still demanding for the fees.

Muyingo said some of the fees that the traffic officers ask for were issued way back in 1997 to 2000 which had been scrapped.

The Kiira regional police spokesperson, Diana Nandawula, however, said that they were implementing the new system which had become effective in July.

Nandawula told New vision that their first operation was conducted at the Nile bridge last Friday where they impounded a number of vehicles and issued them with receipts which they entered into their data.

Whereas the initial system required drivers to pay the penalties within 20 days, the new one is instant which the drivers say aims at kicking them out of business.
Boda-boda riders ruling the Jinja-Iganga highway after taxi drivers protesting the new system

"Excess driving carries a penalty of sh100,000 yet a taxi makes approximately sh80,000 a day. This is intended to kicking us out of business," Muyingo lamented.

Boda-boda riders took advantage of the strike to reap off desperate passengers by hiking the fares as they reigned all the highways.
Boba- bodas reap big
For instance, from Bugembe to Jinja town, transport is sh500 in a taxi and sh700 in a coaster but boda-boda riders were charging sh2,000 which majority, especially school children couldn't afford.

Meanwhile, from Jinja to Buwenge, they were charging sh6,000 yet taxis charge sh2,000 while to Iganga, they were charging sh20,000 against the sh2,000 in a taxi.

Some opted for walking to school and to work while others cancelled their journeys.

Sofia Nangobi, a resident of Kasokoso village in Iganga municipality, said that she was charged sh15,000 on a boda-boda to attend to her sick mother at the Jinja regional referral hospital where she had been admitted on Sunday night.

"I had no option but to travel by boda-boda to go and take care of my mother. Government should address the drivers' plights," Nangobi said.

Moses Kimera, a resident of Bugembe, learnt about the strike when he had accompanied his two children to board a taxi to Main street primary school in Jinja town.

Jackie Mirembe, a sales executive with Vision Group and resident of Bugembe said she couldn't risk her life by using a boda-boda and opted to walk.

"My legs are hurting because of the long distance that I had to walk. I couldn't risk my life with the riders whose driving skills are questionable," Mirembe said.

However, in Bugembe and Buwenge town councils, irate taxi drivers turned their anger to boda-boda riders as they blocked them from carrying passengers and those who resisted were beaten.

They were also seen stopping saloon cars and checking to see if any was carrying passengers based on the number of occupants.
Drivers inspecting if saloon cars were carrying passengers

Police swung into action and fired teargas to disperse the drivers in Bugembe trading centre who also hauled back with stones.

The teargas affected vendors at the Bugembe central market and the business community in arcades and shops.

Shortly, the Jinja resident district commissioner, Eric Sakwa, arrived in a convoy of soldiers in Bugembe who whipped some of the errant drivers, who were seen fleeing.

Sakwa said the drivers were politicizing the matter and urged them to seek audience with concerned parties instead of paralyzing transport.

He vowed not to accept chaos in the district.