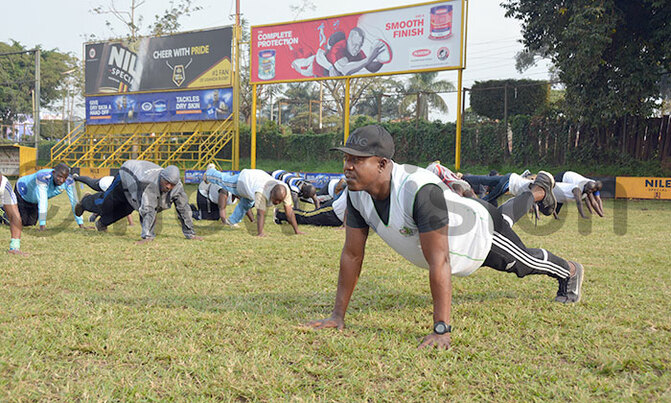 Sarah Namulondo, 51, a Police officer attached to Kyambogo Police Station weighed 150kg in 2016. She now weighs 90kg.
Oyebode takes participants through drills at Lugogo Rugby Grounds in Kampala
Every Saturday morning from 6:00am to 9:00am, members of Health 24 Uganda from diverse fields meet at Lugogo Rugby Grounds in Kampala for a fitness routine.
They go through a combination of squats, press-ups and endurance exercises intended to keep their bodies in shape as a way of curbing down non-communicable diseases (NCD) in Uganda.
When the exercise session comes to an end, the chief trainer and director of Health24 Uganda, Solomon Wilson Oyebode briefs the participants about the importance of maintaining a healthy lifestyle.
This same programme is spread to different parts of Kabale, Mbale, Masaka, Mbarara and Fort Portal. There is such personal satisfaction once participants share how the routine has changed their lives.
"We have had so many testimonies from participants in all our camps spread across the country," said David Louma, one of the coordinators of the programme.
Impact
Sarah Namulondo, 51, a Police officer attached to Kyambogo Police Station weighed 150kg in 2016. She is now 90kg.
"I had multiple issues with my health. I had back pain and I struggled to walk, she said after the session. I am nearly half the weight I had three years ago," she said.
"I am now much stronger and I can do exercises that I could not do before," she says.
Namulondo's experience is not different from that of 37-year old Aliasa Nabwire, a Police officer attached to Jinja Road Police Station. She says after three years of participating in the fitness routine, she has been able to shed off weight. I was 100kg. Through exercise, I have lost 20kg. "I feel more energetic and younger."
The testimonies are indicators that Health 24 Uganda is achieving her objectives which started in rather unusual circumstances.
Sarah Namulondo has lost almost half her weight since 2016
Solomon Oyebode's fitness dream was born in 2015 during a hospital visit to a friend who was battling cancer at Mulago Cancer Institute.
"I came face to face with the challenges of dealing with cancer, one of the non-communicable diseases that many people are grappling with," he says.
In a bid to mitigate the likely causes, Oyebode thought about a different approach for prevention and control of non-communicable diseases.
"I decided to come up with an initiative that would promote wellness either from the side of health care or promoting an active lifestyle through physical exercise and proper diet," he recalls.
This idea gave birth to Health 24 Uganda, a civil society organisation that was established to advocate for physical activity through sports and routine check-ups. It is a non-profit making organisation largely sustained by the pool of resources generated by members and board of directors.
In 2017, Oyebode co-ordinated a health campaign dubbed My health My life with the health ministry aimed at promoting public awareness on the importance of taking charge of their health through routine physical exercise and good nutrition as a way of fighting non- communicable diseases using life course approach.
The participants go through drills every Saturday morning
Oyebode says My life My health has four cardinal interventions, mobilising the populations to get active, sensitising citizen on healthy diet, behavior change campaign and mobilising communities on regular medical checks ups. However, this all requires individual effort at all stages of life.
He says the organisation is committed to ensuring that there is total prevention of non-communicable diseases using people-centred and community approaches for a sustainable programme."
"However, this commitment is not a sole effort; it is a partnership of other stakeholders, who include health ministry, Police, Kampala City Council (KCCA), Case Clinic, which provides regular medical checks up and Uganda Rugby Union, which provides the training ground," Oyebode says.