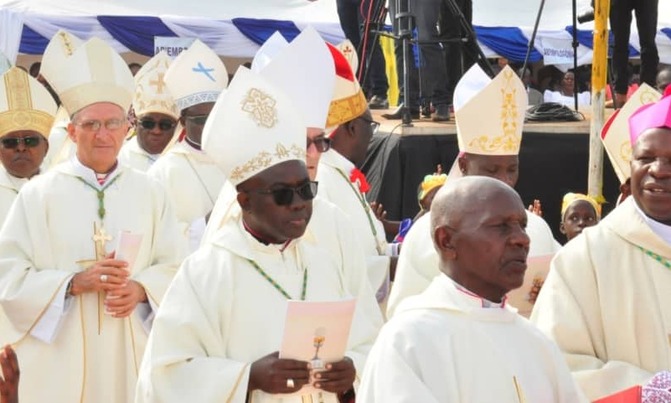 Namazzi said Jjumba was brilliant in school. His friends nicknamed him Nsolo because he was always the first in class.
The bishop's procession during the consecration ceremony. Photos by Sinabulya Bagalayina
BISHOP MASAKA CONSECRATION
Today, Msgr Serverus Jjumba has been consecrated as the Bishop of Masaka Catholic Diocese.

The ceremony was held at Arena playground in Kitovu, Masaka and President Yoweri Museveni has been represented by the Vice-president Edward Kiwanuka Ssekandi.
Who is Jjumba?
Serverus Jjumba's 93-year-old mother fondly calls him Sereve (Serverus) and praises God for the day she was told about his appointment as bishop.

"I was weaving my mat when I heard his sisters shouting and calling me: "Maama, leave the mat and come! Your son is now bishop of Masaka!" I remained doubtful until his fellow priest came and told us to celebrate Mass to thank God."
Vice-president Edward Kiwanuka Ssekandi arrives at the function. He is accompanied by agriculture minister Vincent Ssempijja and other leaders from the area
It is on days like these that mothers remember the day their children were born.
ONE FAMILY: Muslim clerics who were part of the celebrations
"I gave birth at my sister's place. The pregnancy had weakened me, so my sister took me to her place. The pangs started at night. I called my sister, but she was sleeping. I do not remember how I opened the door and went to the banana plantation.
My brother-in-law (husband to my sister) heard me and woke my sister up. She found me holding on to a banana stem and called another person. Thanks to them, Sereve came out like a miracle, without pain as it was before," she narrated.

Namazzi said Jjumba was brilliant in school. His friends nicknamed him Nsolo because he was always the first in class.
"One day I asked him: 'Sereve, why don't you leave others to also top the class? (soma ng'olekamu!)' But when the exam results came, he was again number one!" Namazzi narrated.
Opposition politicians Norbert Mao and Abed Bwanika attended the ceremony
She said at the time Jjumba wanted to become a priest, they did not have money to pay in the seminary. However, his father worked hard and paid for him. But he died soon after.
BYE BYE: Outgoing bishop John Baptist Kaggwa waves to the congregation
In his third year, he injured his hand while playing football and his mother thought it was the end of his schooling. Luckily, his late sister Bukenya took care of him using the little money she got from growing coffee, she narrated.
Katikkiro Charles Peter Mayiga being received at the function
The old woman also remembers when, two weeks after the burial of his father, one of his friends returned home to pick a book Jjumba had left home. She told his friend that Jjumba would have to drop out of school because she had no money.

"That boy told me, 'Maama, Sereve has to study. You may have to stop eating fish and resort to eggplants (ntula). Ignore those who want to laugh at you, find money to pay school fees'. Something in me resolved to do it," she added.

Jjumba loved football and was always prone to injuries.

"When he was at Katigondo, he hurt himself while playing football again. It was in the evening, I was sitting in my kitchen when a priest came over. He was a monsignor. I cannot recall his name.
He told me that he had brought Sereve back home. We nursed his leg and he would cry. I told him: 'My son, when you cry at this age, I feel bad!' His sister took him to a traditional bone setter and soon, he started walking on his own."
Jjumba's mother said she travelled to Kitovu on a bicycle with one of his elder brothers on the day of his ordination. Others came walking!

"We offered him to God and returned home. I would hear that he was in Kooki, then Bukalasa and then they made him a treasurer. I wondered why they would trust such a young priest with money! I asked him if he would manage and he said yes!"

About her son's new role, Namazzi said she was happy to witness it. She asks people to love her son and thanks to God, Bishop Kaggwa, priests and her fellow Christians.

"I have no words apart from praying for him. I also know that my late husband Ssebiranda, wherever he is, is happy. I ask the Virgin Mary to carry him in her cloth."
Minister Ssempijja meets Peter Mayiga