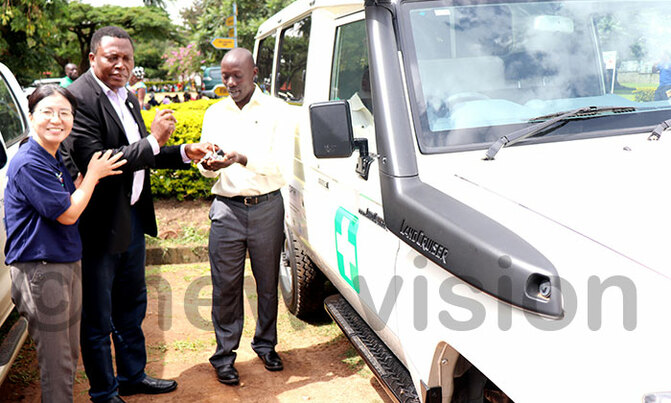 The ambulance was a donation from the Korea Foundation for International Healthcare.
Kim Eun Jing handing over the ambulance to Olara (centre) and Adaku
For years, Arua hospital has been grappling with one ambulance to handle referral of patients to Mulago and other hospitals within the region.
This problem has partly been solved after the hospital on Thursday received a new ambulance from the Korea Foundation for International Healthcare (KOFIH) under the Dr Lee Jong-wook Memorial Fund.
Kim Eun Jing, the KOFIH country director, while handing over the ambulance to the Arua Hospital director, said the ambulance is one component of a project undertaken in the refugee settlements and host communities.
Dr Charles Olara, the director of clinical services health ministry said government realised referral cases have not been good, a reason it is strengthening referral system.
He said the focus is to boost the regional referral facilities with ambulance system with a call and dispatch centre at regional level manned by trained health workers.
He warned the public to desist from using substandard ambulances, citing cases where health facilities turn private vehicles into ambulances.
"Those who want to donate ambulances to health facilities should follow the set guidelines for procuring standard vehicles before importing them," Olara said.