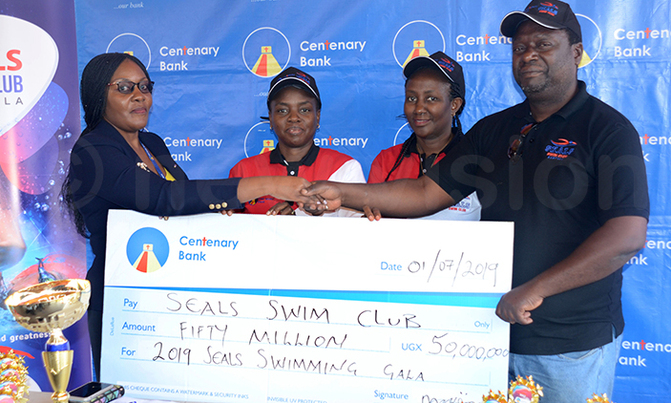 The sport has grown tremendously since 2015 and the invitational had spurred the growth of numerous new clubs in Uganda
Over 300 swimmers from ten clubs are expected to compete in the fifth edition of the Seals Invitational Swimming Championships at Kampala Parents School pool, July 4-7.
Seals Swim Club and Silverfin Academy swimmers who dominated last year's event will be the swimmers to upset in the four-day championship that encompasses a unique format involving preliminaries and finals heats each day.
On Monday, Centenary Bank's chief manager branding and marketing, Immaculate Ngulumi, unveiled a sh50m sponsorship for the annual event that will have the top six swimmers from the preliminaries competing for medals in the afternoon finals on each day.
"As Centenary Bank we pride ourselves in taking the forefront in advancing talent especially among the young people through such partnerships. It is through such platforms that talent is unearthed, nurtured and equipped for national, regional and international representation of our country," Ngulumi noted.
Seals chairman Tefiro Serunjogi said the sport has grown tremendously since 2015 and that the invitational had spurred the growth of numerous new clubs in Uganda and that this wouldn't have happened without the support of corporate sponsorship like that of Centenary Bank.
"As far as swimming is concerned, they are the number one supporters of swimming and we thank them and are grateful for their support. The sport is growing because the swimmers have improved their time in all events,"
Carlton Musenze, Yonah Lumonya and Jethro Mugisha in the 10&Under, John Kafumbe, Daudi Kusinza and Christian Musenze in the 11-12, Christopher Musenze, Samora Lumonya and Jethro Mugisha in the 13-14 as well as Nuwa Senkebe, Raphael Musoke and Trevor Mwachoka in the 15&Over will be up against strong competition from swimmers from; Baseline, Dolphins, Gliders, Makerere University, Seagulls, Sailfish from Uganda and Aga Khan High School, USIU and PIPSA from Kenya.
The ladies champions include Natalie Lutalo, Neema Kangi, Karla Mugisha, Isabel Angemi, Mpeera Yalonda, and Ssinzi Nabatanzi in the respective categories.