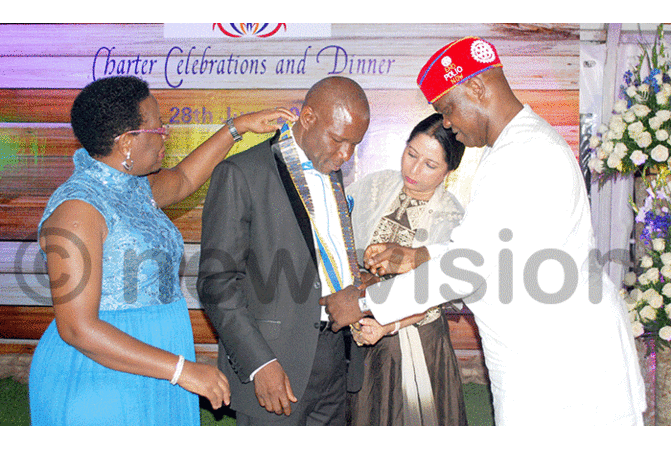 Rotary membership in Uganda stands at about 6,000 from 115 clubs, about 4,000 are Rotarians, while 2,000 are Rotaractors.
Yinka Babalola (right), Sharmila Bhatt (second-right) giving Sentamu instruments of power. Photo by Lawrence Mulondo
The new Rotary leadership of District 9211 made up of Tanzania and Uganda has enlisted wooing more members to Rotary among its top priorities.
"Our target in the next 10 years is to recruit over 35,000 members in Uganda and we believe this is attainable with our population," said Francis Xavier Sentamu, the new district governor.
Sentamu said his new leadership will sensitise people in order to change their mindset about Rotary.
"Some people think Rotary is for the rich and that you need a lot of money to join. This is not true. We are ordinary Ugandans and the only difference is the richness in our hearts," he said.
Sentamu made the remarks while receiving instruments of office from his predecessor Sharmila Bhati from Tanzania on Friday at Kololo Courts Hotel in Kampala.
The occasion was graced by Prime Minister Ruhakana Rugunda and the vice-president of Rotary International, Yika Babalowa from Nigeria.
Rotary membership in Uganda stands at about 6,000 from 115 clubs, about 4,000 are Rotarians, while 2,000 are Rotaractors.
While taking over the leadership of the Rotary Club of Kampala Day Break from James Okello Onyoin, Hajjat Safinah Musene, the commissioner BTVET in the education ministry, said one challenge Rotary has faced, is members who join and later opt out.
"At Day Break we want to retain all our members and persuade new members to join.We also plan to donate to the foundation about $20,000 and contribute over $2,000 to the fight against polio," she said.
The end of June brings a global change of leadership in over 34,000 Rotary Clubs. New leaders underline programmes or projects in line with the world president's theme.
An incoming Rotary president is announced three years in advance and serves a term of only one year with his or her executive.
Rugunda lauded Rotary for supplementing government efforts in service delivery more, especially in the health and education sectors. The premier assured Rotarians of Government support.
"We recognise Rotary for supporting the Government in the fight against smallpox and polio. We salute you for the enormous contribution in saving lives and for supporting government programmes," Rugunda said.