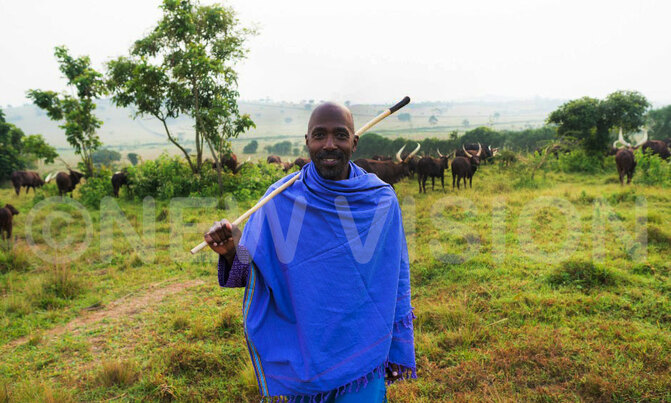 CNN just ranked Uganda as one of the top beautiful places in the world. To be ranked as one of the top 25 places out of the whole world, and competing with places that have multimillion-dollar budgets to try and get on that list...
Ntare Guma Mbaho Mwine is one of Uganda's most celebrated actors having featured in a number of Hollywood films and TV shows such as Blood Diamond (2006), 40 (2009), Queen Of Katwe (2016) and currently, The Chi. He is Uganda on holiday and to launch "Hollywood Goes Back To The Source project," an end-of-year campaign aimed at promoting Uganda's tourism, culture, and opportunities. The campaign will invite American celebrities and influencers to Uganda's destination sites. He talked to Steven Odeke about the movie world, culture and his new role as Goodwill cultural ambassador of Uganda.

Hi Ntare, you were impressive as Ronnie in "The Chi" drama series, can we say it is the biggest movie you have acted in so far?
I would say yes. It was the first time I was the lead character in a television series. In all my 20 years of being on TV shows, I only had recurring roles, but in The Chi, I was a lead character, and it is the biggest so far.

How did you land those roles such as one in Blood Diamond and The Chi's?
For Blood Diamond I just auditioned. It is like a job interview. You are given a text from the movie you have to say, you go in front of the director and say the lines. Then they choose you. That was it. I was just one of those that got through and got selected.

Alright, now that you have been made the country's Goodwill Cultural Tourism Ambassador by the Ministry of Tourism, Wildlife and Antiquities on a three-term basis, how do you feel?

I feel really proud. I am happy to celebrate it. I have been doing this for as long as I can remember. I have been exhibiting my photography work by Uganda everywhere. The first play I wrote, Biro, based on a true story of an uncle of mine who passed away recently, I did not go and first perform it outside Uganda. I could have gone to the biggest theatres in New York or London but I did not. I came back to the source in Uganda, premiered it at the National Theatre. Next thing I knew I was premiering the play in London and New York's public theatres. I also performed it before the late former secretary general of the United Nations, Kofi Anan.

We have heard that you are bringing in American celebrities like rapper Common and standup comedian Yvonne Orji to Uganda. Is it some kind of a project?

It is basically bringing my friends home. I am coming back to my roots and bringing my friends along, to come see my motherland, my inspiration. The project is "Back To The Source." There is so much diversity here in terms of creativity, in terms of landscapes and cultures. Why do I keep this to myself, why do we keep quiet on what we have? We have to celebrate what we have. I have talked to Common about coming to Uganda so many times, we are just now waiting for protocol to be observed.

Are they coming for a safari?

I have friends of mine who do not want to come for some typical safari but want to see the city life like the nightlife. For instance, Uganda has come to be known for its comedy and music scene. And since Yvonne Orji is a comedian who has opened on Comedy specials for Chris Rock, I hope she connects well with the comedy scene here, or even perform.

So, should we say, whenever you come back to Uganda, you always experience the nightlife?
Ha ha ha… I am experiencing the nightlife right now here with you at Emburara Farm Lounge. Uhm, yeah, I cannot believe Angenoir (currently Guvnor) is still there. How is Angenoir still a spot to be in? I mean, clubs do not last usually. They can be cool and not cool anymore, that place has been around since I was like a teenager. Wow. I still remember it around 1992. I think there is a vibrant club scene here that people do not normally see whenever they come.

In your opinion, what's the missing link in promoting Uganda out there?
I think there is traffic. I think people are coming here. CNN just ranked Uganda as one of the top beautiful places in the world. So, when you say we are not doing well in promoting Uganda out there, then you missed CNN's headline. To be ranked as one of the top 25 places out of the whole world, and competing with places that have multimillion-dollar budgets to try and get on that list, who have publicists whose job is to make sure they are on that CNN list, is remarkable. I do know there is a completely different experience when you come to Uganda. Uganda is an oasis that you cannot miss seeing. It offers exclusivity.

Being a reputable actor; by now you are well acquainted with our film industry, how best can we have our movies reach standards of, say, be nominated in the Oscars?
Uhm, they have to keep creating their own work. Ugandans have a unique voice. They do not necessarily have to try to package it for the masses but speak from that Ugandan experience and perspective. Everyone has a unique story to tell. Everyone has gone through some sort of struggle, joy, some drama, some obstacle they would like to overcome. I do not think every story has been told here. But I am really excited about the future because the time is now to be telling those stories. You know why? Because people now have all the means in their palms - with their phones. The means of storytelling has been democratized. So, it is really an exciting time. And I think times have changed. When I was growing up, they weren't making Ugandan movies. Now you are saying they are making movies every day. So, that, you have to accept is progress. In 20 years, things have changed radically. What do you think is to happen in the next 20 years? The film industry here is one of the youngest of the arts, right? So you do not treat the youngest of the kids with the stick yet, okay? You have to nurture them and let them take their time to find their foot and voice before we start criticizing them.

But it seems the industry has been given enough time?
How old is the baby, may be compared to the other players? You cannot compare them. It is not fair. Filmmaking is different from every other art form. Writing is solitary, right? Painters and musicians can work as individuals, filmmaking, and television is the most collaborative art forms there is. It is one that requires the most tactician demands. So, I think to judge them in Ugandan terms is harsh. But I am thrilled. There are some really exciting filmmakers here. I have read scripts from people here who want me to star in their movies and I cannot keep up with them because they are many. Currently, I am working on something with Ugandan filmmaker Loukman Ali and we are shooting something here. I want you to set the time limit; so that we come back and talk about the film industry here and see whether it has moved forward or backward and I can guarantee you they will be forward.

Five years from now…?
Let's do it. Let us make a plan to talk after five years from now. Your readers should note this down if you do not edit this part out. Five years from now I bet you the film industry here is going to be much stronger.
Ntare Guma Mbaho Mwine on set

Fine. One of the major challenges has been that most filmmakers rush in it for the money thus creating average content. what advice do you give them?
That is a good question. Filmmaking, as I was saying, is a collaborative effort and it requires a lot of people for pre-production, post-production and so many things. It requires a lot of expensive equipment. But some people in Hollywood are going back to shooting films with their phones. Steven Soderbergh with whom I worked with on the show The Knick, is an award-winning filmmaker, who shot his most recent film on an iPhone. There have been several huge commercial successes shot on an iPhone. So, to filmmakers who are looking for millions of dollars to make a movie, you have it already. They should start now, by any means. When your back is against the wall, the true artist will come out. Others will make excuses but sometimes you need to make the most of what you have.

…and what is the logic behind having foreign actors like Forest Whitaker and David Oyelowo portray Ugandans in our stories? I mean, we have so many Ugandans who resemble Idi Amin and can imitate him well.
Who was paying for the movie? Where is the money coming from? That's why. The movies you are talking about were not financed here but from abroad. They are going to find people from abroad to tell their stories. I have no criticism about that. You cannot stop them from doing that. At the end of the day, it is about financing. It is a business. So, they look to remake their investments. That is why we should start telling our stories our way. But then, that is an issue everywhere. Americans are also complaining about the same thing saying why is Idris Elba, David Oyelowo and even me a Ugandan, playing Chicago character, doing with their roles. You heard about Samuel. L. Jackson grilling Daniel Kaluuya for playing an American role. It is a problem wherever you go because everyone feels a sense of pride and ownership of where they are from and want to see their stories told by them.

Where do you get your Inspiration?
Uganda has been my muse in many ways. Whenever I need to regroup I come back home. That is why I want to bring some of my friends here because I think there's something about being in Uganda that makes you feel alive that I do not feel anywhere else in the world. And I am excited to bring as many people as I can to experience that. I leave a changed person for the better.

For someone who has aspirations of becoming an actor like you, what advice do you have for them?

Perseverance. There are always obstacles that will come and in the end, it is those that persevered that make it.

Family background?
I am Ntare Guma Mbaho Mwine. My father, Frank Alfred Mwine, was the first Ugandan to graduate from Harvard Law School. My mother's father was, Erika Sabiiti, was the first African archbishop of East Africa. My mum's name is Patience Sabiiti. I come from a rich history of very prominent people, so I feel like I have a long way to go, to live up to the legacy of my forefathers.