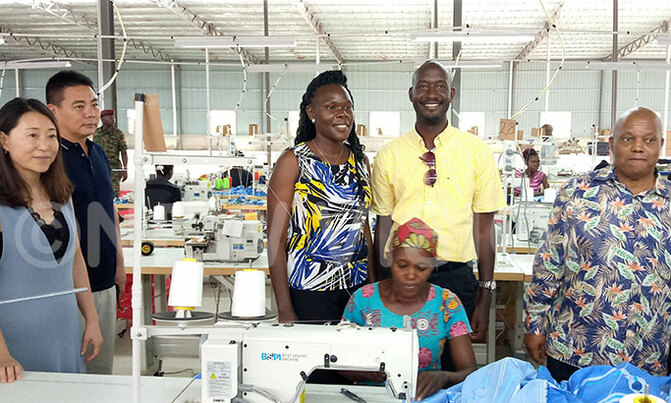 "The power shortage is an embarrassment. I'm touring a factory and it blacks out, no, no..." said Anite
INDUSTRIALISATION DEVELOPMENT EMPLOYMENT

NAKASEKE - State Minister for Privatization and Investment, Evelyn Anite has assured investors of reliable electricity supply following complaints over power shortages at Kapeeka Industrial Park in Nakaseke district.

During a guided tour of Kapeeka Industrial Park, on Saturday, Anite experienced what the investors go through when the power goes off.

While touring Gaga foods factory, the power went off and the whole place was full of smoke, and scents of burning food.

"This is a very big loss; all the ingredients are burnt since the process has been stopped abruptly. Now they have to stop for some time and clean the machines and start again. This power outage happens so often and it is affecting business," said Liu Ming Shu, the director Liao Shen Industrial Park.

Anite who was flanked by the acting director general of Uganda Investment Authority (UIA) Lawrence Byensi and the acting Board Chairperson, Morrison Rwakakamba said the power shortage is an embarrassment.

"The power shortage is an embarrassment. I'm touring a factory and it blacks out, no, no. This is sabotage and it shouldn't be happening. Someone who is supposed to carry do this work must do it well," Anite said.

Chinese investors have set up a chain of factories in Namunkekera in Kapeeka, for manufacturing tiles, food and fruit processing, electric cables, electronic appliances, safety garments, and textiles, among others.

"Things were burning when we were seeing. We can't sit and relax because this is a loss to the country. We are going to put up a dedicated line to this industrial park so that power does not affect their productivity," Anite said.

Although Uganda is said to have enough power supply, reliability remains one of the key challenges that needs urgent redress.

"We have enough power, and I want to assure the country and the investors that we are committed to have a steady and reliable supply of power all the time," Anite said.

While touring the Latex factory, which deals in textile, Anite was pleased to find over 70 girls employed as tailors to produce Ugandan made clothes.

"This is what we mean when we talk of job creation through industrialization. These girls did not attain the highest level of education but they are here getting skills and being paid," Anite said.

One of the young ladies Judith Murungi from Rwimi in Bunyangabu district revealed that despite being a trainee in tailoring, she is being paid.

"I've spent here six months, but now I know how to sew the clothes and they will bring us more machines that will equip us with more skills," Murungi said.

She says she is excited over the opportunity to work in a big factory although she is not highly educated.

"Anyone I think can acquire these skills and get employed if we have such factories in the districts we come from," Murungi said.

Job creation through industrialization is one of the key priorities President Museveni is embarking on to foster the country towards achieving Vision 2040.

Kapeeka industrial park currently has five running factories and eight under construction. The running factories include Nana, Gaga, Latex, Ho and Mu Food Technology, and Goodwill Ceramics.