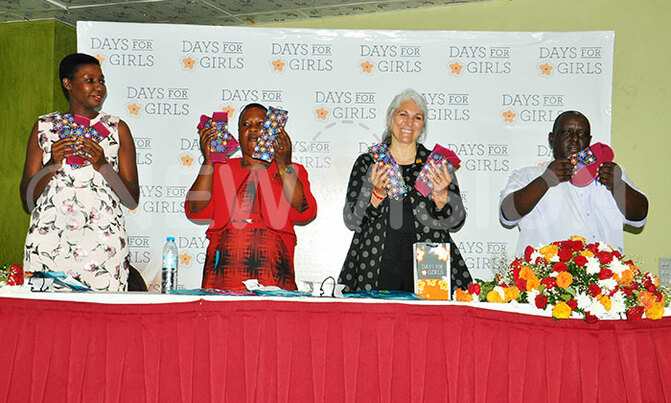 25% of the girls and women in rural settings recycle old clothes while others use traditional materials like backcloth, banana fibers, papers ...
HEALTH HYGIENE REPRODUCTION EDUCATION MENSTRUATION

KAMPALA - Menstrual hygiene is fundamental to the dignity and well-being of women and girls.

However, many girls in Uganda cannot afford to buy mainstream sanitary products to manage menstruation, an integral and normal part of their existence.

According to research by Build Africa, millions of girls skip up to 20% of their school year simply because they cannot afford sanitary pads.

25% of the girls and women in rural settings recycle old clothes while others use traditional materials like backcloth, banana fibers, papers and tissue with 10% of the girls under 15 years of age depending on those makeshift items to manage their menstrual cycle.

Unfortunately, these come with negative hygiene and health effects such as vaginal infections.

Also, some girls withdraw from school and community activities or face stigma, isolation, embarrassment, and stress.

The research continues to indicate that on average, Ugandan school girls reported missing 24 days out of 220 learning days in a year translating into 11% of school days missed due to menstruation.

24.3% of the girls admit to being stigmatized whenever they soiled their uniforms and as a result, they opted to stay at home until after the period. Most of the girls eventually drop out of school.

Due to the high number of school dropouts, the level of child marriages and teenage pregnancies increase.

Meanwhile, over 60,000 girls countrywide will no longer face the above challenges thanks to Days for Girls, an international organization that has not only availed them with reusable sanitary pads, but they have also trained them to make their own.
Diana Nampeera, regional director for East Africa reveals that they have worked with KCCA (Kampala Capital City Authority) and GIZ, another nongovernmental organization to reach hundreds of girls in six schools around Kampala.

They have also reached out to those in Jinja, Namutumba and 12 schools in Oyam district.

"In Karamoja, we have trained over 3,000 girls and overall, we have trained over 60,000 to make their own pads," Nampeera adds.

On the other hand, Nampeera says the reusable pads are not a reserve for the poor but for every girl and woman.

Recently, the Uganda National Bureau of Standards (UNBS) certified Days for Girls reusable sanitary pads, a process that has taken over a year according to Sendison Mutabazi, a metrologist from the Metrology department of UNBS.

While officiating the certification launch at Imperial Royale Hotel in Kampala on Thursday, Robinah Ssentongo, Woman MP for Kyotera said sanitary towels are expensive and unavailable in villages. In Uganda, towels for one girl can cost up to 10% of household income.

"These affordable reusable sanitary pads have really come in handy to help girls stay in school and improve hygiene as well," she applauded.

Additionally, Celeste Mergens, CEO Days for Girls said that there is a lot of stigma and prejudice surrounding menstruation which pushes many girls out of school.

"We started these pads 10 years ago to help such girls and women, more so those who suffer in remote areas. We are continuing to roll out in schools for girls to overcome shame and be proud of who they are. We are now in 128 countries," she elaborates.

Nampeera noted that this pad comes with two components; a shield that has a plastic (kaveera) that prevents leakage and the smooth liner.

It's dark but beautiful colours give the user confidence to hang it outside to dry since it hides the blood stains if any.

It also helps the user to manage menstruation flow because each pack comes with four extra liners that can be interchanged without removing the shield, unlike other pads on the market.
With this pad, one doesn't have to change the whole piece but just a liner that is soiled and this one is kept in a special bag.

Besides, they are easy to wash and they dry fast.

"We educate the users on personal hygiene because the pad can become a health hazard if personal hygiene is not observed. If it is not washed and dried properly, it can cause infections," Nampeera explains.

On the accessibility of the products, Nampeera says that they are working with a very big network of 79 enterprises and these are women spread countrywide but in local areas. These are also trained to make the pads by hand.

They are also constantly visited by the organizations' team to address the challenges they face and this helps to ensure quality.

A full pack with two shields, eight-liners and a face towel, soap and two pairs of underwear goes for sh29, 000. A shield and two liners go for sh6, 000.

The pad lasts for up to three years if taken care of well. One can keep on buying more liners and shields.

"Sh6,000 may be a lot for the poor but if one calculated how much they spend on disposable pads, they will discover that with this pad, one saves a lot since it can be used for three years," Nampeera.

In the villages, the user is also allowed to buy on hire purchase from the enterprise. They save little by little until they make sh6,000 or more and buy the pads.