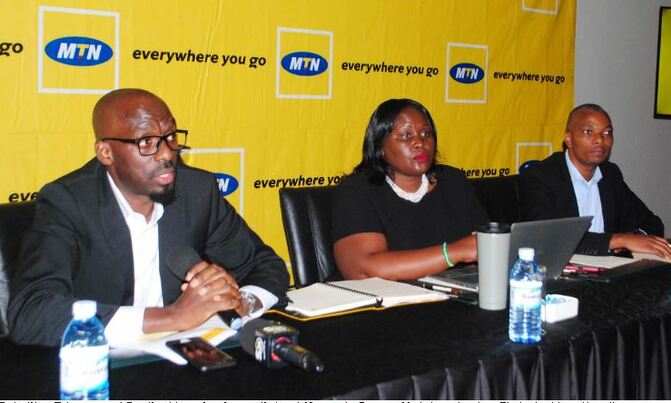 The 2018 FINSCOPE survey indicates that 23% of Ugandans save money on the mobile money platform, compared to 11% who save with commercial banks
Sebuliba, Edroma, and Ssali addressing journalists at Kampala Serena Hotel yesterday. Photo by Mary Kansiime

Telecom company, MTN Uganda slashed mobile money sending fees by more than half in a new promotion aimed at giving back to their clients.

The eight-week promotion that kicked off yesterday (June 17, 2019) in line with MTN's commitment to driving financial inclusion in Uganda while delivering easier and more affordable services to its customers.

Addressing a news conference yesterday at Kampala Serena Hotel, Kampala, MTN corporate services general manager Enid Edroma said the promotion is open to about nine million MTN customers using mobile money services.

Flanked by Christopher Ssali, the senior manager mobile financial services, and Martin Sebuliba and the brand and communications.

Edroma said since MTN mobile money inception in March 2009, over sh30 trillion has been transacted. The service was initially designed to enable customers to send and receive money domestically and buy airtime using their mobile phone.

It has transitioned from just facilitating remittances of cash in and cash out payments to becoming an indispensable component of today's society.

"MTN mobile money is an easy to use mobile money transfer service that is fast and reliable with transactions being completed in seconds. We are happy to be offering our customers' even more reasons to use the service as we celebrate their continued patronage," she said.

Edroma added that MTN has over the years given back to Ugandan communities and to her loyal customers and continues to do so with joy.

"We have built the largest and most robust network and continue to invest significantly to always delight our customers with great, affordable, efficient, safe and convenient offers," she explained.

Edroma said MTN Uganda is passionate about enabling the greater connection between people by giving back to customers through the half-price promotion at affordable rates.

Mobile Money has continued to grow and evolve into a mainstream method of payment for goods and services, facilitating seamless banking transactions and tax payments; payment of utility bills, allowing parents to pay their children's school fees and simply paying for food and for MTN products and services, as well as purchasing products online.

A large number of people excluded from the formal financial system was a fertile ground for the seed to germinate. Prior to the introduction of the platform, for instance, one would spend sh10,000 on bus fare just to deliver sh20,000 to a relative in a village or join a long queue in banking halls to deposit money, but that is no more unless one wants it that way.
Clients carrying out transactions from a mobile money kiosk

The massive uptake of mobile money, as opposed to commercial bank services, is explained by the rapid growth of mobile phone penetration. This is currently estimated at 23.2 million as at September 2018, according to the Uganda Communications Commission (UCC).

Statistics Overall, 87% of all mobile money to/from bank transactions are facilitated by MTN Mobile Money. In addition, over 35,000 subscribers majorly in rural Uganda access solar power by using MTN Mobile Money to pay. The growth of MTN Mobile Money has been unparallel.

The integration of financial services into the Mobile Money portfolio has seen the service not only drive financial inclusion but has also boldly cemented MTN's influence as the leading financial services provider in Uganda.

Digital world Mobile Money is backed by breakthrough technology that offers a complete end-to-end customer experience enabling real-time transactions and can seamlessly replace cash.

Today, MTN Mobile Money has completely become digital. If you own a smartphone as a mobile money subscriber, you can simply download the new MyMTN Mobile Money App to get a fully digital experience for all MTN Mobile money transactions. MoKash MTN still pioneered the mobile money savings and loan product - MoKash, in partnership with Commercial Bank of Africa (CBA).

The 2018 FINSCOPE survey indicates that 23% of Ugandans save money on the mobile money platform, compared to 11% who save with commercial banks. The report also indicates that financial inclusion rose to 78%, representing 14.4 million Ugandan adults, mainly due to mobile money services.

Thus, the platform took advantage of the extensive reach of mobile phones to improve financial access and bring more people into the formal banking system. The mobile money platforms ride on mobile networks and this called for regulatory collaboration with the UCC — the industry regulator and Bank of Uganda (BOU), the financial services industry supervisor since mobile money transactions involved sending and receiving money.

Uganda is one of 19 markets that have more mobile money accounts than bank accounts, according to the Global System for Mobile Communications Associations State of the Industry reports, 2016 and 2017.

They indicate that 56% of the adult population in Uganda is mobile money users, but only 11% have bank accounts, either jointly or individually.

The Twaweza East Africa pressure? Ugandans' opinions and experiences of poverty and financial inclusion" indicated that the MTN mobile money platform dominates the Ugandan market, with 54% of the adult population using the platform. It is followed by Airtel Money at 25% while other networks have low user levels.

Guidelines
The Bank of Uganda (BOU) in 2013 issued mobile money guidelines to provide the regulatory framework for mobile money in the country. Although guidelines do not carry the same legal weight as official regulations, they make the relationships between Mobile Network Operators and partner banks more transparent.

The guidelines stipulate the approval process for the mobile money services, as well as the roles and responsibilities of all parties involved. They also address interoperability, system standards, competition, Anti-money laundering/combating of financing terrorism and supervision.

For instance, the guidelines stipulate that a mobile money provider (Telecom Company) must be a registered limited liability company while a mobile money agent must also be registered as a business with a physical address and have an account with a licensed institution like a bank.

A licensed institution (bank, MDIs) must receive approval from BOU for the provision of mobile money services. If customers are aggrieved and the provider fails to address their concerns, they are free to report to the central bank, which would then issue a directive to the providers. In the guidelines, the mobile money provider must prove that the money is free of those risks by keeping track of every transaction and issuing annual reports to the central bank.

The provider will also allow for occasional BOU independent audits. While BOU has the powers to supervise the mobile money services, the mobile money operator has must supervise its agents to ensure that they conduct the business in accordance with the mobile money guidelines.