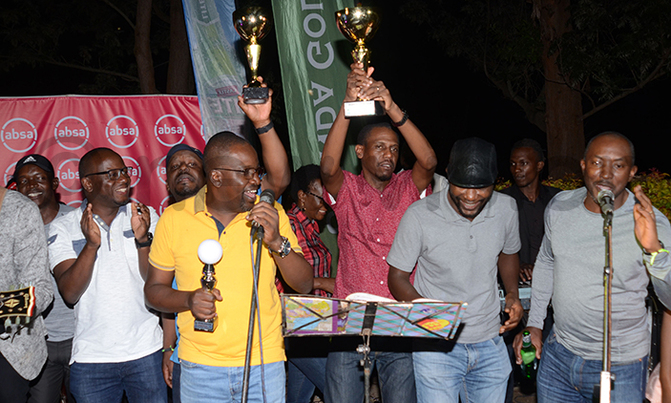 It was Entebbe members who celebrated the most having topped the club standings on 45 points
Entebbe Club golfers celebrated the loudest after they amassed 45 points to win the Jinja leg of the Castle Lite Uganda Open Golf Tour.
Entebbe edged West Nile who have won three events on the tour, by 6 points, to claim their first victory on the road.
But West Nile just like Entebbe produced the overall winners in Moses Sebi and Diana Nabukenya after they returned 55 and 70 nett respectively to win the Jinja leg of the tour played at Jinja Club on Saturday.
Playing off handicaps 24 and 18 respectively the two golfers were the toast of the evening from their respective club members as Uganda Tourism Board deputy CEO Bradford Ochieng crowned them.
"This my first win on the tour. It was good, I had fun and the weather was friendly. I started well and got four pars on the front nine and one on the back," Sebi said.
"Most of my scores were bogeys but I wasn't a stranger to the course because I'm from West Nile but I work in Jinja, so I train on this course regularly; two or three times a week. I think that's why I beat the rest today," he said.
On her part, Nabukenya was registering her second win on the tour and despite playing for the first time on the Jinja course, she prevailed over the other ladies on the course that was tough to play on.
"This win feels good. I just played straight shots on the fairway and my putting was good. But I think it was my lucky day because the course was tough," Nabukenya said.
But, it was Entebbe members who celebrated the most having topped the club standings on 45 points on the day, after the one-day competition at the nine-hole course.
Apart from Nabukenya, Entebbe had two podium finishers in the men Group A; Patrick Mugisha and Chris Baguma as well as the ladies Group A winner Meron Kyomugisha.
Off the course, the golfers continued to discover the sights and sounds of Uganda courtesy of the Uganda Tourism Board.
They were taken on a guided tour of the Mabira Forest Eco Tourism trail as they headed to Jinja before exploring the Source of the Nile over a boat cruise on Saturday with UTB's Ochieng and journalists in tow.
Club standings
Entebbe Club 45pts
West Nile 39
Namulonge 24
Jinja 19
Overall winners
Men: Moses Sebi 55nett
Ladies: Diana Nabukenya 70
Group A-Men
Joseph Kakooza 68
Patrick Mugisha 71
Chris Baguma 72
Group B
Siraj Onzima 69
William Esuma 71
Ismail Dalfodio 71
Group C
Paul Katarikawe 68
Farouk Abubakar 69
Gill Tom 72
Group A-Ladies
Meron Kyomugisha 70
Wendy Angudeyo 73
Group B
Sharon Kawanyi 71
Sarah Weaton 72