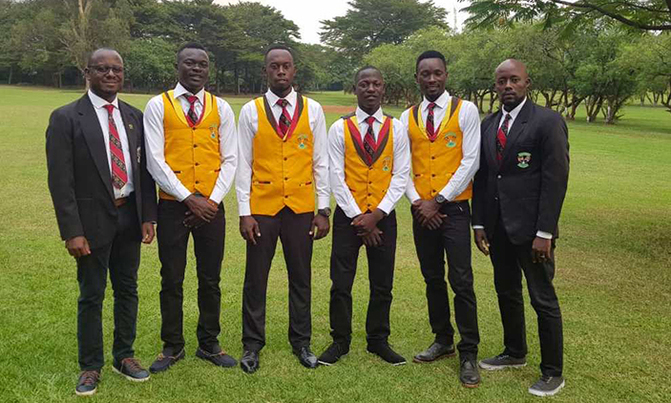 The competition continues with another 36 holes
Uganda will have to dig deep in order to retain the Africa Region IV Golf Tournament that teed off on Thursday at the par-71 Bujumbura Golf Club course.
Last year, Uganda beat Rwanda 3-0 in the finals to win the inaugural edition of the revived championships at the Nyali Golf Club in Nairobi.
After the first day, Uganda find themselves in third place overall, after the opening two rounds (36 holes); out of the six teams (five countries) taking part.
The Ugandans are 19 strokes off the leaders Kenya after the opening day of the prestigious Annual Golf competition that involves the member countries of the East Africa Community.
Rodell Gaita with an identical five-over-par 76 in each round was Uganda's best player on the day with a total of 142 gross. The youngest member on Team Uganda, Godfrey Nsubuga was second best with 153 gross, with team captain Joseph Cwiny-ai adding a scoring 155 that helped Uganda to a third-place finish on the day.
Daniel Baguma registered a non-scoring 163 in the stroke-play event that will have action over three days.
Kenya is leading with 5.5 points having returned 441 gross while Tanzania is second on 448 (5pts), while Uganda is on 4 points.
Burundi that entered two teams is fourth (2.5pts) and their second team is fifth, with Ethiopia in 6th place with one point.
The competition continues with another 36 holes on Friday before a match-play round on Saturday wraps up the competition.
Day 1
1. Kenya (441)
Zubair Khan 70; 79
Sam Njoroge 70; 70
Simon Njogu 77; 78
Mutahi Kibugu 83; 76
2. Tanzania (448)
Victor Joseph 71; 76
Abbas Adam 71; 76
Ally Mcharo 73; 84
Richard Mtweve 84; 81
3. Uganda (460)
Godfrey Nsubuga 75; 78
Rodell Gaita 76; 76
Joseph Cwiny-ai 77; 78
Daniel Baguma 84; 79
4. Burundi-1 (461)
Jean Simbagoya 78; 78
Rama Hakizimana 81; 78
Minani Djumapili 81; 86
Nzomukunda 90; 82
5. Burundi-2 (476)
Abdoul Bizimana 78; 76
Rama Hakizimana 81; 78
Minani Djumapili 81; 86
Nzomukunda 90; 82
6. Ethiopia (491)
Bogale Tilaye 78; 80
Aregawi Hailay 80; 82
Kidane Haile 86; 85
Babore Dona 91; 87