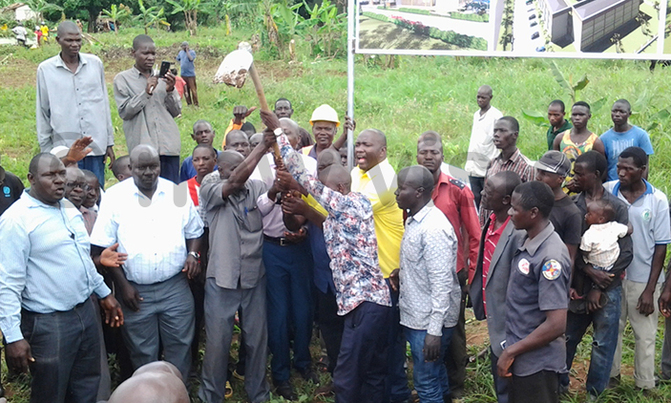 The agreed designs were to be submitted to the ministry of lands for final endorsement which was not done
The Jinja district councillors are divided over the decision by the LC5 chairperson, Titus Kisambira, to display the architectural designs of the new district headquarters at the site without the council's approval.
On Tuesday, Kisambira who was flanked by the district speaker, Michael Nyende Musana (Buyengo) with a cross-section of councillors, displayed the designs at the Kagoma site.
Said Maaka, (Mpumudde/Kimaka division) has described Kisambira's act as foolhardy saying they resolved to come up with three architectural designs from which they would select one for approval.
Upon approval, Maaka said the agreed designs would be submitted to the ministry of lands, housing and urban development for final endorsement which was not done.
Fred Nakyoma (Mafubira sub-county) wondered where Kisambira got the powers to display the designs which had not been approved by the council.
Nakyoma also said they resolved to have two architectural designs as one would be conducted in Kagoma County and another one at the current district premises adjacent to Bank of Uganda offices.
He said this was because the Uganda Land Commission okayed them to stay at the current premises.
Janepher Kongo (Jinja East) said Kisambira was meant to refer the designs to the works committee for discussions before they would be approved, a procedure he abused.
Kongo said they petitioned the chief administrative officer (CAO), William Kanyesigye, to clarify on the procedure.
"The CAO is being misled by the LC5 to preside over wrongful decisions. How was the display effected without a council minute? Kisambira must not rush us because we are not being chased from our premises," Kongo said.
However, Kisambira explained that since Jinja Municipality was elevated to city status, it was irrelevant to have equal entities in the same locality.
He said they need to act faster and display the designs to get the views of locals before securing a contractor.
Kanyesigye handed over a site book to the area LC1 for Magamaga village in which locals can make comments about the plan.
Kisambira said the two storey structure will comprise a council hall, boardroom, committee rooms, departmental offices and a multipurpose hall.
Since legislators are ex-officials in council meetings, Kisambira said their offices were catered for to ease coordination.
Kisambira said they were yet to solicit for a contractor because they have sh2.5B out of the sh2.9b expected for building the facility whose completion would not exceed two years.