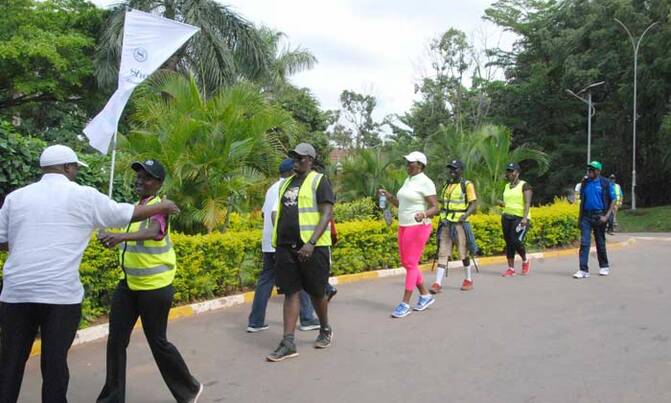 The walk that started from Masaka on Wednesday climaxed at Sheraton Hotel in Kampala on Saturday morning.
CHARITY ROTARY WALK MASAKA HOSPITAL
Members of Rotary Club of Kampala walk for three days from Masaka to Kampala in a fundraising drive to support the construction of a Rotary hospital in Mukono district.

The walk that started from Masaka on Wednesday climaxed at Sheraton Hotel in Kampala on Saturday morning.

The secretary general of the club, Henry Rugamba, who led the walkers, commended the journey as a success.

"We started walking on Wednesday and slept at Jalia City. The next day, Thursday, we walked upto Mpigi from where we picked up on Friday upto Kyengera.

"Then on Saturday morning, we resumed our journey and reached Sheraton in Kampala at 11.10am," he said.

The hospital project which the club started undertaking since 2014 of Rotary will cost $3m (about Sh11.2b).

According to the president of the club, Stephan Ssemuga, they have already built an outpatient wing of the hospital and they are scheduled to hand it over to UMC Victoria Hospital for management this month.

The second phase, Ssemuga disclosed will see the establishment of the inpatient wing insisting that the hospital will remain the priority to achieve even in the new year of Rotary set to kick-off on July 1.

Mobile money, Ssemuga said was the delivery mechanism to support the project and that many people has already embraced the cause. So far, DFCU has donated Sh150m towards building the hospital.

"The hospital will help the residents of Mukono and those who go through Mukono with good quality health services," Ssemuga revealed.

As the Rotary Year draw to an end, several clubs are engaged in the leadership change and leaders underling new programmes. The end of June brings a global change of leadership in over 34,000 Rotary clubs.

New leaders underline programmes or projects in line with the world president's theme. An incoming Rotary president is announced three years in advance and serves a term of only one year with his or her executive.


Maloney of Rotary Club of Decatur, Alabama, USA, and the newly appointed World President ,through the theme, "Rotary Connects the world," has indicated that he will work to strengthen clubs at the community level, preserve Rotary's culture as a service-oriented membership organization, and test new regional approaches for growth.