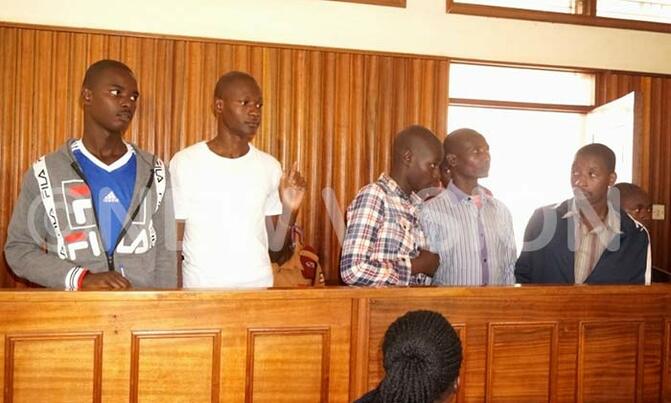 On the night of November 11, 2018, unknown people torched Senior Three dormitory. 10 students died and 37 injured plus property worth millions of shillings destroyed.
MASAKA - Ther magistrate's court in Masaka has finally committed the four students who are suspects in St. Bernard's Mannya SS fire incident to the high court.

The students are Alex Taremwa ,18, Junior Mugarura ,18, Dickson Kisuule ,18 and Edison Niyo 21.

According to the prosecution led by Victoria Ann Nanteza, they are through with investigations and ready to proceed for trial.

However, Nanteza said Michael Tayebwa, a security guard and Corp. Steven Nzeyimana, a police officer, who were charged with duty negligence, will be tried in the magistrates' court separately.

The presiding Grade One Magistrate Adyeri Christopher delivered his committal amid a fully packed courtroom.

The students were tense as the security officers seemed relaxed. Still, family members of the committed suspects were completely cold.

This is the sixth time they are appearing in court only for mentioning and remand due to incomplete investigations.

They first appeared before the Chief Magistrates Court on November 27, 2018. Other subsequent sessions were December 13, 2018, January 10, 2019, February 15, 2019, March 22, 2019, April 26, 2019, and May 30, 2019 all presided over by Adyeri.

The gruesome incident occurred on the night of November 11,2018 when unknown people torched Senior Three dormitory. 10students died and 37 injured plus property worth millions of shillings destroyed.

Suspects Relatives

Relatives of the four students said they were longing for committal for justice.

"Whether innocent or guilty, we wanted that to be proven in the high court than making constant adjournments in the pretext of investigations by the prosecution," Niyo's sister -Josephine Ingabire argued.

Ingabire claimed that she would spend over shs400,000 commuting from Mutukula to Masaka to attend court and other expenses.

Taremwa's relatives from Kisolo district said they spend at least shs130,000 on transportation, food, and lodging during every session.

While they complained about delayed justice, the magistrate (Adyeri) explained that the case is capital in nature. He added that in his jurisdiction, he could only mention, remand and finally commit the suspects it to a higher court.

Since the suspects' arrest, human rights activists have been pushing for a speedy judicial process to ensure they get justice.

According to Hajjat Shifa Kateregga, the Executive Director of Human Rights Defenders Masaka (HURIDEM), the timely prosecution of the suspects saves time and enables to clear doubt in the judicial system.

School security

Unknown arsonists took advantage of the security lapses to sneak in the school and burnt the dormitory using petrol.

But Geoffrey Alingasha, the new headmaster of St. Bernard's Mannya SS, ordered strict security mechanism to avoid similar incidents.

The school has since deployed at least 15 security officers to watch over the school's security during day and night.

Before the first term opened in February, the school administration had a plan to procure about 70 security cameras to beef their security.

Dormitory renovated

The committal comes at the time when the Senior Three dormitory, which was gutted by fire, was refurbished and occupied by more than 100 students.

It was inaugurated by the outgoing Bishop John Baptist Kaggwa of Masaka Diocese. Kaggwa cleansed the dormitory with holy water and prayed for the students not to be haunted by spirits of the deceased.