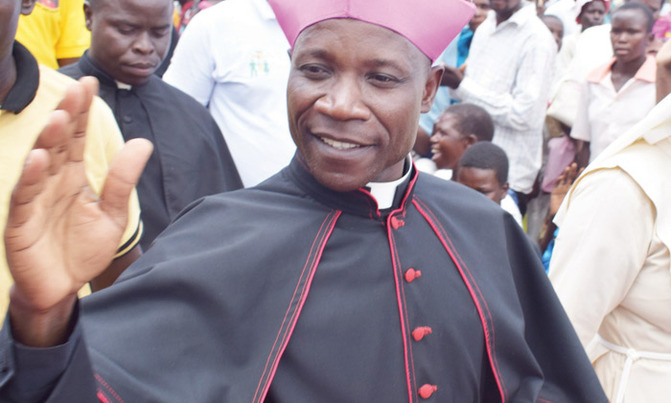 It came as a surprise. My aspiration was to become a priest. That is what I prayed and desired for.
Today, Saturday May 25, 2019, Fr. Dr. Joseph Eciru Oliach has been concentrated the Bishop of Soroti Diocese. The 49-year-old was appointed by Pope Francis on March 19.
He becomes the 3rd bishop of Soroti Diocese, succeeding Bishop Emmanuel Obbo. The first Bishop for the diocese was Bishop Erasmus Wandera.
The diocese had spent almost six years without a substantive bishop. JULIET LUKWAGO asked Eciru about his plan for the diocese

Congratulations Bishop; did you ever imagine you would become a bishop?
Never. I was in class at St Mary's National Major Seminary Ggaba when I saw seminarians ululating and saying the Holy Father had appointed me bishop of Soroti.

It came as a surprise. My aspiration was to become a priest. That is what I prayed and desired for.

Having worked out of the diocese for over 15 years, aren't you out of touch with the realities on the ground in Soroti?
I have not been completely out of touch with my diocese. I love my diosece so much. During holidays, I would go back home. The only time I was away for long was the six years I was in Rome studying. I have done a lot of pastoral work in Soroti.

You are the first native of Teso land to be the Catholic Bishop of Soroti
That is not an issue. We are all people of God. I was appointed to serve God's people in general and I do not think it was because of my tribe.
Who is Eciru?

Born on August 11, 1970 to John Francis Oliach and Anna Maria Aguti in Ookai village, Dokolo parish, Gweri sub-county in Soroti district.
Went to Gweri Primary School between 1980 and 1983, then Angopet Primary School between 1984 and 1986. He later went to St Aloysius Demonstration Primary School Ngora for Primary Seven.
St Peter's Minor Seminary, Mandera from 1989 to 1992.
St Pius X Seminary, Nagongera from 1993 to 1995.
St Thomas Aquinas National Major Seminary, Katigondo 1995 - 1998
St Paul's National Major Seminary, Kinyamasika in Fort-Portal 1999 - 2003.
Ordained a deacon on August 10, 2002 at Usuk Parish
Ordained a priest August 9, 2003 at St. Patrick's Mandela Parish.
Sent to teach Latin in St. Peter's Seminary Madera 2003 - 2004
Taught atSt Paul's National Major Seminary Kinyamasika, 2005 - 2006.
Went for further studies in Pontifical Biblical Institute Rome, 2009 - 2010
Pontifical Urbaniana University, Rome, for Doctorate in biblical theology between 2010 and 2012
Back to Uganda in 2012 to teach at St Mary's National Major Seminary Ggaba till now.

Are you scared of the work awaiting you?
Well, this office comes with big responsibilities and so, certainly elements of fear, worry and anxiety are expected. But the Lord who sends you, provides for you in his mission.

I am at peace because I believe that the grace of God will always be present in my life and will enable me to continue serving Him by serving His people.

So, what should Christians expect from you in your first 100 days in office?
I have not been a bishop before, so the first days will be for learning and familiarisation. But I will be doing my normal episcopal duties, visiting parishes and seeking opinions.

And what are your long-term plans?
I cannot say because I am a new bishop. I have to follow in the footsteps of my predecessors.

Soroti Diocese covers the Iteso, Kumam and Bakenye. You are Iteso; how will you handle suspicions of favouritism along tribal lines among priests?
(laughs)! A bishop is a father; all these are my children. I do not mind where they come from; our mission in life is the same.

From the Episcopal statistics, Soroti diocese has 87 priests for a population of over 995,050 Catholics. That is a ratio of one priest to 11,437 Catholics! Doesn't this poor ratio affect service delivery? What are you going to do about it?
Yes, it is a concern. But priests can never be enough! I think this brings us to Jesus' advice to pray to the Lord of the harvest so that he sends more labourers. Let us pray for Soroti Christians, encourage the young men to join priesthood and also support those in formations so that we get more priests.

As a bishop, you will be the youngest in Uganda. Should we expect any youthful energy from you into the elderly episcopal conference?
Hmmm, I have to be like others, and conduct myself the same way. My brother bishops are doing a good job and there is no energy they are lacking.

How do you appraise your predecessor?
Soroti has been under the Apostolis Administrator, Archbishop Emmanuel Obbo since January 2014 when he became the Archbishop of Tororo. But, he had been our bishop from 2007. I thank him for his love, dedication and hard work for the people of Soroti Diocese. I appreciate the wonderful job he has done for our diocese.

Will you miss the Ggaba community?
You ask as if I am going to die! I will continue being with them, physically and spirituality. They will continue to inspire me in my new assignment. But I would like to say that I enjoyed working with the team. I learned a lot from serving and being with them. I thank them for their kindness, love, endurance and endless hope.

What message would you wish to give to the Christians?
The first one is to invite all of you to Soroti to attend my episcopal consecration. Secondly, I entreat Catholics to be proud of their faith.

Anything you want to add?
I am thankful to God, all communities, the Archbishop Emmanuel Obbo, to the clergy, religious and lay people of Soroti Diocese. For the youth, the Holy Father recently released a document: Christ is alive. It is a wonderful book which I recommend to all the youth and Christians.