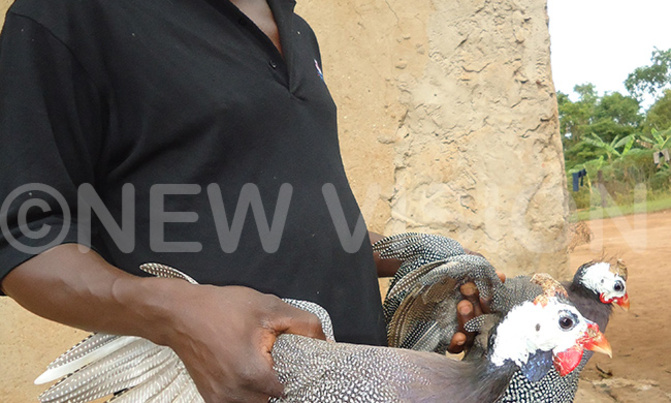 Kakooza started keeping guinea fowls three years ago when he bought two keets at sh10,000 each.
FARMING

KAYUNGA - Not even being a tenant would deter Twaha Kakooza from rearing guinea fowls.

Kakooza started keeping guinea fowls three years ago when he bought two keets at sh10,000 each.

"I joined the venture after I saw people in Kumi rearing them without investing much", Kakooza says.

Initially, the guinea fowls were meant for home consumption; however, he later decided to increase the number after discovering that they were on very high demand.

Kakooza, who sells each guinea fowl at sh25,000 says the birds act as his bank whenever he needs money.

Benefits

They provide meat which is rich in fatty acids, vitamins E, B1 and B2 and in minerals such as calcium, magnesium, and iron.

Kakooza says, guinea fowls are delicious and produce over 30 to 40 eggs.

Just like chicken, guinea fowls take less than a month (26-28 days) to hatch. Apart from the nutritional benefits, guinea fowls make very good pets.

They can be tamed to the extent of allowing to be handled and even playing with the person who feeds them.

"Whenever I held a white tin, the guinea fowls know that I am about to give them some grains", says Kakooza.

According to Kakooza, guinea fowls can be useful on a farm because they feed on harmful insects, weeds plus their seeds without destroying crops.

Besides, their droppings contain nitrogen which helps to fertilise the farm.

Care and feeding

People living in urban areas are reluctant to rear guinea fowls because they need a lot of care.

For instance, they need to be monitored closely because of their tendency to wander far from home. For food, guinea fowls prefer grains like rice, millet and maize brand.

Still, Kakooza insists guinea fowls are easier to rear than chicken and more profitable.

Resistance to diseases

Kakooza says he prefers rearing guinea fowls because they are less prone to diseases.

He says he once tried rearing local chicken but lost all of them when an epidemic broke out.