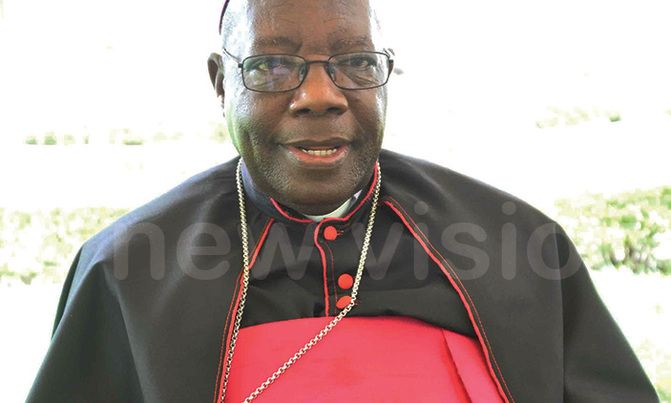 I am extremely happy that we got successor. In Soroti they spent years without a bishop! For us, we got instantly. I now retire honourably without being chased out.
Bishop John Baptist Kaggwa has retired as bishop of Masaka, after 75 years of age.

Originally from Kampala Archdiocese, Kaggwa has been pastoral caretaker of the diocese for almost 23-years. Juliet Lukwago talked to him about his retirement.

Bishop, well done! And thanks for the good service for Masaka diocese.

I have done nothing special. I was supposed to serve God's people and that is what I did.

Do you feel any relief or sense of accomplishment?

Oh, I feel good; let me say happy, that I did what I was supposed to do. I tried to do my best. I am extremely happy that we got successor.
In Soroti they spent years without a bishop! For us, we got instantly. I now retire honourably without being chased out. I had no problem with anyone. I thank God for 23 years I served in Masaka.

Living to 75 years old is a blessing, my Lord. How was the journey?

Well, I was born on March 23, 1943 to both the Late Matia Ssentamu and Felista Nazziwa Ssentamu of Bulenga along Mityana road, 12km from the city centre. I am the second born in our family of 14 children, seven girls and seven boys.

I started my early education in nursery school situated in Ssubwe sub-parish for one year. Then in 1952, I went to Rubaga boys till P. 6 in 1957.

We used to walk from old Busega, through Masanafu to Lubaga till P. 5, when our father gave us a bicycle.

I would carry my bigger sister on the bar, which we used to call 'first class' and our younger brother on the carrier behind.

Then, on our way back from school, we would change the sitting in order to balance so that no one is offended. One day our bicycle tyre burst when we were at Busega and we arrived very late when parade had started.

The English teacher caned us in the chest using a sugarcane! He didn't even ask us the reason why were late! I got so annoyed that I spent the whole week without listening to him in class.

That Friday at break time, I don't know where I got the courage; I went to the teachers' hall and knelt down before him. I told him I was not happy he had caned me without first listening to why I was late.

I also apologized to him for being annoyed with him for the whole week. He laughed and we became friends.

How was your priesthood journey?

I joined Kisubi Seminary in 1958. I learned that Fr. Oscar Brown, a White Father, who was our Parish Priest at Lubaga, had become Rector of Kisubi Seminary.

Fr Caesar Mutyaba recommended me and Fr Brown did not question my application. He just wrote on it that I did not need to do interviews because my father was known, he was on different committees of the parish and schools.

At Kisubi I was given responsibilities like class monitor, dormitory master, and choirmaster. I was good in Latin, which was very hard though. We had White Fathers, who taught us the language.

I remember Archbishop Joseph Cabana, who used to come every Monday from Lubaga and have lunch with us. We would then sit on the verandah and chat with him.

We did Cambridge certificate in 1963 and the next year, 9 of us were accepted to join Katigondo for Philosophy.

In Katigondo, we were joined by many seminarians from Hoima, Fort Portal and Mbarara dioceses under the White Fathers, but those in East were in Mill-Hill Fathers' territory; they went to Ggaba.

Our group from Kampala was unique because we all arrived in suits. By then suits had never been seen in Katigondo! Other seminarians were seeing us differently.

In my second year in 1965, I did casual jobs during holidays and I brought a new bicycle at sh300.

It was called Kamba. I took it to Katigondo and was allowed to use it traveling to different sub-parishes near the seminary for Legion of Mary work. I used it till September when I got an opportunity to go to Rome for further studies.

It was a case of luck. Archbishop Joseph Kiwanuka announced that he had scholarships for seminarians of theology. I was not chosen. But one of the seminarians who was picked - he was from Busuubizi, got unlucky.

When he was given his passport, he gave it to his mother to keep it. On the day of departure, when they reached the airport, he asked his mother for the passport, and she told him she had left it at home on the cupboard!

The furious seminarian rushed back home in Busuubizi to pick his passport and the plane took off without him.

Archbishop Kiwanuka was mad. He said the seminarian was not worthy of the opportunity.
Bishops Christopher Kakooza of Lugazi, John Baptist Kaggwa, Paul Ssemwogerere of KasanaLuweero, Dr Joseph Anthony Zziwa with other dignities during Kampala Archdiocese Province pilgrimage to St Charles Lwanga's home of origin at Birinzi in Masaka Diocese in 2018. Photo by Juliet Lukwago

In fact, he ordered the boy to pay back the air ticket! The boy had to find work in Kampala, got the money and took it to the vicar general, by then Emmanuel Nsubuga. Nevertheless, Archbishop Kiwanuka told him his opportunity to study in Rome had expired.

He asked our school in Katigondo to get someone else in his stead. They got me! That is how I got the chance to go to Rome.

I was informed on my way to lunch and before I responded, they said I had only one hour to pack my things! I packed what I could and left what couldn't fit at Katigondo, including my bicycle.

Did you have a passport?

I didn't. When I reached Lubaga in the afternoon, I was given a form to fill. We then went with Msgr Joseph Ssebayigga to Internal Affairs where we found a 'mzungu' leaving his office.

He told us to return the next day at 8:30 am to pick the passport. We got it in the morning and Msgr. Ssebayigga kept it for me until the evening when I flew out to Rome. I still have that passport!

How was your first flight?

My first plane experience was memorable. I sat with a missionary donning a long bead. I told him I was going to Rome but I didn't know the place and kindly asked him to show me where I get off.

I thought that a plane was like a bus where you reach your destination and ring a bell, it stops and you get out.

So, when the plane started moving, the gentleman slept. I feared he would still be sleeping when we pass by Rome! And actually, after landing, he was still sleeping. I saw people trying to get out but I stayed in my seat.

Then, I asked one of the air hostels whether we had reached Rome and he said yes. I was among the last people to get out.

I had no idea where the luggage was and after some time looking for it, I found mine had remained alone on the conveyor. I had been given contacts of priests in Rome, but I had no idea of how phones are used.
I had never called anyone in my life. And I had no money on me! Then, God did a miracle. I chanced on Msgr. Adrian Kivumbi Ddungu (who later became Bishop of Masaka) who helped to communicate with the priests and directed me on how to join them.

That is how I started the continuation of my studies in Rome, where I spent six years. I was ordained a deacon in Rome in May 1970 and a priest on 12 December 1971. I was 28 years old.

When did you return to Uganda?

I returned the following year and my first appointment was at Busuubizi Parish in 1972. From there, I went to Nswanjere Junior Seminary to teach English, civics and handle sports.

Five years later, Cardinal Nsubuga asked me to go and start St Mbaga Seminary. By then, Ggaba Seminary was moving from White Fathers to the diocese. It was the time of President Idi Amin Dada and hardly anything in Uganda seemed to be going on well.

After the ordination of my first seminarians in 1983, Cardinal Nsubuga transferred me to Kisubi Seminary and also teach Latin there.

I then became parish priest of Christ the King, working with Msgr Alex Mukasa and Fr Richard Kayondo (now vicar of Lugazi diocese), Fr Henry Byekwaso (US) and Fr Augustine Kato (RIP).

At the end of 1985 Cardinal Nsubuga sent me back for further studies in Latiran University, Rome for Masters in Canon Law. Later I became assistant Vice-Rector of the Pontifical College of St Paul.

I continued with a PhD in Cannon and Secular Law and finished in 1994.

When did you become a bishop?

It was Holy Thursday, I was down in Italy, where the news came saying I had been chosen to be coadjutor bishop of Masaka.

It was on 19 December 1994. I was consecrated on 24 June 1995 by my predecessor Bishop Adrian Kivumbi Ddungu, assisted by Cardinal Wamala and bishop Paul Kalanda, who was the Chairman of our Episcopal Conference. I eventually succeeded him as Bishop of Masaka on 10 January 1998.

Didn't you feel bad not being made a bishop of your own diocese, Kampala?

No! I had no problem. First of all, becoming a bishop alone is not easy. You cannot just wake up and be a bishop!

The pope is the one who decides. And he sends you whenever he wants. After all, I had already served in Kampala. And it is not uncommon. Bishop Paul Ssemwogerere of Kasana-Luwero was born in Kisubi.

Archbishop Cyprian Kizito Lwanga of Kampala was born in Mukono. Bishop Christopher Kakooza of Lugazi was born in Kampala.

Our first bishops, Cardinal Emmanuel Wamala and Emmanuel Nsubuga were from Masaka but served in Kampala.

How was your 23 years of service as bishop of Masaka diocese?

The Holy Spirit who chose us made me firm. I first worked with Bishop Ddungu at first. I loved Masaka for one thing; that people are serious with their region. They welcomed us and their love was genuine.
We worked with them in everything; education, development programmes, fighting poverty, pastoral work, etc.
We worked with everybody; the priests, religious and laity. We worked as a team, reporting to each other and solving problems together.
My system is that if I have given you a responsibility, I do not have to be on you every time. I thank my vicar generals because all our departments worked with minimum supervision and well.
I started with Msgr Joseph Kato, and then Msgr Jjumba, our next bishop. We completed our synod which has been guiding us.
When I reached retirement age, I applied and the pope added me two more years. Generally, I cannot say that I did this or this in Masaka; we worked as teamwork.
We built schools, fought poverty and development programs together. But, that said, I would want to hear from people; how did they see my leadership?
Masaka Diocese cathedral where Kaggwa has been bishop for 23 years. Photo by Juliet Lukwago

Any advice to your successor?

First of all, I congratulate him and thank him for the good work he is doing for God so far. I wish him success as bishop. Msgn Jjumba has been our Vicar general in charge of finances.
He knows the diocese even better than me. I know he will do a good job because we're moving together, and he is assured of support from the Christians and I.
There is no new thing he is going to face. I thank him for accepting to be my successor and promised to pray for him.

And any regrets?

I have no idea because I did what I was supposed to do. Masaka is a big diocese; don't you think it should be divided?

I found that idea in the diocese in 1995 when I became bishop of Masaka. Yes, the diocese is big. There were 33 parishes then but now, we have 55.
We followed up the idea and sent our request to Rome. But it is the Pope who takes the final decision. For as long as he hasn't, we continue serving until he decides.

What are you going to do in your retirement?

I remain a priest. I will do my job as a priest and bishop emeritus. I will continue serving on several boards if my new bishop so wishes. My retirement is not a departure from my calling.
The specifics depend on my new bishop. I will be under him, waiting for assignments. Whenever wants me to go, I will go.

But you came from Kampala Archdiocese. Why don't you go back home for retirement?

Because Masaka is the diocese where Pope sent me. I belong here now. When a married woman dies, do you bury her where she was born? Masaka is my new home, that is where I wish to be buried.

What challenges did you face as bishop of Masaka?

There are usual challenges which are normal anywhere and which we handled as a team.

Some people say you were too soft and that's why some priests relaxed and others do their own things

I don't know about that; I am hearing about it now! I know we are different people and have different capacities.
There are those who want to be commanded before they can work and those who will feel offended when commanded. There those who work without being told. But in our job, we do work by conviction, so commands should not be necessary.
Talking about priests, I would say they were not a problem at all. People have differences and that is not a problem.

Any message to Christians?

I request them to be humble, respect and help our new bishop. Let us hold the ladder firmly as our new bishop climbs because if we leave him to climb alone, he can fall. Help him to fulfil the plans of the diocese.
Be good to him as you were to me. I also want to thank everyone for having moved with me. I request them to continue to love their religion, to work together as Ugandans and respect the leaders.
Love your God and continue to serve Him. Continue to work together for the betterment of our diocese.
And lastly, I apologise for what did not go well. We are not perfect, but I never woke up and said: let me annoy so and so. But if my actions hurt you, I request you for forgiveness.