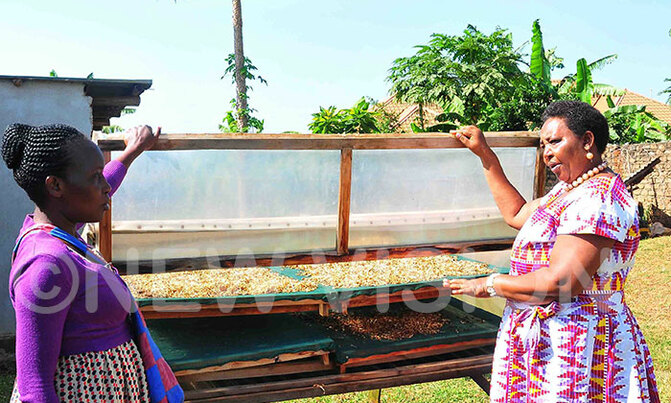 She explains that in order to plan for a comfortable retirement, one has to start early in life and advises to involve children in the work one does.
AGRICULTURE

Jessica Bitwire, a teacher by profession and proprietor of JB International is known by many as the 'mushroom lady', a preacher, counselor, farmer, and nutritionist.

She explains that in order to plan for a comfortable retirement, one has to start early in life and advises to involve children in the work one does.

She says it's the reason she dropped the chalk because of meagre salary, realizing that it could not lead her to the retirement lifestyle she wanted. "I always dreamt of living a comfortable life in my old age and the little money I earned from the classroom could not provide for it," she explains.

Her early life

As a young girl, her other name was Kyoshabire (meaning whatever you ask from God, he will give it to you) which she says has been the case with her after committing her life to God.

She is the first born of four children to her parents; Tolofaina Mpirirwe Kagabo and the late Enock Kagabo of Katungu village in Buyanjha Sub-county, Rukungiri District.

Her trust in God starts way back in her family where her follower (sibling) came after her mother prayed for over eight years.

"Mum believed that God would listen to her prayers for more children and her prayers were answered," she says.

Bitwire started studying at Kikungiri Primary School and after her Primary Leaving Examination (PLE) her father wanted her to join a Teacher Training Colleges (TTC) while she preferred a nursing course.

In the end, her father won and she joined Kabale TTC in 1975 although, she says, due to her good PLE results, she had been invited to join Maryhill Girls Secondary School but her parents could not afford the school fees.

During her second year at the TTC, she met Benon Bitwire who was by then a student at the Institute of Teachers' Education Kyambogo (ITEK) before it turned into a University.

At the end of her course, she was among the first lot in her Parish at Rubango. The two got married in 1979, the same year she completed her teaching course.

She taught at Kinyamasika Demonstration School in Fort Portal, Rwenyangi Primary School and later went for up-grading at Buwalasi TTC and Kakoba National Teachers College (NTC) in Mbarara.

She was later appointed headteacher at Garubunda Primary School in Rukungiri district before she quitted in 1973.

Life after teaching

Bitwire started serious farming by growing peas, groundnut, beans, maize, and Irish potato, among others.

She also reared goats. "After a few months of concentration, I started selling between 20 and 40 goats a month at the village markets. Farmers were coming all the way from Masaka to buy my onion and peas while I was harvesting tonnes of maize," she boasts.

At the same time, she owned a Photo Studio (JB Wedding Centre), a bakery and also sold second-hand clothes where all her children and their father got involved.

Bitwire said she achieved all this because she had all the time to concentrate on her farming after resigning from teaching.

She also started mushroom farming which has turned into a bigger enterprise known as JB International.

Eventually, with enough money to hire a farm manager to look after her gardens in the village, she went to the South African College of Complementary Therapies for a three-year course and later in 2007 joined Nkumba University where she graduated with a bachelors degree in Public Administration and Management. By that time the family had shifted to their present home at Bugabo village in Wakiso district.