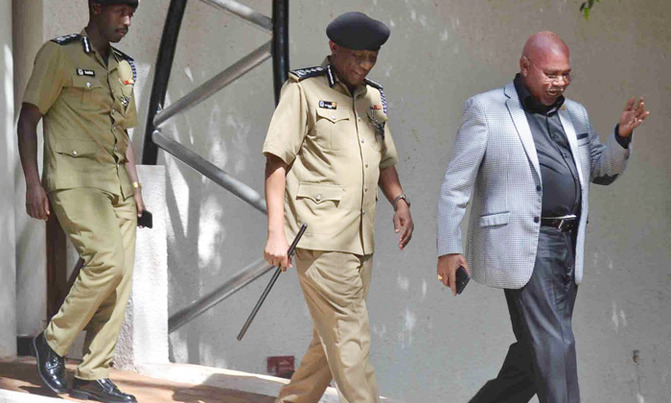 "Social media is a very important tool, but a threat to national security if misused. We are planning for those in the act," Odongo revealed.
Gen. Jeje Odongo with Ochola and Sabiiti Muzeyi. Photos by Emmanuel Balukusa
The minister for internal affairs, Gen. Jeje Odongo, has blasted the traffic Police, accusing them of being corrupt.
Odongo criticised the director traffic police, Dr. Steven Kasiima, who he said had failed to fight corruption among his staff.
Odongo explained that many traffic police officers had turned their role of guiding vehicles and keeping law and order into a money-minting business as they collect money (bribes) from motorists.
He said corruption among our own police officers was ruining the name of the Police force. He added that when President was addressing the country, he mentioned weaknesses like corruption, and slow response of police officers to the crime scenes, saying most of these have not changed.
Odongo was addressing police directors and senior police policy makers on Thursday during a two-day retreat at Nile Resort Hotel in Jinja.
At the retreat, Odongo told the police directors, including the Inspector General of Police Martin Okoth Ochola that the role of the police was to keep law and order and people with their property, but instead some officers engage in crimes, which is tarnishing the image of the force.
He explained that in June last year there was an increase in criminality, especially kidnappings, murders, misuse of firearms, misuse of social media.
Odongo noted that the president in his speech, tasked police to re-introduce police patrol vehicles popularly known as 999, fight the misuse of social media, register all fire arms and to develop a modern forensic lab to ease investigation of crimes.
The minister thanked IGP Ochola for bringing back 999 and commended police officers in Kampala metropolitan and Masaka region who have managed to register firearms.
"With registration of guns in Kampala and Masaka, we have tried but we want to move to other regions like the northern. This exercise will help us to curb criminal acts more so murder, robbery since shall know the number of guns in the area, where and to who they belong," Odongo added.
While addressing the press on the misuse of social media, the minister said the security organs were working hard to find a way to eliminate this misuse.
"Social media is a very important tool but a threat to national security if misused, we are planning for those in the act," Odongo revealed.
He said the purpose of the retreat was for both the police directors and policy makers to come together, discuss and make strategies on how the force should improve on the quality of its work in a professional way.