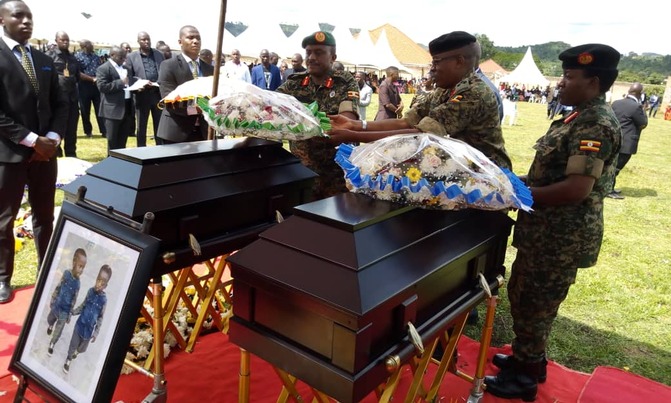 The President said the death of the Kibuule's twins is not only a loss to him and his family, but to the entire country.
DEATH KIBUULE BURIAL MUSEVENI SOCIAL MEDIA
President Yoweri Museveni has said the death of the twin children of the state minister for water, Ronald Kibuule, is a loss not only to his family, but to the entire country.
The President said this in a message read for him by the Vice-President Edward Kiwanuka Ssekandi during the burial of the twins in Mukono.
The twins were buried at the home of Zephania Lusebeya (Kibuule's father) at Kapeke village in Nama sub-county, Mukono district.
In his condolence message read by Ssekandi, he consoled Kibuule, his wife, the mother of the twins, Fortunate Alindinda Kibuule, the children and the rest of the family members.
The Bishop of Mukono diocese, James William Ssebaggala expressed dismay that Ugandans on social media were making fun of the children's death.

Ssebaggala was responding to Capt. Mike Mukula who also condemned the negative social media comments that have been posted since the death of the children on Monday evening.

Some of the comments were insensitive and abusive and attacked the person of Kibuule and his family