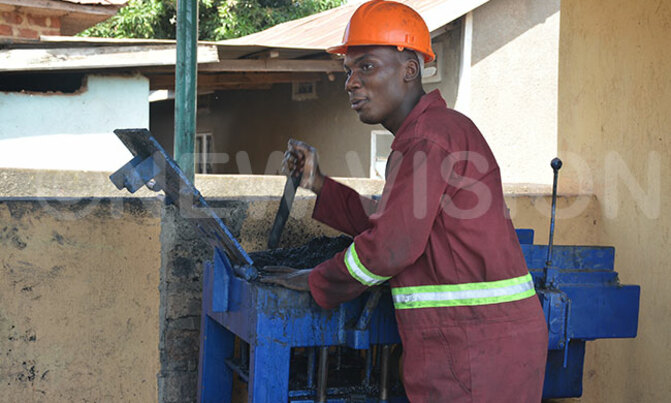 Charcoal briquettes from faecal matter last for six to eight hours as opposed to ordinary briquettes that burn for three hours.
KAMPALA - For a month, Haman Senyondo, a resident of Nyanama along Kampala-Entebbe Road used to spend at least sh40,000 on charcoal. But when Senyondo turned to briquettes made out of fecal matter, he spends about sh10,000. This is four times less than what he used to spend on charcoal processed after cutting down trees.

"I buy 10kg of the charcoal at sh10,000 and it takes about a month to get over," Senyondo told the New Vision on Tuesday. "I used to spend sh40,000 for charcoal from trees."

This is wasteful because trees that have taken a long time to grow have to be cut down to produce charcoal for cooking. In addition, it is far more expensive than charcoal briquettes processed out of waste (fecal matter).

The charcoal briquettes from faecal matter are processed a stone-throw away from Senyondo's residence. So, he can easily access the new fuel any time he needs it.

Asked about the negative attitude towards cooking food with faeces, Senyondo pointed out that the charcoal briquettes from faecal matter are as clean as charcoal processed from trees.

"The world has changed. There is technology that is available and produces clean products," said Senyondo, adding that even drinking water from National Water and Sewerage Corporation is extracted from Murchison bay where Nakivubo Channel releases wastewater.

He added, "There is no smell from the charcoal briquettes and it makes sense to use the charcoal briquettes-they are cheaper, eco-friendly and they are produced from waste."

How charcoal is recovered from faeces

Christopher Kanyago from Water for people, a US-based NGO said faecal sludge is a mixture of human poop, water and solid waste that is transformed into Charcoal briquettes at Nyanama. He pointed out that the process of making charcoal briquettes from poop starts at Namungoona in Kampala.

This is where the faecal sludge is transformed into a solid sludge. The water is removed and then hit at a high temperature estimated at 300 degrees Centigrade in a process also referred to as Carbonization (burning materials that contain Carbon).

The raw material is then shifted from Namungoona to Nyanama where the final processing of the solid sludge into charcoal briquettes takes place.

Kanyago also pointed out that Water for People has a partnership with National Water and Sewerage Corporation (NWSC). He said they have been undertaking research on charcoal briquettes from faecal matter since October 2018.

Kanyago said they were promoting recovery of useful materials from faecal matter and that this was the last step in sanitation. He also pointed out that the processing of charcoal briquettes prevents contamination of the water bodies (water sources, streams, rivers and lakes) by faecal matter.

He said charcoal briquettes from faecal matter last for six to eight hours as opposed to ordinary briquettes that burn for three hours. He said most of the clients that buy the charcoal briquettes from faecal matter are poultry breeders that require heating for long hours and institutions like hotels and restaurants.

Charcoal processes at Nyanama

Peter Sekamanya, one of the workers under Water for People at Nyanama said the solid sludge is crashed into powder form and then added to charcoal dust. This is then mixed with molasses (a byproduct of sugar making processes) and clay that acts as binders holding all the sludge and charcoal dust together.

This is later compressed by a machine that pushes out the charcoal briquettes known as honeycombs. The same machine also makes stick charcoal briquettes.

Faecal matter to protect forests

The use of green technologies that transform faecal matter into charcoal briquettes will reduce pressure on the natural forests that have been declining over the years, according to Onesimus Mugyenyi, the deputy director of Advocates Coalition for Development and Environment.

"The biggest challenge Uganda is facing is that most of the population depends of charcoal and fuelwood for cooking," he said, adding that creating alternatives and reducing the dependency on forests is the way to go.

Uganda has continued to lose its natural forest cover currently estimated at 8%, according to the National Forestry Authority (NFA). The forest cover was 9% in 2015 has declined from 11% in 2011. The forest cover was estimated at 24% in 1990 and this reduced from 45% of the land cover about a century ago.

NFA manages 15% of the forests under the concept of sustainable use and another 15% is managed by the Uganda Wildlife Authority, which is the top conservation body in the country.

The District Forestry Services used to manage 70% of the forest but this is where deforestation has been rampant. The forest on private land has reduced from 70% to 45% over the years.

The use of charcoal briquettes from waste is part of the efficient use of resources-from waste to energy.

It also promotes environmental sustainability and economic prosperity. It promotes social inclusion by protecting trees and utilizing a resource (faecal matter) that is a hazard in most parts of the country due to poor sanitation.

Whereas people in Kampala curse rain because fecal matter often floats in most drainage channels, residents of Nyanama look at this as an opportunity to boost their briquette business.