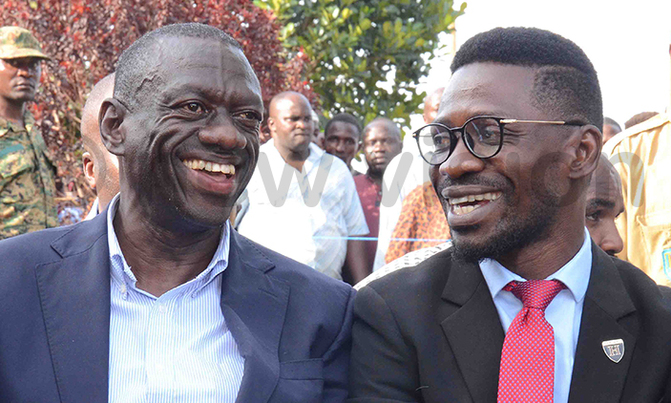 "If we strengthen our unity, we can achieve what we want"
The Democratic Party (DP) has described the meeting between Dr Kizza Besigye and Kyadondo East MP Robert Kyagulanyi as a good step towards unity in opposition.
Despite the criticisms from various political actors and analysts over the unexpected meeting, the party's spokesperson, Kenneth Kakande said the meeting was a good gesture that must be upheld.
"We are happy with the gesture of Besigye and Kyagulanyi. This indicated that we can work together as people who want change," he noted.
Kakande who was addressing the party's weekly press briefing at the party headquarters on Tuesday stressed that the opposition can achieve a lot if they work together.
"If we strengthen our unity, we can achieve what we want. We want to have one candidate for the presidency, right to the lowest elective position. This will help us not to divide votes," he noted.
They also raised concern about the conduct of the recently deployed Local Defence Unit (LDU) personnel, saying the public has been complaining about their misconduct with accusations ranging from extortion and torture.
In an interview with New Vision, the Police spokesperson, Fred Enanga, said they were going to work with the Uganda People's Defence Forces to investigate the claims.
Enanga urged the public to always report cases of misconduct by the individual LDUs to the nearest Police station or post.
He explained that LDUs are under the UPDF but are supervised by the Police, depending on the locations where they are deployed.
Enanga said they have not received any formal complaint of misconduct by the LDUs.
"If anyone has a case against these LDUs, you should report to the Police and LCs. The LCs are supposed to monitor the operations of the LDUs and report to the Police. We shall punish those who go astray. Different LDUs are attached to different Police stations and can easily be identified," he said.
A total of 6000 LDUs were recruited to boost the Police in curbing crime in the city and other neighbouring areas of Wakiso and Mukono.