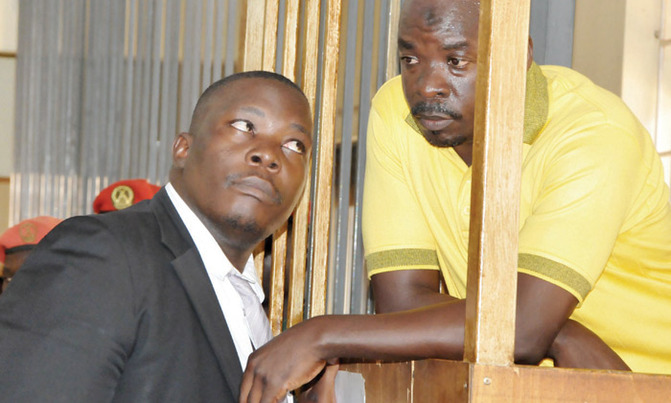 Kitatta was found guilty of unlawful possession of firearms by the General Court Martial.
The relatives of the patron of Boda Boda 2010 Abdalla Kitatta may have to live without him for the next eight years after court sentenced him to 8 years, 8 months and 6 days.
This broke the anxiety as relatives and friends camped at the court martial in Makindye, a Kampala suburb.
Kitatta together with his former body guard Ngobi Sowaali were found guilty of illegal possession of firearms and were convicted.
The prosecution had asked court to give maximum sentence to Kitatta and Ngobi such that it can serve as a lesson to would be offenders.

However, the defense lawyer Shaban Sanya told court that Kitatta and Ngobi are first time offenders and sole bread winners in their families and asked court to grant them a lenient sentence.
Relatives broke down when court found him guilty

Kitatta was found guilty of unlawful possession of firearms by the General Court Martial.

The case was being presided over by a seven-member panel led by Lt Gen. Andrew Gutti.

Kitatta and nine others were battling charges of unlawful possession of firearms, ammunition and military gear.

He was acquited on the charge of unlawful possession of military gear while Police officer Sowali Ngobi was also found guilty of unlawful possession of firearms.

Kitatta and Ngobi will be sentenced on Tuesday.

The rest of the co-accused; Joel Kibirige, Matia Senfuka, Hassan Sebatta, John Sebandeke, Hussein Mugema, Fred Bwanika and Amon Twinomujuni were all acquited of all charges.
The case
The prosecution alleged that on January 21, 2018, in Wakaliga, Rubaga division, Kitatta, Ngobi and Ibrahim Sekajja were found in unlawful possession of a submachine gun (SMG) rifle and a pistol, contrary to provisions of the Fire Arms Act.

They were also accused along with seven others of unlawfully possessing 50 rounds of ammunition and military equipment, which are a monopoly of the defence forces.

Apart from Ngobi who is a Police officer, the rest are BodaBoda 2010 members.