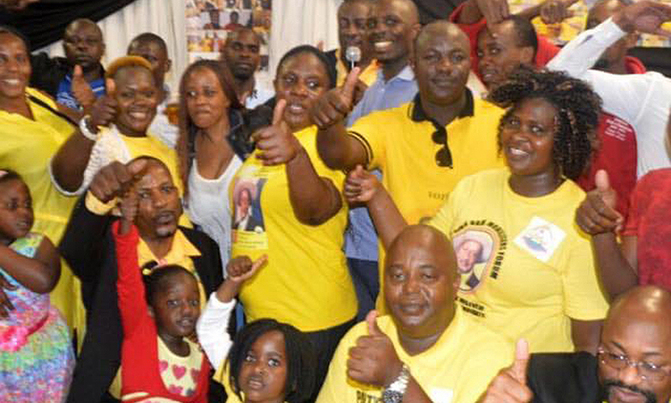 The will register all NRM members living in South Africa and mobilise support for President Yoweri Museveni
With the 2019 South African elections done and dusted and the African National Congress (ANC) emerging winners, the National Resistance Movement (NRM) diaspora league in South Africa is stepping up preparations for the 2021 elections in Uganda.
The league is organising a meeting which will bring together all NRM representatives from the nine provinces of South Africa; Eastern Cape, Free State, Gauteng, KwaZulu-Natal, Limpopo, Mpumalanga, Northern Cape, North West, and the Western Cape.
The meeting is scheduled to take place on the 26 June at Table View Hall in Cape Town with over 100 NRM members expected to attend.
The chairman of the NRM diaspora League in South Africa, Denis Kalema, says the NRM secretary general, Justine Lumumba Kasule, has been invited to officiate at the function. Other invited guests include NRM diaspora league chairman and United Kingdom (UK) based lawyer, Patrick Asimwe, NRM global diaspora executive members, the health director, Moses Mulimira, UK NRM league spokesman, Moses Kimuli, among many others.
Kalema says the meeting is aimed at discussing strategies on how to implement the road map for the 2021 general elections and to endorse President Yoweri Museveni, 74, as the NRM candidate.
He said they will launch a campaign team 2021 codenamed 'NRM My Party, My Future' which will register all NRM members living in South Africa and mobilise support for Museveni who is seeking a sixth term in office after coming into power in 1986.
Kalema revealed that their organisation deployed more than 30 volunteers in Uganda during the 2016 elections to garner support for Museveni.
The NRM diaspora league in South Africa is an organisation which represents NRM members living in South Africa. Other executive committee members include the vice chairman, John Kakooza, the secretary general, Maggie Kayima, the coordinator, John Mungyereza, the treasurer, Abdul Luttu, Janat Jumba, responsible for women affairs, and Florence Nakalema, tasked with mobilising members.