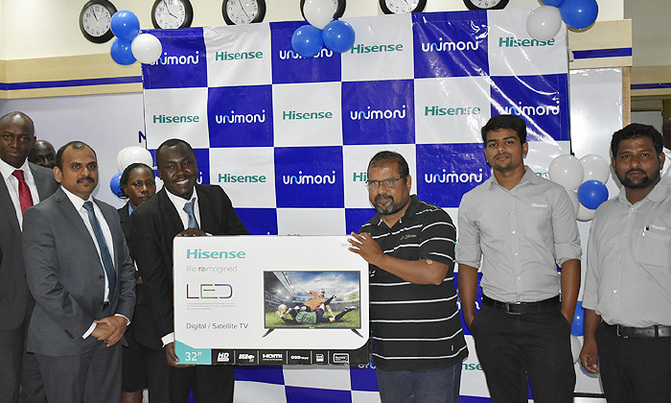 Fifteen (15) lucky customers took home a Hisense LED television each.
BUSINESS



Unimoni, a renowned global provider of money transfer, foreign currency exchange, and payments solutions, today announced the winners of its 'Send and Win' campaign.

Fifteen (15) lucky customers took home a Hisense LED television each.

Congratulating the winners, Nazeem Khan, Country Head of Unimoni Uganda, said: "We are overwhelmed by the response we received for our first campaign under our new brand name - Unimoni. We thank our customers and partners for their continued support in making this campaign a grand success and we aim to continue creating opportunities that will help customers fulfil their financial aspirations."

Commenting on the association, Asim Waseem Ahmed, General Manager of Hisense, said: "Our partnership with Unimoni reflects our shared commitment to service excellence and enriching customer experience. We congratulate the winners of the 'Send and Win' campaign and look forward to more collaborative initiatives that will enable us to be closer to customers."


Surprised at his win, Kawuki Shamuran, a native of Uganda, said: "I still can't believe that I won. I am glad I sent money through Unimoni." For Muhammad Mansoor, a Pakistani national, the win is an apt gift to take home before the Eid-al-Fitr. "My family will be overjoyed when I take the LED TV home as it will enhance their entertainment experience."

Other winners of the campaign include Thangavel Sakthivel, Hussain Sheik, Bhatti Munir Ahmad, Goswami Piyush, Ojha Arvind, Mohammad Masih, Naidu Sathish, Kaukawala Mohammed, Pathania Rakesh, Touqeer Ahmed, Purohit Kailash, Bilal Muhammad, and Ravi Kiran.

The Unimoni 'Send and Win' campaign was conducted from February 11 to April 15 this year in Kampala.