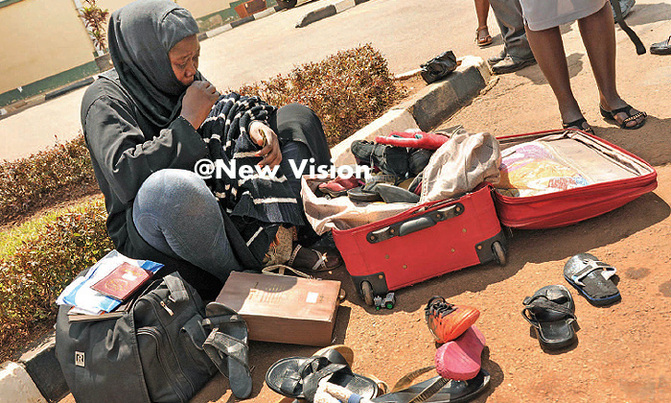 "I would wake up at 6:00am and work without food until midnight. After a week, I started feeling a lot of heat in my hands and feet."
LABOUR EXPORTATION

Twenty-five-year-old Zubedah Nakitende has no fingers on her left hand. She lost them in a freak job accident in Jordan.

Nakitende arrived in Jordan on January 15, 2017, full of optimism. However, that good feeling soon vanished into thin air as reality came crushing in like a thunderbolt. Within a month, the able-bodied charismatic girl had become a miserably helpless disabled destitute and all she prayed for was to be on the next flight back home.

It is now that Nakitende realises that her journey through Kenya to Jordan had warnings of danger written all over it.

"We were made to use strange routes to avoid border checks. From Kampala, we went through Lwakhakha to Kenya. All of us, 20 girls, were made to wade through a deep river into Kenya. We were then bundled into an abandoned building and our passports were confiscated," she says.

On arrival in Jordan, she was taken to a certain office, where she was assigned a home to work in as a maid.

"I would wake up at 6:00am and work without food until midnight. After a week, I started feeling a lot of heat in my hands and feet. Within a short time, they were swollen and painful. My female boss gave me what I thought was water to wash them. I do not know what she put in the water because as soon as I dipped my hands into it, I felt like I had been electrocuted," Nakitende recollects.

She was forced to continue working without medical care and her problem got worse. Her hands, which looked like they had been burnt, could not hold anything anymore. She later asked to go to the deploying office for better medical care.

However, her bosses returned four days later and told the office that they were going to get her better medical care. Her bosses then took her to someone they referred to as 'a specialist'.

"He gave me some big capsules, which I thought would make me feel better. When I swallowed them, my pinky finger went numb and dried up within two days like a piece of wood. When I told my lady boss what had happened, she did not look surprised at all or even care. It is only after her sister came to visit and saw my hands that she told her to let me go back to Uganda and have my condition treated," she narrates.


Within a week, the bones of her fingers were peeping through her decomposing flesh. The deploying office secured her a ticket, gave her gloves to cover her hands so she would not be stopped from getting onto a plane and sent her back home.

Back in Uganda, some Good Samaritans secured her medical attention at Case Medical Centre in Kampala, but it was too late to save her left hand. Her fingers were cut off to save her life. The doctors were able to save her right hand and feet.

This procedure cost her sh3m, far much more than the $100 (sh370,000) she had earned in the one month she worked in Jordan. And the compensation she had been promised by the office in Jordan has to date never been paid in full. She only got sh2m out of the sh7m.

Nakitende's story is not an isolated case. Catherine Nakato describes her experience in Oman as gruelling and inhuman. She worked there as a shahallah (housemaid) although she was taken with a promise of a job in a beauty salon.

"We were sold like commodities. Rich men would come and point out who they wanted as if we were merchandise," Nakato says.

She returned as broke as she had gone. There are worse cases. A few days ago, reports of the death of 31-yearold Christine Nambereke, a mother of seven, including three-year-old twins, emerged. Her body is still stuck in Oman. The family is still puzzled by the mysterious death of their loved one.

Another Kezia Nalwanga, who was allegedly murdered in Oman, was recently buried at her home in Mityana. The former kindergarten teacher was trafficked to Oman even though she had been told she was being sought in Jordan.

She says the wages were less than had been promised, the conditions harsh and the job dangerous. Several times, she tried to terminate her contract, but before she succeeded, she met her death at the hands of her employers.


SLAVERY: Ugandan girls decry abuse and dehumanising treatment

Enid Nambuya, the executive director of the Uganda Association of External Recruitment Agencies, says there are over 100,000 Ugandans doing kyeyo in the Middle East.

However, several sad stories of abuse and dehumanising treatment of Ugandans who seek kyeyo jobs in the Middle East have overshadowed the success stories. For example, 25-year-old Zubedah Nakitende lost her ingers in a freak job accident in Jordan, while Kezia Nalwanga was allegedly murdered in Oman.

She was recently buried in Mityana.

Vincent Sekate, the Interpol spokesperson, says many of the cases of human rights abuse that Interpol Uganda has registered from the Middle East, are of those of persons traficked by individuals, but not companies.


WHAT CAN BE DONE


Vincent Sekate (left), the Interpol spokesperson, says those going for kyeyo should avoid being taken by individuals. He says companies follow certain procedures and their operations are monitored.

"We rarely get cases involving people who go through registered companies," he says.

Last year, Interpol recorded 27 cases of human rights abuses and almost all were of persons that had gone to the Middle East through informal arrangements.

"We rescued 12. One died and we failed to trace the rest that had made distress calls," he says. Sekate also mentions that Uganda only has a memorandum of understanding (MOU) with Jordan and Saudi Arabia.

"Those in countries like Oman are there on their own," he says. "Before agreeing to be taken to the Middle East, people should irst do background checks on whoever is taking them and how they can report anomalies in case things turn for the worse," he says.

Enid Nambuya, the executive director of the Uganda Association of External Recruitment Agencies, says they are in talks with the Government to see that MOUs are signed with Oman, Qatar and the United Arab Emirates to ensure that those who go there have irstline protection in those countries," she adds.

"The Government, through the foreign affairs and labour ministries, has assured us that they are engaging their counterparts in UAE, Oman, Qatar and Bahrain," Nambuya says.

Nambuya also says that to reduce the challenges, the Government should increase its presence in the Middle East. Currently, Uganda has only two embassies there.

This story was done in collaboration with Democratic Governance Facility (DGF)