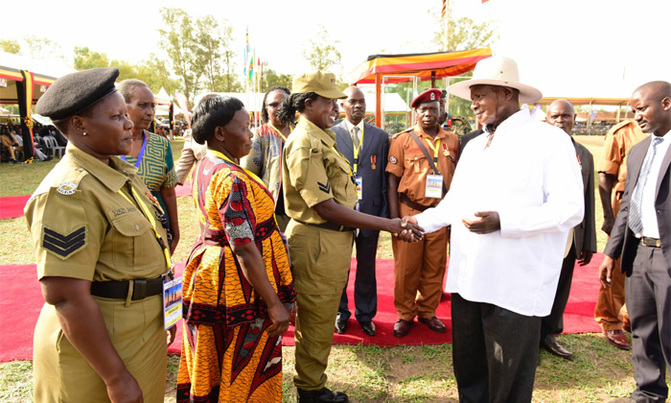 During the national celebrations in Agago district, President Museveni emphasises that the business people are the heart beat of the economy - both in Uganda and the world over.
INTERNATIONAL LABOUR DAY

Presented by Joseph Kizza
@joekizza


_____________________________
4:50pm


GOOD EVENING!


Will leave it here for today. Thank you for following along.

Be blessed!


_____________________________

4:43pm

Medal ceremony done


The President has done the honours of presenting a select group of Ugandans with medals for the fruits of their work.

He has had brief chats with most of them and also taken group photos with all of them.

Once done, he heads back to his seat - almost trotting - for the conclusion of today's function.

Anthems next - and off we go!


_____________________________

4:23pm
On this day 12 years ago . . .


Brigadier Nobel Mayombo, a Ugandan military officer, lawyer and legislator, died on May 1, 2007 at Aga Khan Hospital in Kampala aged 42.

On his 12th death anniversary, Maj. Gen. Muhoozi Kainerugaba, the Senior Presidential Adviser for Special Operations (Uganda) - also the First Son - has paid tribute to the fallen military officer.


To Afande Noble Mayombo, a mentor and beloved big brother to so many of us. We miss your intellect, your high culture, your patriotism, your comradeship, your common sense and your powerful oratory. You were a powerful and undeniable hero. Rest in Peace Afande! pic.twitter.com/wOOcnBFgHY

— Muhoozi Kainerugaba (@mkainerugaba) May 1, 2019
_____________________________

4:10pm


Medal-awarding ceremony gets under way


Gen. Ivan Koreta, donning military attire, takes over the mic to start off the medal-awarding ceremony.


_____________________________

4:04pm

Youth, women groups receive money

Next up, the President is presenting dummy cheques to various women and youth groups of northern Uganda.


_____________________________

4:01pm

Employment Diagnostic Analysis Report launched

The President has launched the Employment Diagnostic Analysis Report.

For this report, the labour ministry had sought to answer two critical questions: One, why Uganda has had sustained economic growth over that past two decades but the employment outcomes have been less than satisfactory.

Second question: Which interventions to improve the employement outcomes.


_____________________________

3:55pm

Need for commercial agriculture

"Once you engage in commercial farming, you create jobs internally - on top of what the foreigners are bringing," says the President in his reiteration in support of commercial agriculture vis-a-vis subsistence farming, which (the latter) he says does not create jobs.


_____________________________

3:49pm

Cervical cancer: 'Parents, talk to your girls early'

"The cervical cancer vaccine should be given to children before they get to engage in sex," says Museveni.

Parents should ensure that you sensitise the girls against having sex before marriage, he adds.

"Some of the diseases can be stopped by vaccination, others by hygiene, others by nutrition and others by good behaviour. Others can be stopped by vector control. When you do those five, you eliminate 75% of the diseases."

It is the other 25% that can take you to hospital - that is, cancer-related and gynaecological issues, as well as accidents, he explains.

"When you are sick, you don't have time to create wealth."
_____________________________

3:38pm

Immunisation in the area

The President calls forth the acting district health officer of Agago (Dr. Hellen) to give an update on the health situation in the area.

"With Hepatitis B, we have the vaccines and we have immused the majority of the people here - about 78%," she says.

And what about Hepatitis A? "We have had no Hepatitis A in Agago," she adds.


_____________________________

3:33pm

'Strength of a country is private sector'

The strength of any economy are the business people, says Museveni. And that is happening the world over. "If you mishandle business people, you will fail."

Africa needs to wake up and know that the strength of their respective economies is the private sector. For that reason, by working on the electricity and transport, "we are making it easier for the private people to come and invest in Uganda."

"We have done all this by prioritising. You cannot do this by doing all things at a go," says Museveni.
_____________________________

3:29pm

"The target here is to have cheap transport costs and cheap electricity costs.

"I am opening factories every month in the Kampala area. But even here in the north, factories are beginning to come," adds Museveni.
_____________________________

3:25pm

Here is the 'medicine for cargo'

President Museveni says: "Roads are good for passengers and tourists, but they are not so cheap for cargo. The real medicine for cargo is the railway and water transport. That is why we have got plans to repair the old railway.

Then in the near term, we are going to build a new railway.

"We have already started on water - there are two ferry boats (...) That water transport will be available to make the distance shorter and also to make it cheaper."


_____________________________

3:18pm

'Good roads, cheap electricity reduce COP'

How can roads and electricity create jobs for the people?

"When you have good roads, and when you have abundant and cheap electricity, you make the cost of production cheaper. If someone wants to build a factory here, it will be easier for them if there is cheap electricity and cheaper means of transport," says President Museveni.

"We now have good roads."
_____________________________

3:14pm

UPDF to do work of UPDF and Police work of Police

"It is not good for the UPDF to do the work of the Police forever. That is why we are recruiting LDUs [Local Defence Units) - to do the work of the Police," says Museveni.

He says it was not true that some people in Acholi were supporting the work of Kony.

"They were lies," he says this part in Luo.
_____________________________

3:10pm

PRESIDENT MUSEVENI STARTS HIS SPEECH

"I am very happy to be here, to join the workers of Uganda to celebrate Labour Day of 2019. It is good that Agago is liberated from the two scourges - the two problems," he starts off, referring to the LRA rebel group led by Joseph Kony and the Karimojong cattle rustlers.


_____________________________

3:03pm

Area MP: 'Agago is your stronghold'

Agago County MP Edward Otto Makmot welcomes President Yoweri Museveni and everyone else to the funtion.

"Of all days, we couldn't have asked for a better day than this," he says.

He then asks the ministers, MPs and especially the area leaders present to "please stand and wave to the people".

"Your Excellency, Agago is your stronghold," he punctuates emphatically, pledging continued support for the President and the NRM party in the coming general elections.
_____________________________

2:55pm

Minimum wage: 'Give me time'

Janat Mukwaya, the Minister of Gender, Labour and Social Affairs, asks for more time on the minimum wage decision.

"Let us wait for the Cabinet decision about the minimum wage so that we have a unified decision," she says.

"Give me time. I don't think I will let you down."
_____________________________

2:45pm

'Minimum wage should be flexible'

Silver Mugisha, the new chairman of the Federation of Uganda Employers and executive director of National Water and Sewerage Corporation is next up to speak on behalf of the employers.

He is flanked by Douglas Opio, the executive director of the employers' federation.

In his delivery, Mugisha, whose team took over the federation in March this year, says that much as the minimum wage legislation is important, it must have a win-win effect by being flexible.

They also hope the through the Skilling Uganda initiative, "sharper" Ugandans will be churned out, available for employment.



_____________________________


2:33pm

Pledge to work with you

"Your Excellency, we pledge our continued co-operation with you, and come 2021, we shall do all that is possible to see that you continue working [at the helm]," says COFTU's Turaymureeba.

He also thanks the labour ministry for their continued support.
_____________________________

2:22pm

100th anniversary of International Labour Organisation

Next up are the speeches. And first will be by the chairman general of the Central Organisation of Free Trade Unions (COFTU), Milton Turyamureeba.

He starts off by congratulating all the unions upon marking the 100th anniversary of the International Labour Organisation (ILO).

"We seek better employment standards, including the minimum wage legislation," says Turyamureeba, who is flanked by NOTU chairman-general Wilson Usher Owere.

Turyamureeba underlines the need to increase the number of workers in social services as well as wages. He says they are concerned about the high number of Ugandans leaving the country to work abroad.

"We shall continue organising workers into labour unions."
_____________________________

2:09pm

Agago Bora dance

Next up is the iconic Bora dance - a royal dance with its origins in Agago.

It is a delicate performance laced with admirable synchronization. The boys are wearing white vests and shorts partly wrapped with small pieces of animal hide. They have a fluffy head gear on as well.

The equally-energetic females, who are on the mounted stage, also have white vests and multi-coloured wrappers on. Sustained drumming and rattling fills the air, creating a festive aura at the venue.

Some of the local leaders have joined in on the intricate dance.
_____________________________

2:02pm

A poem by the host school

The pupils of Patongo Akwee Primary School are now on stage presenting a group poem on employment.

The young group's delivery is quite lively, punctuated with plenty of animation. It is a brown and pale yellow uniform they have on.

By the way, the deputy Chief Justice, Alfonse Chigamoy Owiny-Dollo, was schooled here decades ago.
_____________________________

1:34pm

March past comes to an end

Meanwhile, on a sweltering Wednesday early afternoon at Patongo Akwee Primary School playground, the lengthy march past has just ended.

Aside from the security organs, we have seen various institutions and government agencies represented in the marching.
_____________________________

1:20pm

Labour Day elsewhere

In South Africa, workers, organized by South Africa's largest union, the Congress of South African Trade Unions (COSATU), South African Communist Party ( SACP ) and African National Congress (ANC) have taken part in a rally to mark May Day, International Workers' Day at the Sugar Ray Xulu stadium in Clermont township north of Durban. Every year, May Day is observed and commemorated all around South Africa.

By the way, South Africans go to the polls a week from today - on May 8.


In Russia, Russian Communist party activists and supporters took part in the traditional May Day rally in central Moscow.


In Denmark, youth members prepared for the visit of the head of the Social Democrats, Mette Frederiksen (displayed on banners) at a meeting celebrating the International Workers' Day in Aalborg.




In Iraq, supporters of the Iraqi Communist Party took part in a rally marking Labour Day in the capital Baghdad.


But it was business as usual as these Indian labourers loaded sacks of fertiliser onto a truck at a railway station on the outskirts of Amritsar.


_____________________________

12:53pm


Don't let their sweat dry before paying them . . .


Good point here.


#LabourDay pic.twitter.com/iPgcOCAoNL

— Israr khan (@israr_IK10) May 1, 2019
_____________________________

12:39pm

March past

The march past is next. It will involve slow and quick marching.

Prepare for a series of screaming by section commanders as they lead their troops in the march past.
_____________________________

12:35pm

Prayer time

Rev. Wilson Kitara, Bishop of Kitgum Diocese, leads the prayers. "May you grant (all the millions of workers) favour in your eyes so that they may continue serving You and the country.

"Let us benefit positively from their services as a country," he prays.

In his prayer on behalf of the Islamic believers, the northern region khadi: "The workers are the ones participating seriously for the developoment of our country."
_____________________________

12:23pm

Touring exhibition stalls

The President is done with inspecting the parade and now he is led to the exhbition tent to check out some of the stuff produced by the people of Agago.


_____________________________

12:19pm


'Committed to providing decent employment'


As we commemorate #LabourDay today, @GovUganda remains committed to providing decent employment opportunities to all Ugandans as our labour force continues to grow. #Workers #EmploymentForAll pic.twitter.com/f8fFbHmx6t

— Government of Uganda (@GovUganda) May 1, 2019
_____________________________

12:15pm


20 Police officers to get medals


International Labour Day Celebrations in Agago district. 20 Police Officers will be awarded medals for their dedicated service to the nation. pic.twitter.com/lLxBTLJBAc

— Uganda Police Force (@PoliceUg) May 1, 2019
_____________________________

12:08pm

President inspects parade

Once the anthems are done, the President is led across one end of the field to inspect the parade amid jolly-good military tunes.

He has quite some strides, the President. So much energy in them!

It is a hot day in Agago and the President was right to go for a white shirt and his trademark hat.
_____________________________

12:05pm

PRESIDENT YOWERI MUSEVENI ARRIVES

The person everyone has been waiting for - President Yoweri Museveni - has touched base at Patongo Akwee Primary School playground.

Arriving through the rooftop of his polished car, he receives a huge welcome from the large diverse crowd gathered at the school for the celebrations. Officially, he is welcomed by a team of officials, whom he greets in gentlemanly fashion, before the anthems get the event under way.
_____________________________

11:55am

MP Makmot: 'We feel honoured'

Agago County MP Edward Otto Makmot says "we feel honoured. We have had the president here for the third time in the last three years".

"We have a very strong support for President Yoweri Museveni. This is a stronghold of the NRM. People here love the president," says the legislator at the venue of this year's national celebrations.

He touches on some of the challenges his area is facing and what he hopes to be done. He wants the main road tarmacked, to have the health cetre III turned into a health centre IV or a district hospital.

"We need a polytechnic to train youths and in agriculture, we need tools for commercialisation. We have the land already."
_____________________________

11:48am

About this year's Labour Day theme

According to the labour ministry, this year's theme . . .


Draws from the fact that public investment in infrastructure like rail, roads, power dams and power transmission, oil refinery, apart from creating jobs on their own, will eventually continue to bring down the cost of doing business, which will in turn attract private investment and create more jobs for the people of Uganda. It's undisputable that infrastructure development has a multiplier effect on investment and job creation.

The International Labour Day 2019 theme relates to the challenges that the Country has been experiencing in provision of decent employment opportunities and job creation. Furthermore, the theme is in line with the aspirations of the second National Development Plan (NDPII) which aims to propel the country towards middle income status by 2020 through strengthening the country's competitiveness for sustainable wealth creation, decent employment and inclusive growth.

The theme thus calls on Government, all category of investors and other stakeholders to redesign and review their policies, laws, strategies and programs with the view of increasing job and employment opportunities for the working age population that increased to 19.1 million in 2016/17 from 16.5 million in 2012/13 as reported in the Uganda Bureau of Statistics National Household Survey 2016/17.
_____________________________

11:30am

'Important day for us'

"This day is very important for us workers," says National Organisation of Trade Unions (NOTU) chairman general Wilson Usher Owere in Agago.

"Today, we are more enlightened about our rights. We are also within the law of the country. We are now building a workers' body. NOTU is the most representative trade union in Uganda," he adds.
_____________________________

11:25am

Minister on exporting labour: The parameters


When Uganda signs a bilateral agreement with UAE next month to allow for th exportating of labour, the same parameters as those for Saudi Arabia and Jordan will be used.

To begin with, the recruiting company must not be a "briefcase company". The company must, to begin with, make a deposit of sh50m with the ministry, for use in case of emergencies involving the recruited workers.

Janat Mukwaya's ministry has registered 130 companies, and are on the ministry's website. These comanpies have been organised into an association, they have an executive and have regular meetings and regular interfaces with the ministry.

On top of the sh50m deposit, each recruiting company must have a monitoring system in place (in the placement country). There must also be a coordinator. "We have asked these countries to provide these girls (recruited workers) wth a smartphone to enable them to communicate" whenever need arises," says the minister.

She then sounds a warning.

"Don't be tempeted to be taken out of Uganda illegally because you will not get consular sevices from our country."


_____________________________

11:20am

Minister Mukwaya on labour exportation

Janat Mukwaya, who is the Minister of Gender, Labour and Social Affairs, has been talking about exportation of labour in an interview with national broadcaster UBC at Patongo Akwee Primary School playground, the venue of the national Labour Day celebrations.


"Externalisation of labour is a milking cow", she says and that Government has a statutory instrument that allows her ministry to register companies to export labour. Only two countries - Saudi Arabia and Jordan - have signed a bilateral agreeement with the Republic of Uganda for labour exportation.

We learn from Mukwaya that next month, United Arab Emirates (UAE) will get on board and that her ministry is working with that of foreign affairs to sign a bilateral agreement with Oman for that matter.


_____________________________

10:43am

Hosting this edition: Why Agago?

Agago is one of the newest districts in Uganda, established by an Act of Parliament and began operating on July 1, 2010.

The districts bordering Agago are Kitgum (north), Kotido (northeast), Abim (east), Otuke (south) and Pader (west).

So last year, the Labour Day national celebrations took us to the west, in Sembabule district. This time around, we are in the north. Why?

Pius Bigirimana, who is the permanent secretary of the Ministry of Gender, Labour and Social Development, says that hosting duties have always been on rotational basis.

"Agago made a bid and it got chosen. I must say it is a good choice. A number of people are in Kampala but they don't know about Agago. So, we have brought the tourists from Kampala," he says.


_____________________________


10:35am


All set in Agago


A reminder that this year's national celebrations are taking place in Agago district, which is in the Acholi sub-region in northern Uganda.


_____________________________

10:20am

Labour Day: Why the celebrations?

The International Labour Day is commemorated to honour the contribution workers make towards development around the world. This day is also used to create national and international awareness on the importance of promoting and protecting the rights of workers.


International labor Day Celebrations underway at Patongo Akwee Primary School Playground in Patongo Town Council in Agago District.

Theme: "Promoting employment through enhanced public infrastructure development "

(📸Courtesy) #GCICUganda #LabourDay pic.twitter.com/M3MklDbaia

— Government Citizen Interaction Centre (@GCICUganda) May 1, 2019
_____________________________

10:13am


100 to get medals today


New Vision's Pascal Kwesiga:

About 100 people, including senior members of Uganda People's Defence Forces and the Uganda Police Force, will be decorated with medals today at the Labour Day celebrations in Agago district.

Recipients will get gold jubilee, Nalubaale, meritorious, personal sacrifice and long service medals. A list of civilians selected to receive the medals today include the commissioner for Business, Technical Vocational Education and Training, Safinah Musene, the vice-president of Uganda Nurses and Midwives Union, Asumputa Nakalanzi and civil servants in ministries and local governments.

The list of Police officers to get medals, includes Charles Ssebambulide, the spokesperson of the directorate of traffic and road safety and Assistant Inspector General of Police Haruna Isabirye. Lt col. Richard Achelam Nyeko and Benson Olanya Oleng are among the top officials from the army to receive the medals.

Musene expressed happiness at being nominated to receive the medal and, saying it will motivate her to work hard for her country. "I am very excited to know that the country appreciates what I do. As a civil servant, that motivates me to even work harder to serve my country."

The medals are awarded under the Honours and Awards, Act 2001. The Act also created several categories of medals awarded for various reasons.

They include the most excellent order of the Pearl of Africa, the highest honour awarded to presidents and heads of government, the excellent order of the Pearl of Africa reserved for the spouses of the presidents, vice-presidents, crown princes and princesses, and the distinguished order of the Nile class I-V, awarded to people who have distinguished themselves in productive, research, economics, social and cultural enterprises.

Others are the national independence medal, Nalubaale, the order of Katonga, the Kabalega star I-III, the Rwenzori star I-III, the Masaba star, the Damu medal, the Luweero triangle, Kyoga and the order of Lukaya.
_____________________________


9:57am
Get down and dirty


Just so you know (for you lot who work on office desks), the 'dirty hands' are being used figuratively here. So I think, anyways.


Dirty Hands are the sign of Clean Money
#LabourDay pic.twitter.com/LltNK9v4xx

— AMC (@hotspotbow) May 1, 2019
_____________________________

9:48am
Hey, take a breather


For the International Labour Day, each year's celebrations are designed to fit a selected theme. This year's theme is: 'Promoting employment through enhanced public infrastructure development'.


Enjoy today, TAKE A BREAK!

Happy Labor Day 2019 - "Uniting Workers for Social and Economic Advancement"#LabourDay2019 #LabourDay #Uganda #LaborDay2019
Cc. @newvisionwire @bukeddetv @tvwestUG @bukeddeonline @radiowestug @887AruaOneFm @BrideGroomExpo @FlairforHer @Orumuri pic.twitter.com/dmLn00SvG2

— Vision Group Uganda (@VisionGrp) May 1, 2019
_____________________________

9:40am

All roads lead to the north - Agago

Today, here in Uganda, all roads are leading to Patongo Akwee Primary School playground in Patongo Town Council in Agago district.

And why is that, you may wonder?

It is where the national ceremony for the International Labour Day is being held.
_____________________________

9:27am

It's a new month, and with it, new life!

You will agree that it is quite some work negotiating oneself through a month - what with the never-ending bills that come along in every form.

We have made it thus far, thanks be to God. But what does a new month mean for you? Starting off on a clean slate? Carrying on with your previous month's resolutions?

Whatever it means for you, for others, it means taking up new responsibilities, which in all honesty, is a lot of work.

Like this lioness lying next to her newly born cubs at the Safari Park in Lahore, Pakistan . . .


Or this mother elephant named 'Sabie' having a moment with her newborn calf named 'Gus' in the zoo of Wuppertal in Germany.


_____________________________

9:15am

Good morning

Hello everyone, we have - once again - flipped the calender.

The year is cruising, and it is fair to opine that time does not have the luxury to wait for anyone. The hands of time are moving ever so consistently. It is still 60 tick-tocks in a minute - and 60 times that will get you an hour. We have got to labour on.

Good morning to you all, hoping reading this finds you in fair health. It's the first day of May, which means one thing: International Labour Day.

So how about we quit dragging personal grudges into this brand-new month and slap on a fresh veil that speaks happiness, huh?