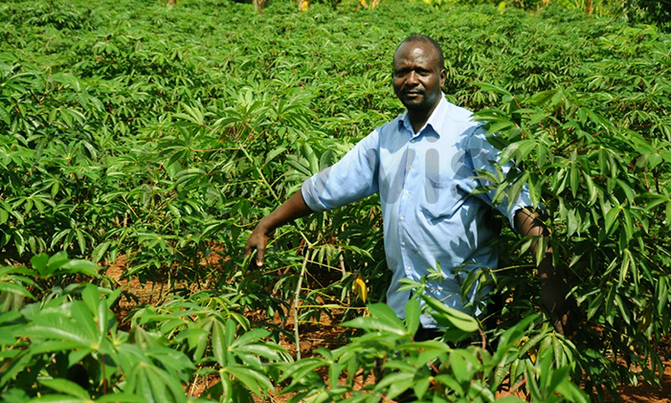 Each bag of cassava cuttings depending on the variety, is sold at sh15,000 while a kilogramme of raw cassava goes for sh500
Solomon Ssenoga says his love for farming is inborn and he has been growing cassava for six years. When you go to Nakabululu village in Luweero district and ask for Ssenoga, the entire village knows him as Mr Muwogo.
"The journey into farming began with an acre because I didn't have money to buy cassava cuttings. The little money I got from selling my bodaboda was what I used to buy the cuttings," he says.
Starting out
The crop performed well due to the favourable conditions in the area.
"Ever since I started the harvests have been increasing every season because I have been rotating," Ssenoga says.
His main enterprise is growing cassava. He beams with pride as he leads a group of farmers from different areas around his 12-acre cassava farm.
"Cassava has completely changed my life although I had little knowledge about the crop," he says.
Ssenoga tells the farmers how he endured hardships, including trying out almost every crop but with little returns.
As if that was not enough, someone also duped him into planting pineapples on a large scale, saying the crop would be bought by foreigners. But the pineapples ended up rotting on the farm after the dealmaker vanished.
He has 15 acres of land and his cassava lies on 12 of those acres. He says to ensure maximum yield, it is important to select the best variety of cassava.
"This will also go a long way to increase your plants' immunity against diseases, rapid growth, and increase the soil quality," he says.
Ssenoga says when you are determined to grow cassava, you'll not regret the decision because it is a crop capable of surviving drought.
"It grows best on a flat or slightly sloping land composed of humus soil which has the capacity to retain water," he explains.
He says after planting, constant weeding is required to rid the farm of weeds that compete for nutrients with the cassava plant.
Quality
The quality of the cassava he produces from his fields is so good that he supplies cassava cuttings to National Agricultural Advisory Services (NAADS).
"I have supplied more than 10,000 bags of cassava cuttings to NAADS and over 1,000 tonnes of cassava products to the market," Ssenoga explains.
He grows Nase 14, 19 and Narocas 1, high yielding varieties recommended by the National Agricultural Research Organisation. He says these are varieties farmers choose these days because of their ability to resist drought and disease, unlike the old cassava varieties.
Ssenoga also says each bag of cassava cuttings depending on the variety, is sold at sh15,000 while a kilogramme of raw cassava goes for sh500.
Advice
According to Ssenoga, it is important to ensure the planting material is clean, free from pest and disease infestation and that the source of the material must be reliable.
Although the dry season has been long, he expects to harvest 1,000 cassava cuttings which will fetch him sh15m, and 10-12 bags of cassava.
Value addition
This year, Ssenoga has acquired an electric cassava slicing machine. He says cassava tubers are washed, dried and placed into the machine, which shreds them.
He says his constant contact with the Namulonge-based researchers exposed him to a new technique of selling cassava cuttings without uprooting the tubers, which he has been doing for the last four years.
Advice
Ssenoga urges parents to nurture their children to grow with farming in mind.
"Your children will grow up knowing that they can make money; this cannot make your children suffer looking for jobs after school," he says.
He wants to set up the biggest demonstration farm in Nakabuululu to revive Luweero and Nakaseke's glory in cassava growing.
Ssenoga also urges the government to establish training centres for farmers to improve on their farming methods.