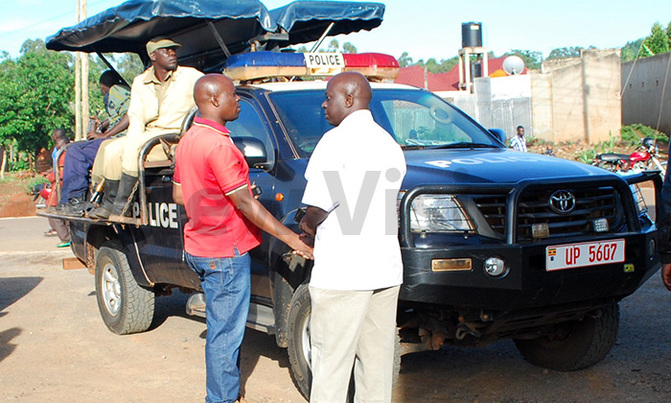 At the time of the Tuesday early morning attack, private security guard Luke Draman was watching over both a fuel station and a supermarket in Kagadi.
CRIME

KAGADI - The Police in Kagadi are hunting for armed thugs who reportedly strangled to death a 55-year-old private security guard, assaulted a fuel pump attendant and robbed over sh6m from a supermarket.

Romeo Ojara, the Kagadi Police commander, identified the murdered man as Luke Draman, who hailed from Arua district.

He was attached to Nakulabye Shell Petrol Station in Kagadi Town Council, where the incident happened.

According to Ojara, the unidentified armed thugs, driving a sedan whose registeration number could not be easily established, attacked Draman at about 2am Tuesday.

At the time, he was watching over both the fuel station and the supermarket. The attackers then killed him, before making off with items and about sh6m cash.


Identity cards, pliers and other stuff were found at the scene, items Police said they would use as exhibits for investigations. Ojara said by the time Police were contacted, the thugs had disappeared.

"We have mounted a hunt of the suspects using sniffer dogs and investigations into the matter are still going on," said Ojara.

"I appeal to owners of fuel stations and supermarkets to install [CCTV] cameras to catch footage that can come in handy. I also advise that business premises recruit at least two security guards."

Apparently, the gunmen postured as ordinary customers when they eased in at the filling station.

When the unsuspecting pump attendant, 25-year-old Nicholas Amanyire, went about filling their car's tank, they suddenly attacked him. Security guard Draman intervened, but the assailants beat him up too, apparently with sharp objects and iron bars.

''Both the security guard and pump attendant were dumped into the service bay. The guard was first strangled to death," said Kagadi Police commander Ojara.


The fuel pump attendant was picked by good Samaritans and rushed to St. Ambroze Charity Health Centre IV. The body of Draman was kept at the health facility's mortuary awaiting collection by relatives from Arua district.

Ojara said that when another security guard deployed at the neighbouring Nakulabye Bar and Lodge tried to intervene, he was repulsed by the attackers and got injured as he fled.

After reaching relative safety, he then reportedly alerted the neighbors who, mobilized themselves and rushed to the scene. The two guards were armed with arrows, which they did not manage to use during the ambush.


Meanwhile, Amanyire, the wounded pump attendant, is nursing back, arm, leg and neck. From his hospital bed, he said the thugs were about six in a saloon car that came from Hoima Road.

"The armed thugs used sharp materials and bars to break into the supermarket, robbing over sh6m with some merchandise. My colleague who came to my rescue was dumped into fuel service bay after being strangled to death. I was also beaten and tied before being dumped on to him," he recounted.

Prisca Tibamwenda from Kyamukunisa village in Kibanga ward is Amanyire's mother. She said her son has been working as a pump attendant for one year.

Both the fuel station and supermarket belong to Rev. Fr. Joseph Birungi, attached to Hoima Catholic Diocese-Bujumbura. He is also the director of St. Ambroze Charity Health Centre IV and Kagadi Nursing School in Kagadi Town Council.
__________________________


PREVIOUS SIMILAR MURDERS


December 10, 2014: Winnie Nakigudde, 55, formerly enrolled as a midwife at Kagadi Hospital, was gunned down by thugs at her Mugabi clinic in Kagadi town council at around 9pm.

December 23, 2017: Fadul Ali Mutatina, 34, a prominent businessman from Mubende district, was decapitated by unidentified thugs and his body dumped in Muhorro Town Council at around 11pm.

February 12, 2018: Rebecca Wakisa, 22, a former student at Gulu University, was stabbed to death by unknown thugs at around 10pm while returning from her husband's supermarket in Kagadi town council.

May 16, 2018: Phillip Sunday, 32, an armed security guard attached to Seracen company from Kyangwali in Hoima and deployed at Kagadi MTN shop, was strangled by unidentified armed thugs with ropes at around 1pm. The body was dumped in a nearby channel and his gun taken.

November 8, 2018: Abdullah Ntambara, 38, a prominent traditional herbalist from Kasojo village, Mpefu sub-county in Kagadi district, was also gunned down by unidentified thugs.