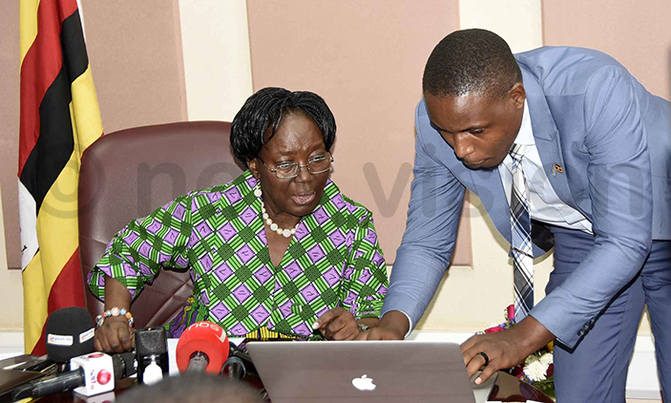 Her return on Friday excited many MPs who couldn't stop thanking God for her return to good health
Clad in a green Kitenge with a beaming smile, Rebecca Kadaga the Speaker of Parliament sauntered into the Parliamentary corridors after over a month away.
Kadaga was first admitted at Nakasero Hospital in Kampala before she was flown to Kenya where she sought specialised treatment at the Aga Khan Hospital in Nairobi.
Her condition worried many Ugandans including President Yoweri Museveni who was among the first people to visit her at Nakasero Hospital upon her admission there.
Kadaga was according to her publicist Sam Obbo, battling fatigue following official duties in Morocco and the USA.
Her return on Friday excited many MPs who couldn't stop thanking God for her return to good health.
"We are very happy to have you back, shame upon those who were thinking negatively," Kasilo County MP Elijah Okupa said.
Upon her admission, many Ugandans took to social media and expressed concern about Kadaga's health accompanied by wild speculation.
It forced the Deputy Speaker Jacob Oulanyah to strongly dismiss those fears and told Parliament that the Speaker was responding well to medication and that she was in good shape.
Kadaga today addressed journalists about the 64th Commonwealth Parliamentary Conference to take place in Kampala starting September 22-29, at the Munyonyo Commonwealth Resort.
At the press conference MPs who included Jalia Bintu, Paul Amoru, Bernard Atiku, Maj. Gen. Felix Kulayigye among others used the opportunity to congratulate Kadaga upon returning to full health.
Despite being in a jovial mood, Kadaga did not comment on her ordeal and only fielded questions about the conference.
Speaking passionately about the upcoming conference, Kadaga told journalists that it which will focus on legislative issues and that it will benefit Uganda through tourism among other avenues.
"We shall be discussing issues to do with legislation but we also expect money to come into the country through hotel accommodation and tourism," Kadaga said.
Launching the website of the conference, Kadaga said it will attract over 900 delegates from different countries, create an opportunity for Ugandans to exhibit their products and also market Uganda.
The website which will be used by the delegates to register for the conference and apply for Ugandan visas also features different Ugandan tourist attractions such as mountain gorillas.
Asked about how much Uganda will spend to host the conference, Kadaga noted that the government will only pay for the delegates' transport, accommodation and lunch, saying the delegates will meet the rest of their expenses.
"Most of these delegates are coming in with their families so we expect them to spend not less than $2000 per day which money will be getting into our economy," she said.
The conference will bring together parliamentarians, parliamentary staff and decision makers from across the Commonwealth countries.