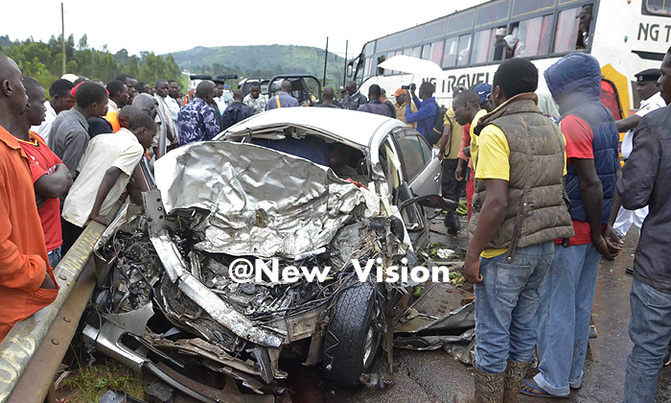 Isaac Kawooya is killed in a car crash on the Kampala-Masaka highway, alongside five other people, including a five-year-old.
ACCIDENT

KAMPALA - The resident district commissioner (RDC) of Koboko, Isaac Kawooya, has been killed in a road accident alongside five other people, including a five-year-old child.

The deadly crash, according to Police, happened in a swampy section (Mpambire) along the Kampala-Masaka highway, three miles from Mpigi Town Friday morning.

It involved a trailer bearing a Tanzanian number plate and a car (Premio) with a Ugandan registration number.


Police, in a series of tweets Friday morning, said all the occupants of the Premio died on spot.

Kawooya, who was formerly the RDC of Hoima, is among the victims.

The others have been identified as Abudallah Muwonge, 54, of Nyamitanga Mbarara, Anastasie Mukakamali, 66, Christine Aharizira, 25, of Mutojo Ntugamo, Mansoor Ssemanda of Mbarara and a five-year-old child who has not been identified.

"Investigations into the cause of the accident is underway," Police said.

Arrangements were underway to transfer the bodies to Mulago City mortuary for postmortem examination.


New Vision's Adolf Ayoreka reports:

Two weeks ago, Isaac Kawooya's family car was stolen by unknown thugs from park yard.

Moses Kajubi the LC3 chairman of Nyamitanga division, where Kawooya hailed, also confirmed the accident, saying the RDC was destined for Kampala at the time of the crash that claimed his and other five people's lives.

"We have lost three big Muslim heads in my area, so right now we are preparing the burial arrangements," Kajubi said.


One of the victims, Abdallah Muwonge, has been in the management of Mbarara Taxi Park.

Anastasie Mukakamali was a Rwandan national and Mansoor Ssemanda was the headteacher of Kakoba Muslim Primary School in Mbarara.

Kawooya was RDC for Bushenyi in 2014, before being moved in the same post to Hoima, Soroti and most recently Koboko.

He hailed from Katete, Nyamitanga division in Mbarara Municipality and was a former councillor. He contested for municipality parliamentary seat in 2011, before he was appointed RDC three years later.

Kawooya's last appearance in Mbarara was at the inauguration of the Mbarara district Khadi Abdallah Mukwaya on Wednesday, a function presided over by President Yoweri Museveni.