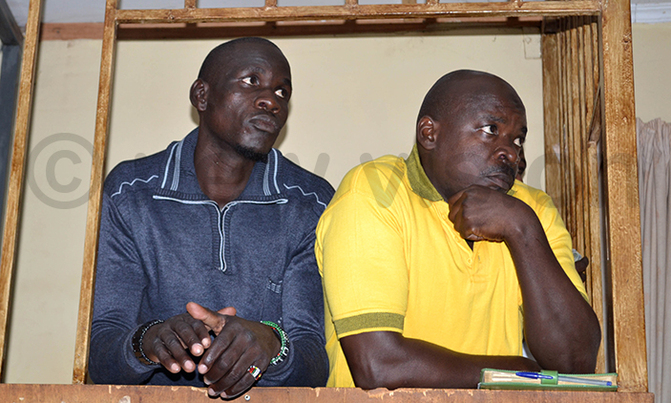 Prosecution alleges that Abdullah Kitatta and others were found in unlawful possession of a Sub Machine Gun rifle and a pistol, contrary to provisions of the Fire Arms Act
The state prosecutor, Lt Col Raphael Mugisha has asked the army court to convict the leader the BodaBoda 2010 group, Abdullah Kitatta, on charges of unlawful possession of firearms, ammunition and military wears.
According to prosecution, the offences attract a maximum sentence of death, on conviction.
Mugisha made the request on Tuesday, submitting that its four witnesses proved all the necessary ingredients of the offences against Kitatta and nine others to warrant a conviction.
He was yesterday presenting his final submissions before the General Court Martial, chaired by a seven-member panel led by Lt Gen Andrew Gutti.
The prosecution's witnesses were Pte. Richard Kasaijja, Cpl Richard Wanyama, Maj. David Agaba and a Driver Cpl Alex Baguma, who all testified that they arrested Kitatta from Vine Tea hotel in Wakaliga with a gold-coated pistol, SMG rifle and 55 rounds of ammunition.
The witnesses further testified that they went to the offices of BodaBoda 2010 at Lubaga and recovered Military uniforms and caps, which prosecution maintains are a monopoly of the defence forces.
The said items were recovered and exhibited in court as evidence by the prosecution.
A fortnight ago, the defence lawyers led by Shaban Sanywa pleaded with army court to acquit Kitatta, arguing that his charges were trumped-up by the prosecution to keep him out of society.
"The accused were framed in order to get rid of them from the society, particularly Kitatta who was alleged as 'untouchable in Parliament' for questioning Gen. Kayihura," he submitted.
Kayihura, the former Inspector General of Police (IGP) and other police officers are battling three counts, which include two of failure to protect war materials and one of aiding the kidnap and illegal repatriation of Rwandan nationals before the same court.
He submitted that prosecution had failed to prove that Kitatta was in possession of the gold-coated pistol because they have failed to disclose the person who searched and recovered it from him.
"This was an act of bad faith and creates a presumption that Kitatta was not in its possession," he submitted.
The prosecution alleges that on January 21, 2018, in Wakaliga, Rubaga division, Kitatta, Sowali Ngobi and Ibrahim Sekajja were found in unlawful possession of a Sub Machine Gun (SMG) rifle and a pistol, contrary to provisions of the Fire Arms Act.
They are also accused of unlawfully possessing 50 rounds of ammunition and military equipment, which are a monopoly of the defence forces.
Kitatta's co-accused are Joel Kibirige, Matia Senfuka, Hassan Sebatta, John Sebandeke, Hussein Mugema, Fred Bwanika and Amon Twinomujuni. Apart from Ngobi who is a police officer, the rest are BodaBoda 2010 members.
The court will later announce the date in which it will deliver judgement in the case.