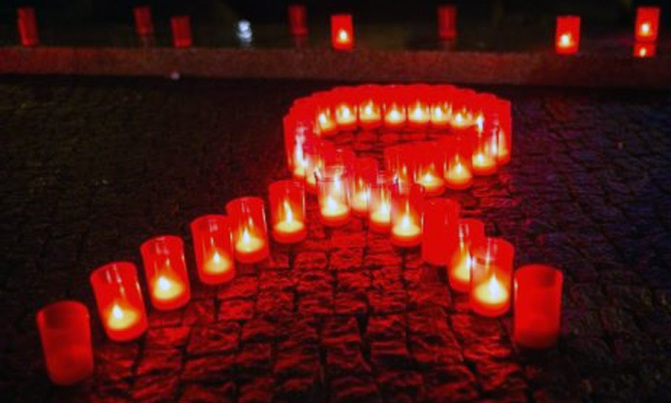 "The money will be channelled to the government in case of shortages of drugs, condoms and testing kits. We want to stop the flow of new HIV/AIDs infections," Tamale told New Vision.
Members of the public advocating for the wellbeing of people living with HIV/AIDs have started up an HIV/AIDS fund aimed at raising money for the prevention and treatment of HIV/AIDs in Uganda.
The Ugandans under their umbrella group One Dollar Initiative (ODI) have set a target of $1b (Sh3.7b) to be collected in a space of five years.
According to George Tamale, the executive director ODI, the group has so far collected sh500m towards the fund.
"The money will be channelled to the government in case of shortages of drugs, condoms and testing kits. We want to stop the flow of new HIV/AIDs infections," Tamale told New Vision.
Launched about two years ago, Tamale noted that the initiative was started after major development partners reduced funding HIV/AIDs treatment and prevention in Uganda.
"We are not getting enough funding because of reduced financial contribution by the development partners. We need about $276m per year to sustain the 1.1m people on ARVs and out of this, the donors contribute about 93% on treatment. But there're 1,000 new infections per week, who is targeting them the fact that we don't have enough money," Tamale asked.
Instead of depending on donations from developed partners, Tamale said the private sector can supplement government efforts towards eradication of HIV/AIDS from Uganda, by contributing $1 (sh3,750) towards the fund.
The fund is being managed by distinguished Ugandans like Prof. Vinard Nantulya, the former director general of the Uganda Aids Commission, Gideon Badagawa, the executive director Private Sector Foundation, Dr Nelson Musoba the director general Uganda Aids Commission.
Others members on the board of trustees for the one dollar initiative, are Maria Kiwanuka former minister for finance, Dr Maggie Kigozi, Trouble Chikoko of UNAIDs and Prof. Edward Kirumira, among others.
Dr Musoba, the director general Uganda Aids commission told New Vision that following the transition from Millennium Development Goals (MDGs) to Sustainable Development Goals (SDGs) priorities like climate change, human rights emerged, which affected donor funding for health issues like HIV/AIDS.
"HIV/AIDs didn't feature on the agenda for priorities by development partners so as a country, we have to look for alternative funding to be able to manage and control the disease," Musoba said.
Dr Musoba, said between 2002 and 2015, Uganda could receive sh10b every year for coordinating prevention messages on HIV/AIDs, but following a reduction in funding, the donation has since reduced to sh2b annually.
He noted that it is through initiatives like ODI, that Uganda will be able to manage HIV/AIDs amidst reducing donor support.
The ODI is aimed at inspiring Uganda's private sector to respond to HIV/AIDs prevention and treatment. It is a private sector-led innovative domestic resource mobilization mechanism. It is being set up as an endowment fund to sustainably finance treatment and care for fellow citizens and stop the flow of new infections.
Under this initiative, individuals in the general public will make a minimum contribution of 1 dollar (about sh3,750) per person or per month towards the noble cause.
The corporate sector, organizations, individuals, religious institutions Ugandans in the diaspora and other well-wishers are invited to give more through packages like platinum sh100m, Gold sh50m, Silver sh25m, Bronze sh10m and Copper sh5m.
About the safety of the funds, Tamale explained that the fund will be managed by the private sector with absolute integrity and transparency to build the necessary public trust.
HIV/AIDs has devastating economic and social impacts on national development. The number of People living with HIV in Uganda is now approximately 1.3m and an estimated 1.1 million (86%) are on lifelong treatment.
Statistics indicate that there are 962 infections per week which translates to 137 people daily or six individuals per hour.
"93% of this annual treatment budget is supported by external sources through development partners. Supporting people on life -long treatment calls for a financing mechanism that is sustainable thus 1 dollar initiative," Tamale said.
About two years ago, parliament passed the HIV/AIDs control Bill, which provides for the establishment of an AIDs Trust fund by the government.
But two years down the road, the government is yet to establish the fund. Last year the Speaker of Parliament Rebecca Kadaga called on the government to establish the fund that will facilitate the fight against HIV/AIDS.