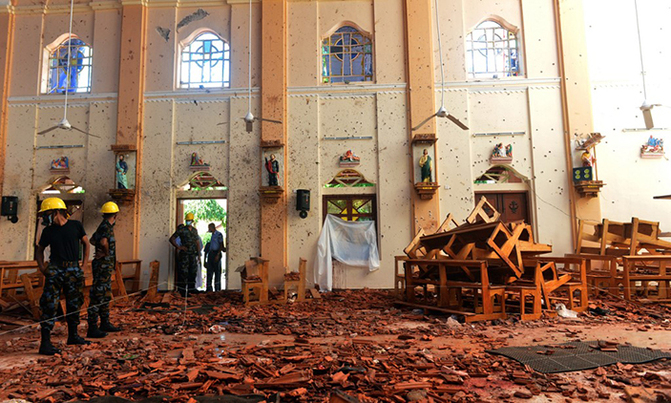 The Sri Lankan government yesterday blamed National Thowheeth Jama'ath, a little-known radical Islamist organization, for the bombings
No Ugandan was killed or injured during Easter Sunday bombing attacks that struck at least three churches in Sri Lanka, killing over 290 people and injuring about 500.
About 40 Ugandans are living in Sri Lanka, the Velluppillai Kananathan, the Consul General of Sri Lanka to Uganda told New Vision yesterday as he condemned the gruesome attacks.
"This is terrible-some group is trying to create religious disharmony in the country. This is unacceptable-it is pathetic to use innocent lives. So sad to see this," he stated in a written tribute.
"Extremism can't be allowed to survive in the name of ethnicity, religion or whatever! Terrorism has no place for humanity. Our prayers are with the families. As you know, Sri Lanka has a history of eliminating the ruthless terrorist movements in the past and the government will soon bring these pigs who were responsible to the books," ambassador Kananathan wrote.
The Sri Lankan government on Sunday blamed National Thowheeth Jama'ath, a little-known radical Islamist organization, for the bombings.
The group was not known to have carried out any serious attacks before and it is entirely Sri Lankan, according to sources. A national day of mourning has been scheduled for Tuesday.
Sri Lankan police had by last evening have arrested 24 people in connection with the devastating suicide bombings that targeted hotels and churches.
The first suicide bomber's explosion ripped through St. Anthony's Shrine at 8:45 as Easter Sunday worshipers were praying, followed by another blast at Shangri-La Hotel's Table One Restaurant, a favourite of foreign tourists.
A few minutes later three Catholic churches and three upscale hotels were hit, quickly raising the death toll and plunging the country in panic.
At least 13 of the suspects were arrested in the capital, Colombo, and the cities of Negombo and Batticaloa. At least three officers were killed when one of the suspects blew himself up.
At least 36 of the victims were believed to be foreigners, including several Americans, Canadians, Indians.
Denmark's richest man, Anders Holch Povlsen, who was in Sri Lanka over the Easter holiday with his family said three of his children were killed during the attack.
World leaders were swift to condemn the attacks. Pope Francis said the attacks had "brought mourning and sorrow" on the most important of Christian holidays.
US President, Donald Trump said: "The United States offers heartfelt condolences to the great people of Sri Lanka. We stand ready to help!"