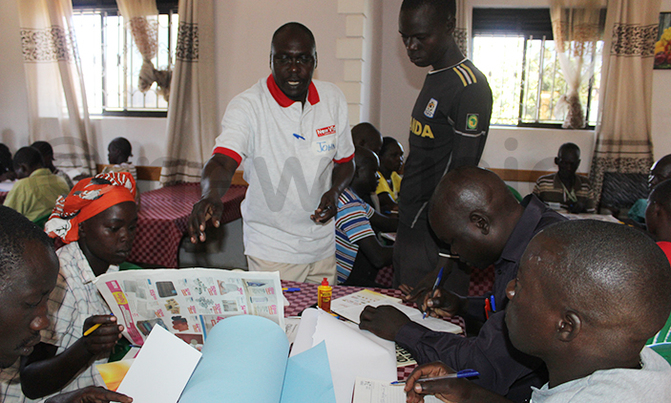 The Newspaper in Education (NiE) program was introduced in the districts of Napak, Nakapiripirit, Moroto, and Kotido
The Nakapiripirit district inspector of schools, Joseph Lamongin, has described the use of newspapers in teaching as a vital innovation that will see education standards in Karamoja improve tremendously.
Karamoja is one of the regions in the country which often ranks low in Uganda National Examination Board (UNEB) results due to low education standards.
To address this challenge, the New Vision in partnership with Save the Children Uganda introduced the Newspapers in Education (NiE) program in the districts of Napak, Nakapiripirit, Moroto, and Kotido.
Under the program, schools in these districts get copies of the newspaper every Wednesday and teachers have been trained on how to use them to teach the learners.
"The use of newspapers is a very vital innovation because it promotes literacy, facilitates incidental learning, and is interesting to learners. Children will learn the skill of storytelling," Lamongin says.
He made the remarks on Friday during the NiE training for over 30 teachers and facilitators of Alternative Basic Education for Karamoja (ABEK) centres at Panaora Hotel, in Nakapiripirit district.
Lamongin who is also the ABEK district coordinator urged teachers to use newspapers and become more creative in their teaching.
"I have discovered my teachers dwell more on numeracy but I want to urge them to pay more attention to literacy because if children are able to read it will help them so much," Lamongin says.
Alfred Otto, a teacher from Lemusui Primary School who did a demo on how to use newspapers in class appreciated the New Vision and Save the Children Uganda for the efforts towards improving education in Karamoja.
"I'm happy that there are combined efforts to help change this region. We are also committed to making it happen and we promise to use the newspapers well so that we create change," Otto says.
He revealed that with the use of newspapers teachers and pupils are kept up-to-date with what is happening in the world.
"We are able to catch up with the current trends of the world and having these newspapers make us as teachers proud. The learners are also interested because there are always new things in the paper," Otto says.
The New Vision features editor, John Eremu, who was the lead trainer challenged teachers to fully embrace if they are to cause a revolution in the education sector in Karamoja.
"You are doing a good job but we want to make it better. If you want to make learning interesting, you must make it learner centred. Before you know it, those children will be amazing and will challenge you," Eremu said.
He noted that most schools are in the region are performing poorly because "critical thinking is dead in schools due to the teacher know it all mentality."
"We want to deconstruct our mind from the teacher know it all mentality. These children are not dull they need to be given chance to discover, research and think critically," Eremu said.
Joy Abo the deputy features' editor, says the poor reading culture among the students in the country affects their academic performance leading to low grades.
"If a child cannot read no matter how brilliant they are somehow their performance is radically affected," Abo says
The training is still ongoing and today the team will head to Moroto district and will conclude everything on Monday in Kotido district.