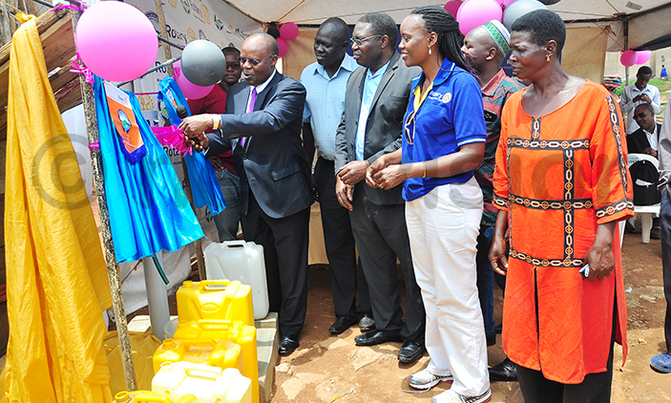 As a result of the high cost of piped tap water, they draw water from wells which collect contaminated water from Nakivubo Blue drainage channel
Residents of Namuwongo, a Kampala suburb are grappling with a shortage of clean water which they blame on the high cost of piped water.
Piped water costs between sh200 and sometimes sh500 per jerrycan which many say they cannot afford, forcing them to rely on unsafe water flowing from nearby trenches and ponds.
Some of the residents say the water crisis has left many women and children skipping baths in order to save water for cooking and washing utensils.
Edisa Namata a resident said that as a result of the high cost of piped tap water, they draw water from wells which collect contaminated water from Nakivubo Blue drainage channel.
Harriet Sanyu, a resident said their children sometimes go to school very late because they have to fetch water for home use before they leave for school.
"When you send a child, he will fetch from wherever they find as long as the water does not physically show it is dirty even when it is from a dirty pipe connected to a trench," Sanyu said.
Fida Nasirumbi, the area's woman councillor, said most women and youth are unemployed and that the little money given to them by their husbands is for taking care of other crucial bills like school fees and electricity, forcing them to look for water from all corners of the area since they cannot afford to pay for the piped water.
Nasirumbi added that with recent interventions spearheaded by the Rotary Club of Kisugu Victoria View, prepaid water is going to help the residents access clean water at a cheaper cost.
"One is now free to pay sh1000 and get water for months and months," Nasirumbi said.
Authorities disclosed that the situation deteriorated after the National Water and Sewerage Corporation (NWSC) disconnected many homesteads in Namuwongo as a result of accumulated arrears.
In some of the cases, homes and businesses accumulated as much as sh1m in water bills and they were unable to pay, said Goretti Masedde, the head of Rotary Club of Kisugu Victoria View.
The organisation launched a community safe water project that will extend clean water to about 5,000 people around Namuwongo's Yoka Zone.
The Rotary Club of Namuwongo approached the Bank of Uganda (BOU) to fund the project and also appealed to its members to collect money for the prepaid water project.
One out of ten water taps has been installed at an access point in the densely populated suburb under the project. The beneficiaries are given keys with prepaid amounts for water that are deducted each time they fetch water.
Under the prepaid water initiative, each bears a key with a specific amount. According to Masadde, there are no accumulated water bills hence no chance of disconnection.
Speaking at the launch, the BOU deputy governor, Dr Louis Kasekende, advised the residents to take advantage of available water resources to improve hygiene and prevent diseases.
"Most of the diseases like cholera are caused by poor hygiene and consumption of dirty and contaminated water," Kasekende said.
Ronald Kitakufe, the manager for urban pro-poor at NWSC advised locals to use the prepaid water well even though it is cheaper than tap water.
He explained that tap water is not expensive as perceived by people, but depends on the people who are selling it to users.